June 30, 2008
F1 on TV: Britain!
After the snoozefest of Mangy-Curs, we find ourselves in jolly olde England this week, at one of the truly
great
F1 tracks: Silverstone. Like many tracks of long history, Silverstone was built at the site of a WWII air base; in this particular case, the home of No 17 Operational Training Unit flying the
Vickers Wellington
bomber. In fact, the runways are still extant and can be made out on the track map quite clearly, and Hangar Straight is called such because it used to run along the row of hangars that serviced the airbase.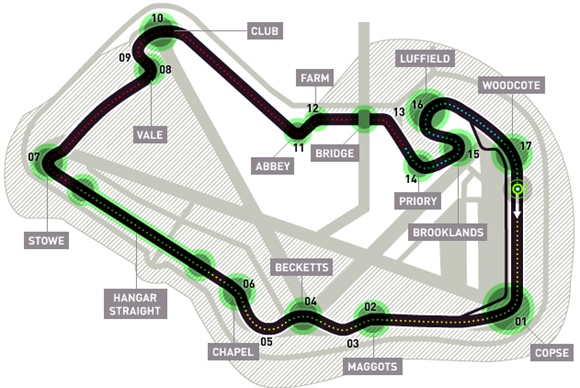 Silverstone is a very fast track, even after all the attempts to slow it for safety's sake. As an example, the original track layout did not have turns 8 and 9 (meaning it was a straight run from a gentler Stowe to Club), and turns 12 thru 18 didn't exist either, meaning Woodcote was run at a much higher speed than it is now.
Silverstone has my favorite complex of turns, the Maggots-Becketts-Chapel sequence. If you want to see just how nimble your average F1 car is, this is the place to do it. They run through it as if they were slotcars, zip-zip-zip!
Unfortunately, Darth Ecclestone wants to do away with Silverstone, and has been threatening moving the British GP to some other location like Brands Hatch (which is a fine track in it's own right... but it's not Silverstone). Fortunately, his efforts have thus far come to naught, and we'll enjoy this wonderful circuit for a while yet.
As an humorous aside, on Grand Prix race day Silverstone becomes the UK's busiest airport, as many spectators fly helicopters into Silverstone Heliport. Indeed, for some time it was touted as the World's Busiest Airport on race day, with flights arriving every 15 seconds.
Well, except for our British readers, the rest of us will have to make do with the telly. Fortunately, the good folks at SPEED and FOX will be bringing us their usual excellent coverage.
This coverage begins on
Friday, July 4th
, from
7a to 840a
, with SPEED's live coverage of Friday Practice 2. Will we see a resurgence of BMW this weekend, or will the Red Team and the Glare On Wheels continue their recent dominance?
If you are to race at Silverstone, you first must qualify, and SPEED will bring it all to us.
Saturday, July 5th
, from
7a to 830a
, we get plausibly live coverage of the Quals session. Nine out of the past 10 races have been won by Ferrari (five times) or McLaren (four), and it all starts with the quals.
Finally, the race itself will be shown on FOX in tape-delay,
Sunday, July 6th
from
12n to 2pm.
Will BMW play the part of Renault (the one team to win here in the past 10 years that isn't Ferrari or McLaren)? Heck, will RENAULT play the part of Renault? Will it be a Red Car Walkover? Will the Glare On Wheels rally on their home track? Will Lewis Hamilton win his biggest race ever? This is where and when we find out!
If you can't catch the race on FOX, SPEED will replay it in it's entirety
Wednesday, July 9th
from
1130a to 130p
. Don't miss it!
All times Pond Central; add one hour for East Coast, subtract two for San Francisco, and add 12 kilopascals and a blanket for the South Pole.
Posted by: Wonderduck at 09:25 PM | Comments (5) | Add Comment
Post contains 571 words, total size 4 kb.
Posted by: Steven Den Beste at June 30, 2008 10:15 PM (+rSRq)
Posted by: Will at July 01, 2008 09:20 AM (WnBa/)
Posted by: Mallory at July 01, 2008 10:44 AM (3sife)
Posted by: Steven Den Beste at July 01, 2008 07:09 PM (+rSRq)
Posted by: Wonderduck at July 01, 2008 10:18 PM (UdB9M)
Comments are disabled. Post is locked.
27kb generated in CPU 0.08, elapsed 0.2948 seconds.
47 queries taking 0.2551 seconds, 269 records returned.
Powered by Minx 1.1.6c-pink.