April 13, 2017
F1 on TV: Bahrain 2017
Okay, let's get this out of the way quickly to get to the big news. Here's the track map for the Grand Prix of Bahrain: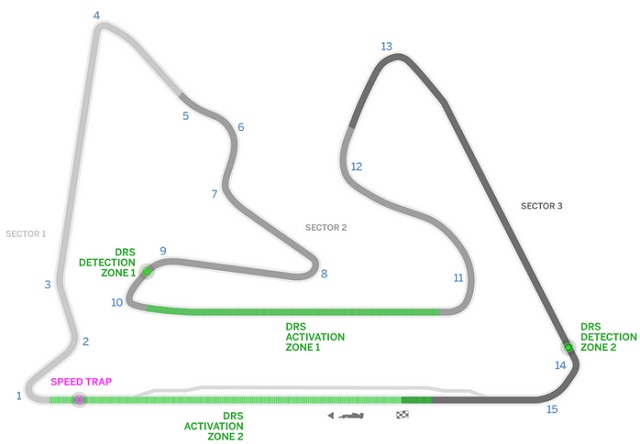 Here's the broadcast schedule, courtesy of the Legendary Announce Team:
Friday
Practice 2: 10a - 1130a live on NBCSN
Saturday
Quals: 1130a - 1p live on NBCSN
Sunday
2017 Grand Prix of Bahrain: 10a - 1230p live on CNBC
All times Pond Central. Make sure you pay attention to the race being on CNBC.
Now, for the big news:
Fernando Alonso is going to miss Monaco. Turns out he's got another gig that day.
You may have heard of it. It's not been much of a secret that Alonso is frustrated as hell with the way his return to McLaren has gone, what with the car and engine sucking and all. He's making a push for Racing's Triple Crown: wins at Monaco, Indy, and LeMans. He'll be driving with the backing of McLaren-Honda, as part of the Andretti Motorsport stable. Alonso says he'll only miss the one race, and will retake his seat in Canada a few weeks later. We'll see.
The IndyCar world is stoked about this, too:
This is just f****** awesome. Welcome! - JR Hildebrand
Woo. I get to race against Fernando Alonso now that is cool. - Sage Karam
Obviously you need some balls to do it. I think that Alonso will handle it well. - Mikhail Aleshin
Welcome to the fastest motor race in the world Fernando Alonso! Great to have a world champion on the grid. - Max Chilton, former F1 driver
We'll see how he comes up to speed and stuff like that but I'm sure he'll be fine. Alex (Rossi) won it, it's a decent comparison, I think, to him. - Marco Andretti, making this the first time Alexander Rossi has been compared in any way to Fernando Alonso.
If I were to give Fernando Alonso some advice into really getting ingrained in the Andretti Autosport team, I think it's actually going to be pretty easy. He already knows Takuma Sato and Alexander Rossi from their stints in F1. So that's done and dusted. I don't know if he's a fisherman but he maybe should brush up on that a little bit because all Ryan Hunter-Reay really talks about is boats. Other than that I think it's going to be pretty easy for him. - James Hinchcliffe
Indy just became a must-watch.
Posted by: Wonderduck at 08:54 PM | Comments (4) | Add Comment
Post contains 410 words, total size 3 kb.
1
Man, how big do your cojones have to be in order to tell your team you're gonna skip
Monaco
?
Posted by: Avatar_exADV at April 13, 2017 09:49 PM (/lg1c)
2
Well, it helps that the team name will be McLaren-Honda-Andretti. But yeah, that's kinda why I wonder if Alonso will be coming back to F1... if there's one race in F1 you don't miss, it's Monaco.
Posted by: Wonderduck at April 14, 2017 07:02 AM (UDOXQ)
3
Alonso has said that to be the best driver in the world, he needs to win either 8 F1 championships (1 more than Schumacher), or the Triple Crown (Monaco, Indy, & Le Mans). Realistically there's no way he's getting to 8. Even one more would be a reach; it's unlikely that a seat at a top F1 team will open up for Alonso in the immediate future. Red Bull only promotes from within, Mercedes is unlikely to want to risk a repeat of the disastrous Hamilton/Alonso pairing, and Ferrari probably won't want him back so soon after he left.
So that means that the Triple Crown will be his goal going forward. He might leave McLaren for a full-time Indycar or WEC drive. McLaren's only slim chance of retaining him is to let him do whatever the hell he wants, including bankrolling his Indy 500 entries for as many years as he feels like doing it, or until he leaves for greener pastures.
Posted by: flatdarkmars at April 14, 2017 08:21 PM (4KXON)
4
Alonso may be the greatest
active
driver in the world, career-wise. Not in terms of titles, but in terms of accomplishing what he's done. He's certainly the king of getting the very most out of a car, to a level I've never seen before.
And before anybody says "Schumacher", remember that I really began following F1 closely with the Monaco race in 2004.
Posted by: Wonderduck at April 14, 2017 09:01 PM (UDOXQ)
28kb generated in CPU 0.02, elapsed 0.0959 seconds.
55 queries taking 0.0793 seconds, 278 records returned.
Powered by Minx 1.1.6c-pink.