November 12, 2012
F1 on SPEED!: UNITED STATES! WOO! FINALLY!
The debut of a new track is always the highlight of a Formula 1 season. But when it's a new track located in the United States after five years away? Oh yes, very yes, much yes, yes please! Let's take a look at the track map for the 2012 United States Grand Prix: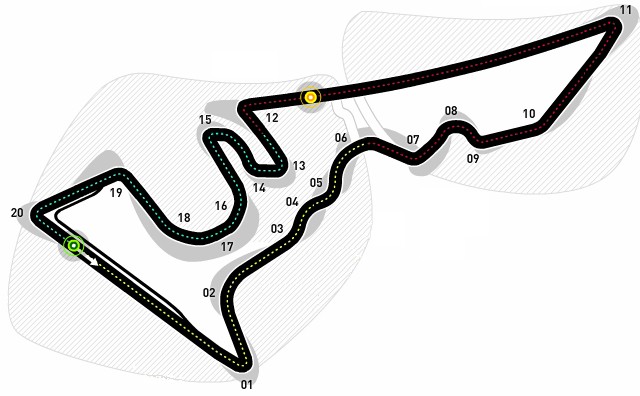 First off, you know what this isn't? It isn't a usual design of the evil Hermann Tilke. This is from the good side of Tilke... the Dr Tilke to the designer of Abu Dhabi's Mr Hermann. It also isn't flat, which may have had something to do with the success of the track design. With a maximum elevation change of 133 feet, pretty much second only to Spa-Francopants, the layout is proving to be awfully darn dynamic. Here's a video of a lap of the layout:
We already know about Turn 1, the blind apex of which is the highest point on the track. It then immediately drops back down somewhat on the approach to Turn 2 and stays flat through to about Turn 7. You then go up and down a smidge until you reach the hairpin at the far end of the circuit. There's a small amount of down and up on the long straight, but it stays billiard-table-smooth from there until Turn 18. From 18 to the final turn is a gentle downslope taking us down to the lowest point, the start/finish line. Me likey. Me likey
lots
.
I probably like it because of the way that Tilke blatantly stole the best parts of other circuits to make this one. The two obvious examples are the Turn 3-4-5 complex, which is lifted from Silverstone's Maggots-Becketts-Chapel, and the rebirth of Turkey's Quad-8 at 16-17-18 here. I'm willing to bet that every F1 fan has put together a "dream circuit" using their favorite turns from various tracks (mine has a nasty, nasty sequence of Spa's Eau Rouge leading to Laguna Seca's Corkscrew... I call it the "Screw Eau")... Hermann Tilke just got to build his.
The hard part is trying to figure out just how the circuit will race, and it's a problem that every team is going to have to figure out, and fast. My guess, and it's only a guess based on nothing more than a visual similarity, is that it'll be like India; really fast, but without as much dust. It's clear that nobody has the faintest idea; Pirelli probably has the most experience here, and they're bringing the Hard and Medium compounds. That's the most conservative choice they can make, and it's simply because nobody knows what'll happen once you get 24 cars pounding around leaving rubber behind. In fact, Pirelli has given the teams an extra set of tires for Friday, to encourage them to go out and pound around the circuit even more than they normally would. Pirelli also believes that the asphalt is abrasive enough to call for the two hardest compounds... my guess is that next year, we'll see the Hard and Soft tires here.
Unless it rains. If it rains, of course, all bets are off and all we'll be able to do is buckle up and hold on. NOAA is saying that
there's a 20% chance of rain Saturday and Sunday
. For once, I don't want it to rain on raceday: I wanna see this track the way it's meant to be raced.
And who will be bringing us all of the action but the Legendary Announce Team! Let's give them their due, since this is pretty much the last time we'll see them all together, not counting Brazil, which I avoid doing at all times...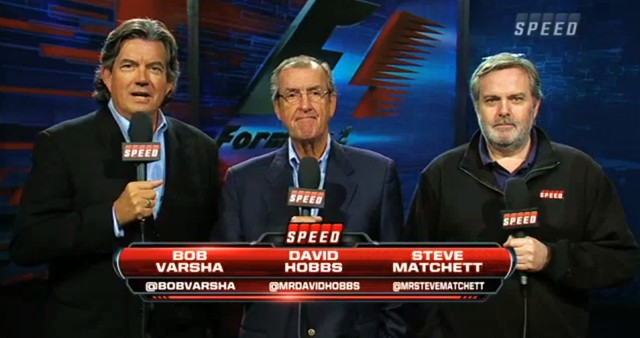 To me, these three are
the
voices of Formula 1. They were the men that taught me the basics of the sport, then taught me more than that... they taught me how to be a fan. While that fandom waxes and wanes during the year, it never falters. It's pretty much a perfect lineup: Steve Matchett, the Constructor's Championship-winning pitlane mechanic; David Hobbs, named by the FIA as one of the 27 best drivers in the world in 1969, with seven career F1 starts, 20 LeMans green flags, Can-Am, Indy 500, even a couple of NASCAR starts (and a Honda car dealership in Milwaukee); and Bob Varsha, a professional broadcaster who has been covering Formula 1 on television since 1986. We're unlikely to ever see and hear this trio together after this season ends, so let me say it now:
Thank you, Legendary Announce Team. Thank you very much.
Here's SPEED's broadcast schedule for Austin, all live on TV:
FRIDAY
P1: 9a - 1030a
P2: 1p - 230p
SATURDAY
P3: 9a - 10a
Quals: 12n - 130p
SUNDAY
2012 United States Grand Prix: 1230p - 3p
They'll also be streaming live in-car cameras on the website, so watch with your laptop open and running... I will be! I've taken Friday off from the Duck U Bookstore, and will be positioned on the couch watching it all as it happens (and I'm considering buying a new TV for it, too)... see you then!
Posted by: Wonderduck at 08:11 PM | Comments (8) | Add Comment
Post contains 859 words, total size 6 kb.
Posted by: Tom Tjarks at November 13, 2012 02:41 PM (T5fuR)
Posted by: Wonderduck at November 13, 2012 07:40 PM (C98np)
Posted by: Avatar_exADV at November 13, 2012 10:07 PM (pWQz4)
Posted by: Will at November 14, 2012 09:00 AM (BkwVO)
Posted by: Tom Tjarks at November 14, 2012 12:20 PM (T5fuR)
Posted by: Avatar_exADV at November 14, 2012 09:03 PM (pWQz4)
Posted by: David at November 15, 2012 02:38 PM (MQlzc)
Posted by: Wonderduck at November 15, 2012 07:59 PM (MOaaY)
Comments are disabled. Post is locked.
29kb generated in CPU 0.0522, elapsed 0.1833 seconds.
47 queries taking 0.1487 seconds, 284 records returned.
Powered by Minx 1.1.6c-pink.