May 03, 2010
F1 on SPEED!: Spain 2010
FINALLY! After a three-week layoff that allowed the teams to tunnel their way back to Europe from China after the eruption of Mt Eyja... Eyjafjalla... Eyjafjallajokullirokdhsdfoihxcvnkwndlaopijxzwhatever, the F1 Circus is picking back up again! Of course, there is the little thing about
where
it's picking up at.
You see, if there is such a thing as an "average Formula 1 circuit," the Circuit de Catalunya is that circuit. Let's take a look at the track map: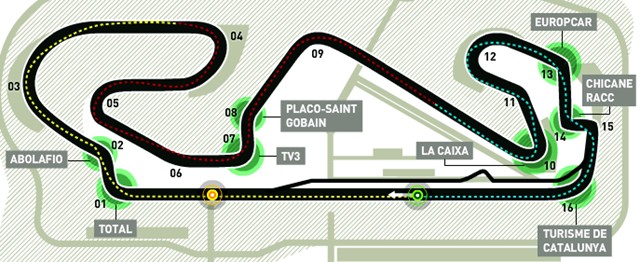 There's nothing wrong with the home track for the Spanish Grand Prix, but there's not all that much that calls out to the watcher, either. While Turn 16 used to be an exciting full-speed blast onto the front straight that allowed a slipstreaming car to get a huge tow into a passing position, nowadays you have the whole turbulence problem that ruins a trailing car's aerodynamics. Other than Turn 1 there really aren't any good passing opportunities. Heck, the circuit only has one really memorable turn, #10 "La Caixa", but even that is kinda "meh" in comparison to the TRUE famous turns (Eau Rouge, Lowes Hairpin, etc etc etc).
Then there's off-season testing. While limited, the teams still turn hundreds of laps in the offseason, and most of them are done at the Circuit de Catalunya. It's been like that for years, and as a result every bump, every wobble, every blade of grass and crack on the layout is ingrained in the institutional memory of the F1 engineering staff. Any driver who's spent more than a year or two in F1 knows the track well... Slappy Schumacher can probably drive it with his eyes closed, Rubens Barrichello knows its curves better than his wife's, and the DNA of HWMNBN (who hails from Catalunya) isn't actually a double-helix, it's shaped like the track. Even the track surface is dull, being neither particularly smooth or abrasive.
What I'm saying is that because everybody knows everything there is to know about this place, it isn't a place that lends itself to excitement. It's like a well broken-in pair of shoes or a 12-year old sweatshirt: no surprises here. Heck, in 1999 there was only one pass made for the entire race.
The only thing that can shake up the parade is the weather, and rain is uncommon. However, due to its location, wind can play a big role; it's not unheard of for the race to start with a tailwind down the front straight that changes to a headwind halfway through. That sort of thing can cause F1 teams to pull out their metaphoric hair as it trashes the aero planning.
Now, the new fuel rules may change things a little bit... or they may not. Either way, we'll find out beginning on Friday from 7am to 840am as the Legendary Announce Team brings us LIVE coverage of the day's 2nd Practice Session.
Saturday, of course, has Quals staring us in the face, plausibly live, from 7am to 830am. The 2010 Grand Prix of Spain is Sunday, LIVE from 630am to 9am. There's a replay from 1030am to 1pm (I think; it's hard to tell on the SPEED Boards sometimes).
So that's it! We're back in the groove with F1, and F1 Update! will be all over it for you! Paella and flan for everybody!
Posted by: Wonderduck at 05:33 PM | Comments (3) | Add Comment
Post contains 554 words, total size 3 kb.
1
And you thought Heikki's name was hard to pronounce...
Posted by: Steven Den Beste at May 03, 2010 09:25 PM (+rSRq)
2
I thought you might like this bit by Martin Brundle of the Beeeeeeeeeeb.
Do you have faith that Hermann Tilke will ever design a circuit that's good for racing or should another designer be brought in?
Dave C, Cheshire
I know Hermann Tilke well. He drives race cars from time to time and he has a business that has enormous experience in delivering turnkey F1 venues in a short time-frame on all over the world.
I would imagine he gets pushed from pillar to post with regard to all aspects of a new venue, especially budgeting.
I think he does a solid job in making a new circuit relevant to its surroundings, local style and traditions. We must remember that he has significant FIA constraints with regard to contour changes, visibility, and run-off areas compared with older circuits which already have established corners.
New circuits must also be suitable for the television feed and clearly Bernie Ecclestone trusts him to deliver.
However, the circuits can end up all looking very similar, especially with identical kerbing and those awful supermarket car-park run offs. He has an impossible task in many ways to keep everyone happy.
Fundamentally I think Hermann does a good job but a bit more competition would be healthy.
Ah yes, to be so, so circumspect.
Posted by: vonKrag at May 04, 2010 02:25 AM (VGXAE)
3
YAY!!!! Racing...and not in the middle of the night for a change. Thanks for the pre-race info; awesome job, as always!
Never did hear a newscaster brave enough to take on the name of that volcano - lol.
Posted by: Mallory at May 04, 2010 07:33 AM (WJ2qy)
Comments are disabled. Post is locked.
23kb generated in CPU 0.02, elapsed 0.1129 seconds.
53 queries taking 0.0955 seconds, 220 records returned.
Powered by Minx 1.1.6c-pink.