May 24, 2011
F1 on SPEED!: Monaco 2011
There are two ways to look at the street circuit known as "Monte Carlo," home of the Grand Prix of Monaco. The first is as a narrow and slow track that modern F1 cars have rendered close to obsolete, and would be too dangerous to have on the F1 calendar if it was proposed today. The
other
way is to see it as what it is: the grandest Grand Prix of them all. Here's the track map:
It's hard to argue with the "too narrow" and "too dangerous" assessment, because to be frank, it is both of those things. Three-time World Driver's Champion Nelson Piquet famously described racing at Monaco as "riding a bicycle round your living room." Because the track is so narrow, it's nearly impossible to pass without taking heroic measures. The circuit starts by going uphill from Sainte Devote all the way to Beau Rivage, then descends sharply from Mirabeau to Portier. There's another small descent as the cars approach the Chicane as well.
Monte Carlo has the distinction of having both the slowest and the fastest turns in Formula 1. Turn 6, better known as the Loew's Hairpin, is taken at approximately 30mph and is so tight that the teams usually have to modify their steering rigs to allow a car to make the turn. Turn 9, aka The Tunnel, is run at about 160mph or so. The only true tunnel in F1 (Yas Marina in Abu Dhabi has one at the end of the pit lane, which doesn't count. Singapore has a stretch that runs underneath some grandstands, but that isn't really a tunnel), its aerodynamic effects take off nearly a third of a car's downforce. For that reason, DRS will not be permitted while running through it during practice and Quals.
That's kind of a pity, as it'd lead to more of my favorite camera sequence... 1) camera follows car through Portier and into the tunnel. 2) Camera picks up car as it approaches the apex of Turn 9, swings to follow. 3) Camera outside tunnel waits for car to appear; all that exits the dark tunnel is a tire or two bouncing free, followed by carbon fiber debris, followed by remainder of car. It never fails to crack me up... it's like the track has eaten the car, and is in the process of spitting it out.
Yes, it's dangerous. Yes, it's too narrow. Yes, it's a horrible track for modern F1 cars. It's also the most recognizable circuit in the world, and nowhere in the world can a (ridiculously wealthy) spectator get so close to a F1 car during a race.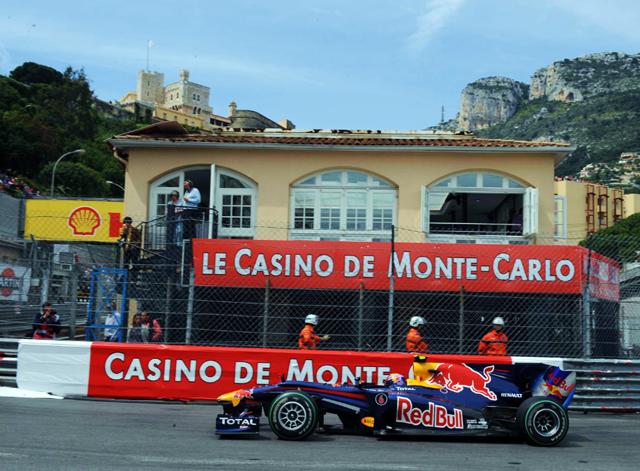 Note spiral staircase to the left of "Le Casino" sign.

Monaco is one of the three entries in the "Triple Crown of Motorsport," along with the 24 Hours of LeMans and the Indianapolis 500. Only one driver,
Graham Hill
, has accomplished the feat in his career, and only one active driver, Juan Pablo Montoya (aka "The Pope"), has a chance to join him (he won Monaco in 2003 and the Indy 500 in 2000).
Late breaking newsflash! Earlier today, a truck caught fire at Sainte Devote. It burned long enough and hot enough that it actually damaged the tarmac underneath it, requiring it to be replaced less than 48 hours before the first practice session. This could very well cause some problems, as the damaged area is in the braking zone... look for Turn 1 to be
very
exciting this time around.
Of course, the Legendary Announce Team will be bringing us their usual reportage on SPEED! It all begins on THURSDAY morning from 3am to 430am with streaming coverage of Practice 1. Practice 2 follows from 7am to 840am, live on SPEED.
Friday is a quiet day in Monaco for the F1 Circus, but the whole shebang picks back up on Saturday morning from 4am to 5am with streaming coverage of Practice 3. Quals is likewise on Saturday morning, from 7am to 830am live on SPEED.
Finally, the jewel in the F1 crown, the 2011 Grand Prix of Monaco takes to the air from 630am to 9am, live on SPEED. There'll be a replay on Monday from 1030am to 1pm.
F1U! will be providing our own version of the "usual reportage" as well, so don't miss it!
Posted by: Wonderduck at 07:55 PM | Comments (3) | Add Comment
Post contains 722 words, total size 5 kb.
1
Sunday is going to be a dream day for race fans! :-)
Posted by: Mallory at May 25, 2011 10:38 AM (WJ2qy)
2
Indeed it is, Mal... between Monaco, Indy and the Coca-Cola 600, it's a very full day.
Posted by: Wonderduck at May 25, 2011 12:50 PM (OS+Cr)
3
Nico Rosberg shows some of the steering wheel
controls
he uses in F! I wonder what Indy cars use & I'll bet NASCAR is not even close in complexity.
Posted by: von Krag at May 25, 2011 08:42 PM (VGXAE)
Comments are disabled. Post is locked.
25kb generated in CPU 0.03, elapsed 0.1445 seconds.
47 queries taking 0.126 seconds, 256 records returned.
Powered by Minx 1.1.6c-pink.