October 19, 2010
F1 on SPEED!: Korea 2010
The F1 Circus pulls into a brand new venue this week, the Korean International Circuit at Yeongam. There's been a terrible amount of hand wringing regarding the condition of the layout over the past month or so, but how will it
really
run? We're about to find out! Let's take a look at the track map: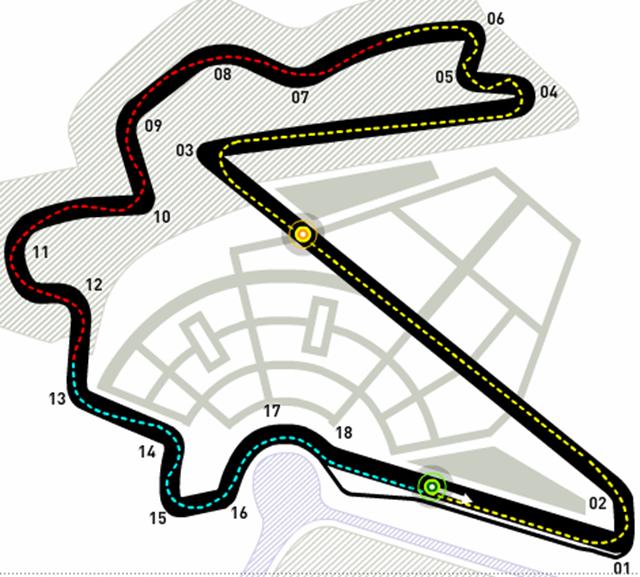 A brand new course is always an exciting time for F1, as nobody has any idea what to expect. While
eyewitness reports
from Yeongam are
somewhat troubling
, they're mostly referring to ancillary subjects though two things from reader David's forum are worry-making. Missing drain covers, for example, remind me of the
Chinese Grand Prix of 2005
, when Juan Pablo Montoya lost out on a podium finish when a loose cover broke his car. Failing curbs might do the same thing.
Then there's the track surface itself. Fresh asphalt is going to be slippery, which'll play hob with downforce levels. Predictions have the teams setting their cars up like it was Suzuka, sacrificing top speed for grip. Yeah, that long straight looks drool-worthy, but there's a lot of curves in the back half of the track and being fast there will pay off more in the long run. Lord knows how the tires will respond... I'm
assuming
that Bridgestone will be conservative with compound choice here, perhaps bringing the hard and soft rubbers. The teams have high-tech simulators, and have been "driving" around the layout for the past month, but there's only so much a sim can tell you. Yes, you'll know the best line through the track and how long you'll be at full throttle, but until the cars take the track for the First Practice session, they won't
know
.
Fortunately, we've got SPEED and the Legendary Announce Team to guide us through the whole weekend. The best news of all is that we'll be able to see that first practice session, Thursday night from 8pm to 930pm, on
speedtv.com
. I'll be watching, for sure! After that, coverage shifts to the network, with Second Practice coming from 1159pm to 140am Thursday night to Friday morning. Thankfully, I've got Friday off from the Duck U Bookstore due to "Fall Break"!
Qualifying is Friday night, beginning at 1159pm and rolling until 130am Saturday morning. Finally, the broadcast of the first-ever Grand Prix of Korea will begin at 1230am Sunday morning, going until 3am. There will be a replay from 330pm to 6pm Sunday afternoon as well.
We'll probably be watching a F1 race taking place in a construction site, but it's a F1 race nevertheless! Of course, F1Update!'ll be all over it all weekend, and we'll see you here then!
Posted by: Wonderduck at 04:39 PM | Comments (7) | Add Comment
Post contains 449 words, total size 3 kb.
Posted by: Steven Den Beste at October 19, 2010 05:17 PM (+rSRq)
Posted by: Avatar at October 19, 2010 06:48 PM (pWQz4)
Posted by: Wonderduck at October 19, 2010 07:25 PM (vW/MM)
Posted by: David at October 19, 2010 11:28 PM (rlE2m)
Posted by: Avatar_exADV at October 20, 2010 04:05 AM (mRjOr)
Posted by: Mallory at October 20, 2010 07:22 PM (WJ2qy)
Posted by: Wonderduck at October 20, 2010 07:53 PM (vW/MM)
Comments are disabled. Post is locked.
25kb generated in CPU 0.02, elapsed 0.1523 seconds.
47 queries taking 0.1332 seconds, 259 records returned.
Powered by Minx 1.1.6c-pink.