October 04, 2010
F1 on SPEED!: Japan 2010
From the slow, twisty, narrow Tilkefied Singapore street circuit, the F1 Circus now transitions to one of the oldest tracks on the calendar, the fast, smoothly flowing,
Haruhi

-appearing
, Suzuka Circuit. Located on the east coast of Japan, the track is one of the big favorites of the drivers, ranking up there with Silverstone and Spa-Francopants. It's also one of the wetter races on the calendar, with rain being more the rule than the exception. Let's take a look at the circuit map for this wonderful track: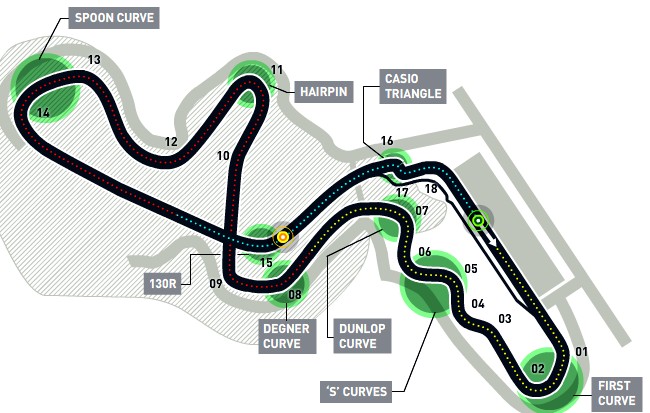 Suzuka is notable for being the only figure-of-eight layout on the calendar, not that you would know it from TV coverage, and truthfully the bridge section flashes by so quickly you barely notice. The circuit contains two or three legendary "named" turns.
130R
is arguably the fastest turn in F1, one of the few that's taken flat-out at the end of a long straight. To say it's a stern test of a driver's mettle is an understatement. Alas, it's no longer
the fearsome 130meter radius
(hence '130R') single bend that it used to be, turning it into a double-apex bend of 85m and a 340m immediately after. This made it easier to navigate, but not all that much, and it's still a rough turn.
Then you have the
S Curves
. If there's a better example of a 'rhythm section' on a race track anywhere in the world, I've never seen it. Drivers say it's essentially a horizontal rollercoaster, and if you mess up the line at the entry, you've just blown your entire lap as you struggle to toss the car around the bends. On the other hand, if you get it
right
you've just opened the door for all sorts of wonderful things like a quick run to the third of the named turns: Degner.
Degner
doesn't seem to be anything special, just a gentle-ish bend to the right. However, last year Turn 08 earned a dark place in everybody's heart with four separate accidents located there during
Quals
. High curbs, a bump in the track, resurfacing that ended just short of Degner... take your pick as to why there were so many wrecks in 2009, but it's possible that the gremlins will still be there this year. Cross your fingers...
Weather is forecast to be rainy all weekend, just to add another level of excitement to the already challenging circuit. F1's weatherpeople have been pretty lousy at predictions this year, though, so it's really anybody's guess what it's going to be doing come race day.
One really nice feature of Suzuka is that the race is at a decent time here in the US. Coverage begins on Thursday from 1159pm to 140am Friday, with LIVE pictures of 2nd Practice. Quals are from 1159pm Friday to 130am Saturday morning.
The 2010 Grand Prix of Japan coverage is Sunday morning from 1230am to 3am, with a replay from 130pm to 4pm for all you people who actually, y'know, sleep. All times are Pond Central, so Vaucaunson's Duck, you're getting the race at 1030pm on Saturday... you lucky bastard. Maybe you can convince Dr John to watch it, eh?
Finally, SPEED has started to stream coverage of Friday's 1st Practice live on their website! For Japan, the whole thing starts at 9pm at
speedtv.com
. For those that read the F1Updates! but don't own a TV, here's your chance to actually see some Formula 1 running. Now, the Legendary Announce Team doesn't commentate during these, so it's just ambient sound... which is great, too.
Of course, F1U! will be all over this race weekend... we'll see you then!
Posted by: Wonderduck at 09:21 PM | Comments (5) | Add Comment
Post contains 607 words, total size 4 kb.
1
Is this one that Tilke
didn't
design?
Posted by: Steven Den Beste at October 05, 2010 12:23 AM (+rSRq)
2
Correct. This track first saw a race in the 1960s, long before Tilke's evil hands began to torture F1 fans.
Posted by: Wonderduck at October 05, 2010 06:50 AM (blg68)
3
It's a great live venue too. Transit to & from is very good. I was last there in the late 90's & even for this non kanji gaijin I didn't get lost... too much
Posted by: Tony von Krag at October 05, 2010 07:19 AM (VGXAE)
Posted by: Steven Den Beste at October 05, 2010 03:20 PM (+rSRq)
5
Great preview! And looking forward to the streaming coverage of the first practice.
:-)
Posted by: Mallory at October 05, 2010 03:49 PM (WJ2qy)
Comments are disabled. Post is locked.
26kb generated in CPU 0.05, elapsed 0.173 seconds.
47 queries taking 0.1525 seconds, 265 records returned.
Powered by Minx 1.1.6c-pink.