September 08, 2009
F1 on SPEED!: Italy 2009!
Monza. Flat-out, eyeball-watering, bury-the-pedal-and-hold-on speed. Nothing more, nothing less. And the Italian nation loves it.
Here's the map: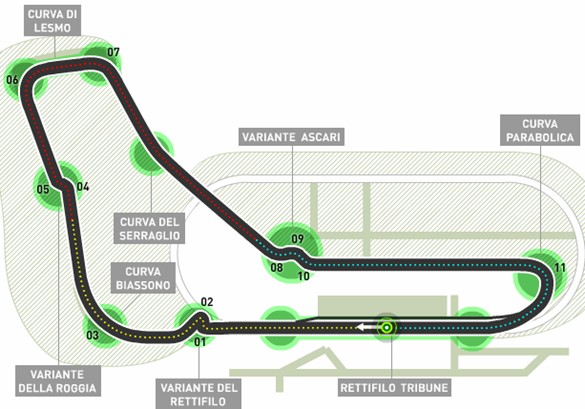 There was once a time when the various chicanes didn't exist, when a driver only had to move the steering wheel five times a lap. Those days are gone, sacrificed in the name of safety, and I think that's a good thing... though to be honest, I wouldn't mind seeing a F1 car go blasting around the circuit at full throttle. Still, Monza is the fastest track on the calendar.
In fact, it's so fast that the FIA has decreed that there's going to be new, higher, curbs at Variante del Rettifilo and Variante della Roggia this race, to prevent drivers from straightlining those chicanes. I'd also suggest landmines and deep pits with tigers at the bottom.
The Parabolica is the fastest turn in F1, nearly 180mph as you exit. You hit 210 just before the first chicane. Over three-quarters of a lap is done at full throttle. Just astonishing numbers in comparison to the rest of the season.
And SPEED'll be bringing us their usual coverage , starting on Friday with LIVE video from 2nd Practice from 7am to 840am. Saturday brings us Quals from 7am to 830am. The race itself is Sunday, from 630am to 9am, with a replay at 330pm (all times Pond Central).
Hopefully, I'll be bringing you the usual sterling reportage you've come to expect from F1 Update! on Sunday as well.
See ya then.
Posted by: Wonderduck at 07:19 PM | No Comments | Add Comment
Post contains 253 words, total size 2 kb.
Comments are disabled. Post is locked.
22kb generated in CPU 0.0312, elapsed 0.2743 seconds.
45 queries taking 0.2534 seconds, 275 records returned.
Powered by Minx 1.1.6c-pink.