July 26, 2010
F1 on SPEED!: Hungary 2010
Okay, let's get this out of the way.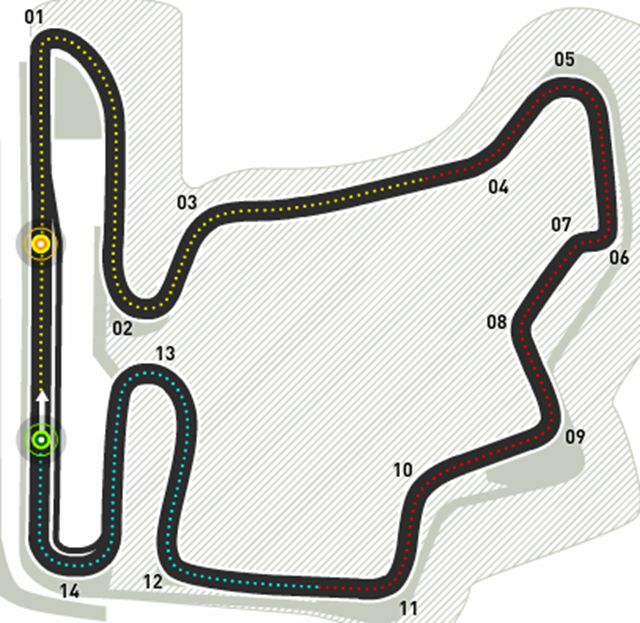 This is the trackmap for the Hungarian Grand Prix. If you think it looks like a Hermann Tilke circuit, you'd be wrong... which makes it all the worse. Slow, twisty, narrow, dusty from disuse, the Hungaroring was constructed in 1986, before Tilke became the unofficial official designer for F1. It does all the same sort of things that your normal Tilke track does: turns perfectly positioned to ruin any chance at passing on a straight, turns too quick to pass on, hairpins too big to turn inside someone (2 and 5, I'm looking at you), even the main straight is one of the shortest in F1. It's the Ur-Tilke Circuit.
The original concept for the layout came from Birdy Ecclestone himself. He wanted a street circuit similar to Monaco built in Budapest... instead, the government of Hungary built the circuit in a nearby park, but used the same basic design. The result? A street circuit without any of the visual appeal of street circuits. The one thing the Hungaroring does well is spectator seating; situated in the bottom of a natural bowl, fans can see most of the track from nearly anywhere but the main grandstands. However, the sandy soil makes the bowl a dusty nightmare to drive in. That natural bowl also traps the heat and humidity of the Hungarian summer. Drivers routinely complain about the temperatures and the bumpiness of the track surface, both of which make life miserable.
On the other hand, I routinely complain about the whole GP of Hungary experience. Now that Magny-Cours is off the calendar, this should be the next track to get the axe... unfortunately, it has a contract through 2016. The only thing that can save a race here from being a processional is rain. Unfortunately, there's only been one rain race here, in 2006... which turned out to be Jenson Button's first victory and perhaps the best race of the year. There IS rain predicted for Sunday, but we all know that forecasts made a week out can change.
The one spot of good news is that we're back to live coverage on SPEED! No more four-hour-tape-delayed coverage, and not as many commercial breaks, too! P2 comes to us live on Friday, from 7am to 840am, with Quals from 7am to 830am on Saturday.
The race will be LIVE on SPEED from 630am to 9am on Sunday morning, with a replay from 130pm to 4pm that afternoon. F1U! will be doing our usual eccentric coverage all weekend, god help us. See you then!
Posted by: Wonderduck at 05:28 PM | Comments (1) | Add Comment
Post contains 436 words, total size 3 kb.
1
Well this is good news, Monaco is on for ten more years. Now if only this one (Hungary ) would get redone.
Posted by: von Krag at July 28, 2010 12:32 PM (VGXAE)
Comments are disabled. Post is locked.
23kb generated in CPU 0.06, elapsed 0.2891 seconds.
47 queries taking 0.2473 seconds, 266 records returned.
Powered by Minx 1.1.6c-pink.