April 14, 2009
F1 On Speed!: China 2009
With the FIA deliberating on the Case of the Diffuser Three and a decision expected on Wednesday, the rest of the F1 Circus charges into Shanghai for the third race of the season. Last season, the Chinese GP was the penultimate race, run in October. The expected weather for this year is cool and less humid, which will make the engine shops happy. That same forecast, however, will give the Bridgestone tire techies headaches as lower track temps mean tires that won't grip as well until they heat up... which takes longer when it's cool.
Those cold tires mean that the KERS cars may well have to limit their use of the power-boosting system until they heat up. After all, throwing another 80hp through the tires when they aren't gripping well means even less traction as the tires skitter and spin, just like a dragster off the line (though, it must be said, in miniature).
Let's take a look at the track map for the Shanghai International Circuit: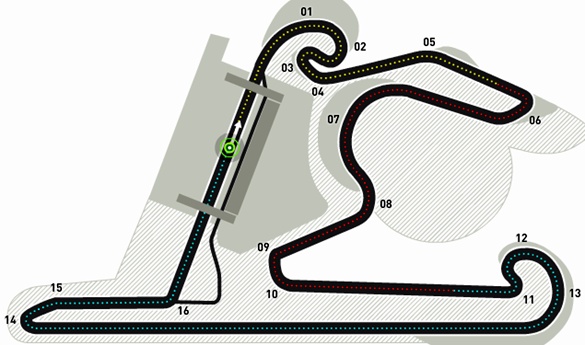 Yes, another Hermann Tilke "Adventure" track, full of great passing locations that are completely ruined by mickey-mousing... turns 6, 11, 13 and 15, I'm looking at you here. Still, I'll give Tilke credit for one thing: the exit of turn 13 actually has some small amount of banking to it, the only one in F1. Ironically, it's called "Indianapolis".
Yeah, I'm not a fan of this track. Okay, bonus points for being shaped like the Chinese character "shang", meaning "ascend", which is the first character in Shanghai, but minus several million for being a pig to race on.
Or, at least, it
was
. With the new aero rules improving the ability of these cars to actually pass one another, all bets are off. We won't know until they actually get on the track... which the good folks at SPEED will be showing us live!
Starting with Friday's Second Practice on the
17th,
from
1am to 240am
. Quals are on
Saturday the 18th
, from
1am to 230am
, plausibly live. Will Brawn get their third pole in a row? Or will their diffuser be pulled away? We'll know soon...
Then on
Sunday, April 19th
, from
130am to 4am
, we'll get live coverage of the Grand Prix of China. There's a replay Sunday afternoon from 330pm to 6pm.
See you then!
Posted by: Wonderduck at 09:45 PM | Comments (3) | Add Comment
Post contains 391 words, total size 3 kb.
1
For those of us who are race-challenged, please define "Mickey Moused" ... why do those particular curves cause you consternation?
Posted by: K Duncan at April 15, 2009 08:21 AM (1PFDl)
2
It's mostly their placement on the circuit, K, though in the case of 13, the turn's profile bites, too.
Hermann Tilke has this nasty habit of putting a weird turn in JUST the wrong place, taking a fairly decent location for a pass to be attempted and turning it into a complete impossibility. Turn 6 is a fine example of this.
If it was a constant radius turn (like #3), it'd be fine... more than fine, as a matter of fact: that run from 4 to 6 is long enough to get a nice slipstream effect going for the trailing car, and then all the passer would have to do is either gain the inside line OR outbrake the passee. However, #6 acts like two separate turns with a "short chute" in between, and the two parts have different radii. Usually a driver has his hands full just steering through it, let alone trying to pass an opponent at the same time.
Turn #15 should just be deleted. You've got that lovely long straight in the run down to 14, which SHOULD make #14 a fantastic spot to outbrake your opponent, and it is... but #15 makes it difficult to counterattack. If 14 was slightly bigger, you could have that run to 16 be the same length (or maybe a tad longer) and all straight.
That's "mickey-mousing" in my world.
Posted by: Wonderduck at April 15, 2009 07:07 PM (2+BgR)
3
ic. Thanks for the explanation.
Posted by: K Duncan at April 16, 2009 08:23 AM (1PFDl)
Comments are disabled. Post is locked.
23kb generated in CPU 0.06, elapsed 0.1524 seconds.
47 queries taking 0.13 seconds, 242 records returned.
Powered by Minx 1.1.6c-pink.