November 08, 2011
F1 on SPEED!: Abu Dhabi 2011
The Driver's Championship is sewn up. First, second and third in the Constructor's Championship are locked in, and fourth may as well be. Ladies and Gentlemen, that is the exciting backdrop for this year's Grand Prix of Abu Dhabi! Let's take a look at the track map: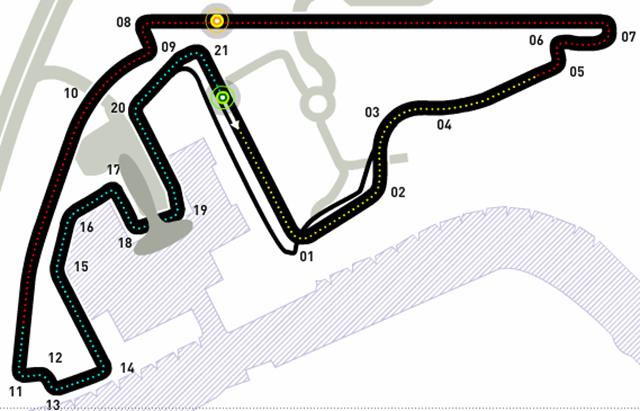 We've had two previous Grands Prix here, and to be honest neither of them were all that great. Oh sure, watching HWMNBN get stuck behind The Red Menace for the entire race when he needed to get past to have a chance at winning the Driver's Championship was...
satisfying
... but not exciting. But that was the past; with today's KERS/DRS combination, there will undoubtedly be
some
passing. It's just hard to get excited about this race, all things considered.
It IS desperately important Sauber, Toro Rosso, Force India and Renault, however. These teams are all racing to finish fifth in the Constructor's Championship, and all four have a decent chance for the "best of the rest" prize. Renault has the lead with 72 points, followed by Force India's 51. Sauber and Toro Rosso are tied on points with 41, but Sauber leads the Red Bull junior team by dint of better finishes. The difference between finishing fifth and eighth is measured in the tens of
millions
of dollars when Darth Bernie writes the checks at the end of the year, and you'd best believe all four teams would kill for that cash. Indeed, it could literally be the difference between life and death for a team like Sauber, the last of the privateers. We'll keep an eye on that during the race, for sure!
As will the good folks at SPEED, who are bringing us their usual great coverage for the race weekend! Here's when it all goes down:
Friday: 3a - 430a P1 (streaming), 7a - 840a P2 (live)
Saturday: 4a - 5a P3 (streaming), 7a - 830a Quals (live)
Sunday: 630a - 9a Grand Prix of Abu Dhabi (live), 2p - 430p race replay
F1U! will be all over it, too! It's the penultimate race of the season; as dull as the backstories may be, it's still F1, and the season is nearly over... gotta enjoy it while it lasts!
See you then!
Posted by: Wonderduck at 11:11 PM | Comments (3) | Add Comment
Post contains 378 words, total size 2 kb.
1
If I were betting, my money would be on Force India.
Posted by: Steven Den Beste at November 09, 2011 12:01 AM (+rSRq)
2
By the way, this track seems to have a pretty intelligent pit-lane road. Rejoining at the outside of turn 3 is pretty good. And getting off just before turn 21 is also pretty good, especially since the racing line into turn 21 will be at the outside of that straight, whereas cars going into the pit lane will be on the inside.
Posted by: Steven Den Beste at November 09, 2011 12:06 AM (+rSRq)
3
Yep, the pit lane is pretty smart on this track. Even the tunnel under Turn 1 hasn't turned out to be as big a problem as people thought, though we have had a few moments.
There's really no way to keep a pit-out from being a little dangerous... it's like an on-ramp to a highway; no matter what you do, chances are there's going to be a car coming. Some (Abu Dhabi, Monaco, Brazil) are better than others (Korea, India), but they've all got some level of risk involved. You just have to hope that the driver of the 18-wheeler coming up on you hasn't been behind the wheel for 32 hours straight...
Posted by: Wonderduck at November 09, 2011 12:25 AM (2YMZG)
Comments are disabled. Post is locked.
24kb generated in CPU 0.35, elapsed 0.4772 seconds.
47 queries taking 0.4018 seconds, 264 records returned.
Powered by Minx 1.1.6c-pink.