September 27, 2017
F1 on NBCSN: Malaysia 2017
The circuit at Malaysia was one of the first true Tilkedromes, and for the most part I'll be able to forget it quickly.. which is what we'll all need to do, because this is the last race that'll be taking place there for the visible future. The promoters decided not to cough up the $Insane needed to get the rights to hold a F1 race, and thus will their contract lapse. Let's take one last look at the track map, shall we?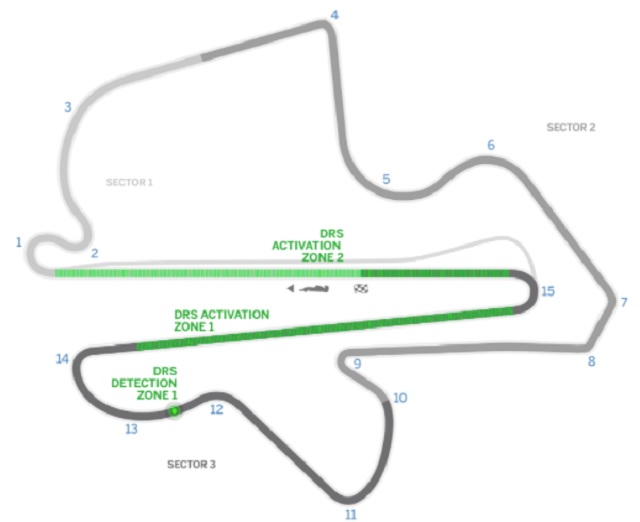 The circuit was resurfaced last year, which took care of most of the bumps a track gets over the years as the asphalt/concrete/whatever settles. Oddly, they also raised the inside of Turn 15 by a meter in an attempt to improve the passing there. Nobody is entirely sure if it worked. Well, there's always the chance of rain, right?
Speaking of rain, here's the broadcast schedule for the race weekend, presented by the Legendary Announce Team:
Practice 2: 2a - 330a live on NBCSN
Quals: 4a - 530a live on NBCSN
2017 Grand Prix of Malaysia: 2a - 430a live on NBCSN
All times, of course, are Pond Central. Check your local listings just in case I screwed up the conversions.
Speaking of screwing up, Kid Kvyat has lost his drive with Toro Rosso, at least temporarily. His performance has been... um... lackluster, so the team is bringing in Pierre Gasly on a trial basis. Gasly appears to be a Talent, having won the GP2 series last year (over the famous Tony Snazzy who drove a couple of F1 races earlier this year). He's part of the so-called Red Bull Junior Team, their young drivers program, which has sent at least six drivers to F1 before Gasly: Christian Klein, Vitantonio Liuzzi, Smiley Ricciardo, Embryo Verstappen, Seb Vettel... and Kid Kvyat. Gasly is also French. Sacre bleu. With a name like "Pierre", you were maybe expecting Polish?
Speaking of "Polish", it's looking more and more like Robert Kubica, the moron who threw his F1 career away by entering a rally race and nearly dying, is going to be returning to Formula 1 either sometime this year, or at the start of next. Renault has been taking a good, hard look at him in test drives, and despite having
an arm that looks like a swizzle stick
, he's apparently done well enough to be in contention. More surprising is that he can actually exit the car within the FIA-mandated time with that, but there you go. I'm Polish as well, so
that
part of me wants to see him again... he sure looked like a champion-in-the-making... but the rest of me just thinks he was an idiot and doesn't deserve another try. Yes, I'm confused.
Which isn't anything new. See you soon!
Posted by: Wonderduck at 08:56 PM | No Comments | Add Comment
Post contains 470 words, total size 3 kb.
26kb generated in CPU 0.0239, elapsed 0.3351 seconds.
47 queries taking 0.3194 seconds, 277 records returned.
Powered by Minx 1.1.6c-pink.