August 30, 2016
F1 on NBCSN: Italy 2016
Speed. Turns and curbs to the contrary, speed is what F1 should be all about. Go fast, turn fast, fast, faster, fastest. But we all know and understand that F1 doesn't
do
raw straightline speed, not like IndyCar or NASCAR or that most quintessential of American motorsport, drag racing. Their tracks are designed to allow their cars to go as fast as possible and devil take the hindmost. Oh sure, both IndyCar and NASCAR throw in a couple of road circuits as a filip to those who think that turning right is important, but we all know that racing on a ginormous oval is the One True Way to speed. The stereotypical F1 fan (aka almost all European F1 fans) sneer at ovals as too simplistic, too easy, too... American... for something as difficult as Formula 1.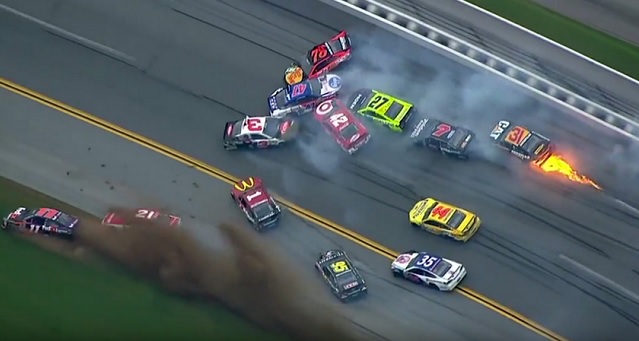 You can hear lips curling in a sneer all the way across the Atlantic.
And then there is
La Pista Magica
, The Magic Track. Officially known as Autodromo Nazionale Monza, this has been the home of the Italian Grand Prix essentially forever. And this legendary circuit is where all the sneering and talking down goes away, because Monza is about nothing more than speed. Here's the track map:
Yes, there are a few turns thrown in. For the most part, they are recent additions. Why, Monza even had a high-banked oval portion to boot. They would never admit it, but F1 fans know that Monza is an American track at its heart: raw oomph and no finesse anywhere. One's right foot is to the floor for 80% of the lap, after all... and when it isn't on the floor, it's still pretty darn close to it. The teams will be breaking 200mph at the end of the front straight, after coming off Parabolica (Turn 11) at about 170mph. Oh, sure, the track in Mexico is now technically the fastest in F1, but that's all from one long straightaway. After that, it's twisty and curvy and turny... none of that for Monza. It's fast
everywhere
. Brakes are for other circuits.
Yes, I exaggerate for effect, but it's not that far from the truth. Teams bring the minimum amount of downforce possible to this place, because downforce slows the cars down and ain't nobody wants that.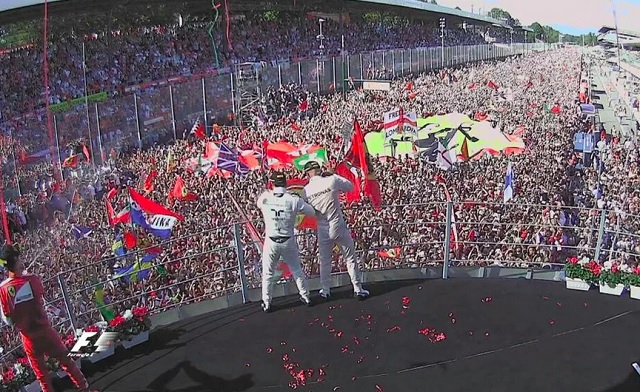 The only thing more ridiculous than the speeds at this Italian circuit are the Italian fans that show up... the rabid
tifosi
. Loud, passionate, and not afraid to nick everything team related up to and including tires, cars, and drivers probably. And woe betide the world if Ferrari ever wins here again... the crowd reaction can only be topped by fans of the Cubs when they win the World Series.. They're what makes Monza such fun... they start cheering before the race starts and doesn't shut up until a few days after the race is over.
It's that unique experience the Legendary Announce Team means to bring us with their usual on-air flair and panache. No idea if The Varsha will be in Leigh Diffy's seat again, guess we won't know that until P2! Here's the broadcast schedule:
Friday
Practice 2: 7a - 830a live on NBCSN
Saturday
Quals: 7a - 830a live on NBCSN
Sunday
2016 Grand Prix of Italy: 630a- 9a live on NBCSN
All times, as usual, are Pond Central Time. Check your local listings for times in your area. F1Update! will be along after the race... not that we're expecting anything more than another Merc domination. But we will see, won't we? Stay tuned!
Posted by: Wonderduck at 08:50 PM | Comments (2) | Add Comment
Post contains 594 words, total size 4 kb.
1
It really is a shame they had to put those chicanes in. Without them, this track would be "pedal to the metal" the entire distance.
Posted by: Steven Den Beste at August 30, 2016 11:08 PM (+rSRq)
2
That's a nice writeup! I'm glad to see you getting your groove back, as it were.
Posted by: David at August 31, 2016 03:55 PM (XlHlQ)
28kb generated in CPU 0.0169, elapsed 0.1951 seconds.
49 queries taking 0.1837 seconds, 280 records returned.
Powered by Minx 1.1.6c-pink.