April 05, 2017
F1 on NBCSN: China 2017
Shanghai... The Pearl of the Orient. The showpiece of the Chinese economy. The most populous city proper in the world. So why the hell can't it sell out the Formula 1 Grand Prix of China??? Here's the trackmap: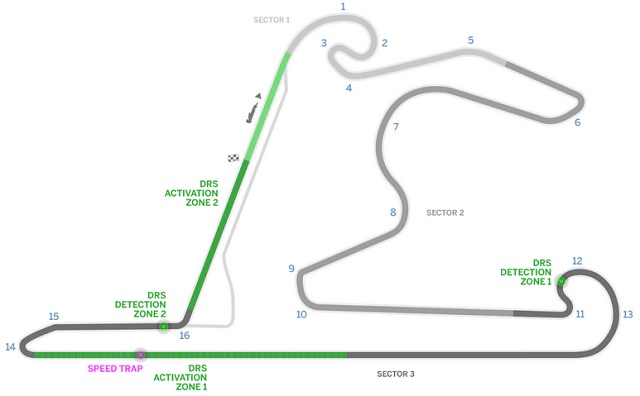 Same as it's been since 2004. Longest straightaway in F1. I love that Turns 1-4 complex, for whatever reason. It just looks like Hermann Tilke threw a french curve on his drafting table and said "yep, that's good." Or his cat got involved. Whatever, it's not my favorite circuit on the calendar, but it's hardly my least favorite. It's just... there. And while you would think that the new aero rules will turn this circuit on its ear, I've seen a report that estimates that the cars are going to be something like three kilograms short on fuel. With the increased drag and higher engine output guzzling petrol, they think the cars can't legally have enough gas on board to finish the race! They can carry 105kg, but will need 108. Lift and coast, lift and coast... and hope for safety cars and rain. Well, there's a slight chance of rain at least for race day. That'll keep down the smog at least.
Speaking of race day, the Legendary Announce Team will be doing their level best to make everything exciting! Here's the broadcast schedule:
Friday
Practice 2: 1am - 230am live on NBCSN
Saturday
Quals: 2am - 330am live on NBCSN
Sunday
Grand Prix of China: 1230a - 330am live on NBCSN
...of course, all times are Pond Central. Sometime after the race, the F1Update! team will get off their lazy kiesters and do their usual writeup. Or something. We'll see you then, then!
Posted by: Wonderduck at 08:44 PM | Comments (5) | Add Comment
Post contains 288 words, total size 2 kb.
Posted by: GreyDuck at April 05, 2017 10:38 PM (rKFiU)
Posted by: Ben at April 05, 2017 11:46 PM (S4UJw)
Posted by: Wonderduck at April 06, 2017 07:35 PM (UDOXQ)
Posted by: Kayle at April 06, 2017 10:53 PM (y53xD)
Posted by: Ben at April 07, 2017 08:29 AM (S4UJw)
28kb generated in CPU 0.03, elapsed 0.1144 seconds.
55 queries taking 0.092 seconds, 279 records returned.
Powered by Minx 1.1.6c-pink.