April 13, 2012
F1 China Practice 3: Liveblogging!
(PRE-SESSION) Okay, this time for sure! It looks like
we'll have a Bahrain GP
this year, more's the pity. Money trumps human decency, I guess. *shakes head* Enough politics, lets get to the racin'. Or the practicin', as the case may be.
F1Fanatic has a good roundup of reactions
to the announcement regarding the Bahrain GP. It's not pretty. They're burning Bernie in effigy. Which just means they're like most F1 fans around the world.
(60:00) And we're off. It's not raining, more's the pity.
(58:20) I wonder if the teams think we'll be getting rain soon, however. Nearly the entire field hit the track within the first 90 seconds. They usually straggle out; if there's rain coming, they'd go out to get some dry laps under their belt. Who knows?
(56:31) Oh. Installation laps only. I should have known. Seriously, if someone with talent would rather do this, let me know.
(54:26) Just like that, the circuit is empty of cars. Oh boy, this'll be exciting! Red-hot garage action!
(52:51) Speaking of red hot....
Thermal camera shot... that's the front-left tire in the lower right corner, and that big red blob above it is the engine. Always interesting to see.
(48:19) A HRT takes the field! Now we'll see some
real
action.
(45:03) Or not. Two minutes of crowd shots, paddock look-ins, and one brief moment of a patch of grass. All of which are, apparently, more interesting than a HRT to the FIA producers.
(41:24) My feed seems to be crepe tonight. I'll go a minute, then the video pauses, then it continues on like nothing happened. Weird.
(39:40) THERE we go! HRT in the runoff area, and nearly to the kittylitter. It's now an official practice session.
(37:55) While it's not raining, the thin sunlight the track is getting isn't doing much in the way of heating of the tarmac. Nico Rosberg was just crying about having both under- and over-steer, sometimes in the same corner. The team came back with "the track is cold, deal with it."
(35:15) Vettel is having brake problems. He went into a corner, applied the brakes, and the clampers on the front-right corner didn't release until he was all the way through. That's not good at all. His radio call was not amused.
(33:27) Lots of people standing around, staring at the offending wheel. Not so much working going on, however.
(30:00) Half the session gone. HWMNBN has made an appearance, positioning himself in 10th. the bells in Maranello are silent.
(28:44) Oooh, Mr Director, I
love
it when you cut from one McLaren T-bar camera to the other like that... it feels so art-schooly!
(27:03) HWMNBN jumps up to 8th on the timecharts. Somewhere, Enzo Ferrari is whirling dervishly in his grave.
(24:44) Good: Kimi Raikkonen is in 4th. Bad: Over a second behind the fastest lap. Ugly: looks like he has a sparkler dragging under his car. Might have to raise that ride-height, lads.
(23:01) Oooh, Mr Director, I
love
it when you slow us a super-slo-mo replay of Lettuce Grosjean having a spin... it looks so film-schoolish!
(20:56) Nico Hulkenberg just pegged the meter at 4.8G at the end of the back straight. From what I've read, that'd be awfully uncomfortable. Now do it multiple times a lap, over 50-odd laps or so. We'll pick up your head after it falls off, trust us.
(18:24) And HWMNBN has improved his time yet again... and still fallen to 12th place.
(15:00) 45 minutes gone, still no sign of Vettel. I'm gonna go out on a limb and say that the brake thing is a concern.
(13:13) There are now only two cars on track, Webber and Button. Mr Director is showing us neither of them.
(12:45) Red hot mechanic action. THRILL to the sight of a
Renault
Lotus mechanic trying to remove a brake housing! With a hammer, it looks like.
(10:19) To be fair, "hit it with a hammer" is a valid mechanic's device.
(9:09) Button is now #1 on the timesheets. Meanwhile, the wind howls outside my balcony.
(7:50) Oh look, it's Felipe Massa in his last practice session before he's canned from Ferrari! No pressure, Felipe!
(7:04) Radio call to Slappy Schumacher: "We're looking for consistent fast laps. No slow laps, no slow laps." THAT'S what HRT has been doing wrong all this time, they're supposed to be doing FAST laps! It seems so obvious in hindsight!
(4:23) So this kid, Hamilton? He's pretty fast, yeah.
(2:43) Vettel's back... still in 8th, though.
(0:38) HWMNBN is now 18th. Good.
(0:00) Invisible F1 car!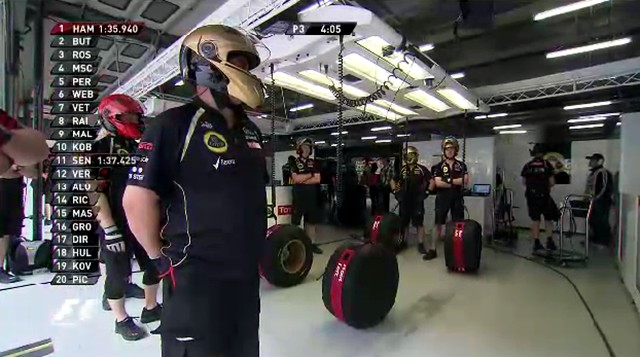 (SESSION OVER) Hamilton, Button, Rosberg, Schumacher are 1-4 on the session's timesheets. Four Mercedes-powered cars in a row. Oof... not looking good for the rest of the field, is it? Fortunately for everybody else, Hamilton has that 5 grid-spot penalty coming for changing his gearbox.
Quals sometime tomorrow afternoon! See ya then (unless I get up really early to go to work)!
Posted by: Wonderduck at 08:55 PM | Comments (3) | Add Comment
Post contains 834 words, total size 6 kb.
1
What's an "installation lap"?
Posted by: Steven Den Beste at April 13, 2012 10:59 PM (+rSRq)
2
An "installation lap" is basically a way of saying "yes, we have a car, it ran on track, we participated in the session." and also "hey look, the mechanics did everything right, nothing fell off. Now you can think about pressing on the loud pedal for real."
Posted by: David at April 13, 2012 11:50 PM (Kn54v)
3
It's when the teams send the car out to make sure everything still works, or any repairs/modifications/whatever hold together. It's giving the car a thorough shakedown, basically.
Posted by: Wonderduck at April 13, 2012 11:50 PM (PVVuW)
Comments are disabled. Post is locked.
24kb generated in CPU 0.05, elapsed 0.1693 seconds.
53 queries taking 0.1373 seconds, 220 records returned.
Powered by Minx 1.1.6c-pink.