June 18, 2017
Ducks In Anime: UberLyft
As I often do on Saturday nights, I was online chatting with
Brickmuppet
(which says a lot about my life, doesn't it?). He was sending me various and sundry pictures of a somewhat questionable nature, as is the usual wont, but one of them was different. It was a picture of a tiny fairy-like being riding a duck. I recognized it immediately, because c'mon, it's an anime duck... and I realized that I had never actually used that particular show before! The time has come to rectify that mistake.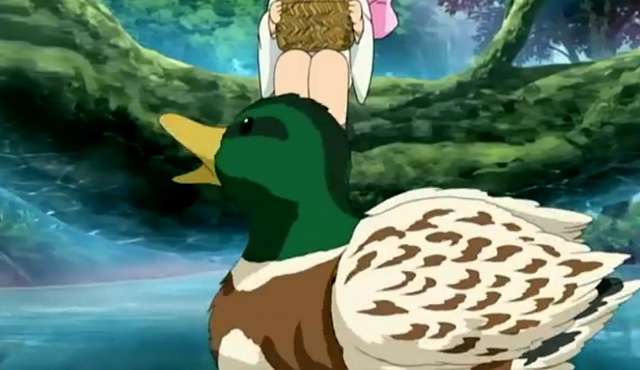 -Binchou-Tan
, Ep01
The entire series has been put on yootoob and I warn you, you will immediately develop both cavities and diabetes from watching it. But it's really kinda worth it... it's just a lovely little piece of fluff where every character is the living embodiment of types of charcoal.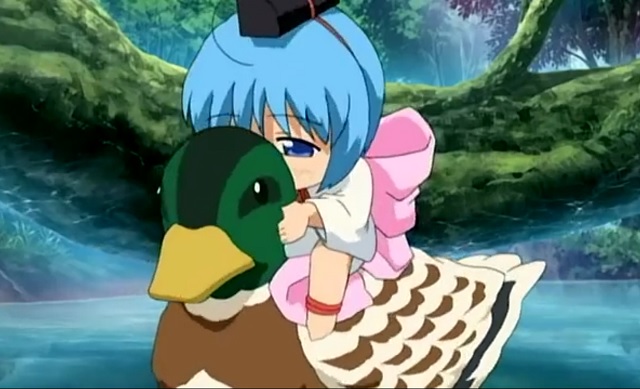 It isn't
all
sweetness and light of course. Binchou-tan is a lonely orphan that lives in a small house deep in the woods and has to forage for food when she isn't working in the nearby town doing menial tasks. One of her friends is a miko that communes with the afterworld. Y'know, that sort of thing. There's some meat in the froth, though. Well worth the cost of time, dental work, and insulin. I will warn you that, unless you are completely heartless, there is a very chance you will be tearing up or flat-out crying during the last few episodes.
And it's got the best looking realistic ducks I've ever seen in anime. That counts for a lot too.
Posted by: Wonderduck at 11:50 AM | Comments (3) | Add Comment
Post contains 264 words, total size 2 kb.
1
Hmmmm. May have to check this out, thanks!
Posted by: GreyDuck at June 19, 2017 07:29 AM (rKFiU)
2
Not sure if your interest just goes to rubber ducks in anime or also includes duck like characters.. but I'll post this in case it includes the latter as well. I saw somebody offered a 1940's era anime on BakaBT called Ahiru Rikusentai. It features duck like characters drawn in a similar style to Disney and Warner Brothers of the time. The description was:
The conflict between ducklings and frogs escalates into war. However, a lightning strike makes the fighters realize the trivial nature of their battle.
BakaBT has gone private, so I can't link to it there, but it's short and it looks like somebody posted it to
youtube here
.
Posted by: stargazera5 at June 19, 2017 02:50 PM (0oc59)
3
Yes, you will end up with cavities in your
bones
after watchign that series...but it is visually stunning and a lovely watch.
Posted by: Ed Hering at June 19, 2017 10:56 PM (kublq)
26kb generated in CPU 0.0203, elapsed 0.7219 seconds.
49 queries taking 0.7132 seconds, 281 records returned.
Powered by Minx 1.1.6c-pink.