March 31, 2010
Ducks In Anime: HidaSketch Hoshimittsu Is Over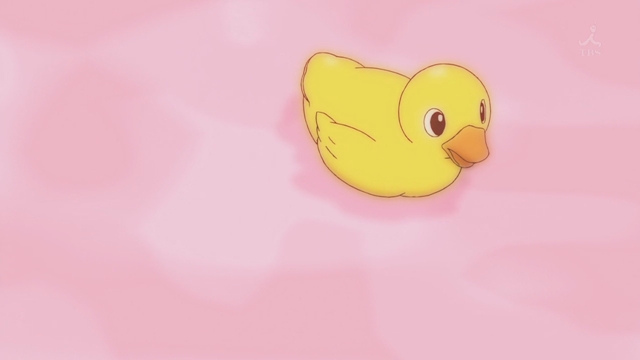 -
Hidamari Sketch Hoshimittsu
Ep12
And so the most recent entry in the
HidaSketch
franchise has come to a close. As with the earlier series, I'm sorry to see it end, but this time we saw a dud episode or two for once. Not bad enough for me to avoid the next show, or to prevent me from buying it if/when it gets released, but there they were.
Of course the Core Four were still great fun to be around, and Nori-chan did grow on me nicely, but Nazuna never past a whimpering child with an inferiority complex big enough to choke a hippo. I can't imagine her replacing, say, Hiro when she and Sae graduate, so it'll be interesting to see what happens when that occurs.
Other than the one or two episodes that turn the new girls into main characters, Nazuna more or less stays in the background, leaving the Core Four plus Nori to have the spotlight... fortunately! Otherwise I'd be wondering why Ume Aoki hates
us
me.
On the other hand, Nori has proven to be the most
sane
of the series. Down-to-earth, not as prone to flights of silly as the others, and more than willing to point out the others' weirdnesses, I
almost
wish that the series revolved around her. It'd make the silly
more
silly, and probably better... every comedy team needs a straight man, after all. Though her idea for tomato sherbet was a little...
odd
.
It's the ducks, though, that push
HidaSketch
from "good" to "great". Gotta love 'em... Yuno certainly does.
Posted by: Wonderduck at 08:42 PM | Comments (1) | Add Comment
Post contains 267 words, total size 2 kb.
1
Have to wonder what tomato sherbet tastes like...
While our soggy biscuit remained pretty much a soggy biscuit, I have to say that "dud" is relative. A couple of episodes weren't
quite
as awesome as the rest, but I enjoyed every one of them.
It was nice to see the two earlier girls too - I wouldn't mind having them return now and then in future seasons (please, please!)
And ducks, of course, improve everything.
Posted by: Pixy Misa at April 01, 2010 10:16 AM (PiXy!)
Comments are disabled. Post is locked.
22kb generated in CPU 0.03, elapsed 0.1291 seconds.
47 queries taking 0.1138 seconds, 254 records returned.
Powered by Minx 1.1.6c-pink.