November 12, 2017
Delay Delay Delay
So last night I went to sleep early, intending to wake up in time to watch the F1 race live form Brazil. Instead, I had a nightmare of a night. From around midnight to maybe 6am-ish, I was basically up every hour dealing with... um... a warp core breach.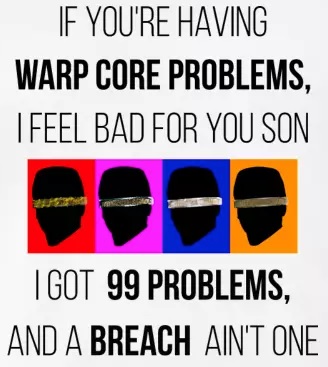 I've had more fun. Anyway, the amount of sleep I had last night was insufficient to my needs which also led to massive headache that made me... um... cranky. I had to cancel brunch with the folks, sort of moved around in a daze until I sat down to watch the race around noon, then promptly dozed off with a sandwich in my hand. Once I woke up, I rewound the race, started it again, then dozed off at about the halfway point. Didn't miss much, though. Now that I've watched the thing, I'm going to go back to bed. When I awake, I suspect I'm going to feel like a overcooked strand of mafaldine.

You can probably see where I'm going with all this. It's not like the race was all that exciting anyway. Bear with me, I am old and tired.
Posted by: Wonderduck at 05:06 PM | Comments (1) | Add Comment
Post contains 195 words, total size 1 kb.
1
With age comes wisdom. Also all manner of annoying breakdowns, apparently. Ooof.
No worries. Feel better first, then do post-y thingies.
Posted by: GreyDuck at November 12, 2017 09:18 PM (rKFiU)
21kb generated in CPU 0.03, elapsed 0.1308 seconds.
55 queries taking 0.1096 seconds, 220 records returned.
Powered by Minx 1.1.6c-pink.