July 14, 2015
Content Free Posting!
Let me tell you a little something about not a whole lot. Once upon a time,
I was born a poor black child
I was very very young indeed when my parents decided to get a pet. Momzerduck, my father and I lived in an small-ish apartment, converted from the second floor of a house if I remember correctly, and I may not for I was very very young indeed. Anyway, back then it was still safe to let kids play outside, and we did just that... I clearly remember Big Wheels races down the sidewalk, turn around in a neighbor's driveway, back down the sidewalk, then turn back using the inclined banking of a decorative hill leading into a garage... a dumbbell shape. I have no idea how I used to do... I was very very young and was not into racing just yet, though one of my clearest memories of childhood was Evel Knievel's attempt to jump the Snake River Canyon in his SkyCycle X-2. He didn't make it. I remember watching it on a black-and-white tv... it was 1974. Kids, ask your parents what a black-and-white tv is. Parents, laugh at your kids. Anyway, I would have been six at the time, which gibes with my memory. But none of this has anything to do with the story of the pet. Or the Big Wheels races. Those were fun, until one day a kid showed up with a brand spankin' new Green Machine. Once he figured out how to steer without flipping over like NASCAR having a bad day at Daytona, nobody could beat him... the built-in "spin-out feature" made the turns a piece of cake, and the straightaways? Man he was fast.
Yeah, like that. For all I know the Big Wheels races are still going on back there, though I doubt it. We moved to Evanston, then Des Plaines, then Duckford, all within the space of a couple of years after that. But the pet! Yes, yes, the pet. We went to the Humane Society, or to the pound, or something like that, and we got a kitten. Oh, yeah, I would have been even younger when this happened... four years old or thereabouts. Yes, this is important. Take notes. I don't remember the criteria used to select said kitten, but very quickly it became clear that I was smitten with the kitten, and the reverse was more-or-less the case. It was a kitten, they're really "too much fluff, not enough brain" at that age to be obviously smitten with anything other than food and sleep. Come to think of it, that really kinda describes me right now. Hm. Anyway, it was on the way home that I got to name the kitten. After looking at it for a little bit, my four-year-old brain sludged up "Marbles." Because his eyes from the side looked
exactly
like... marbles. Cat's-eye marbles, to be exact. Kids, ask your parents. Parents, sigh sadly and wonder where you went wrong. Now, I'm never one to tootle my own horn vigorously, but looking back at my four-year-old self, I have to be impressed by the way I made that connection, even if it wasn't entirely intentional... y'know, four-year-olds are much like kittens: "fluff, brain". But yet, there I was. And there we were.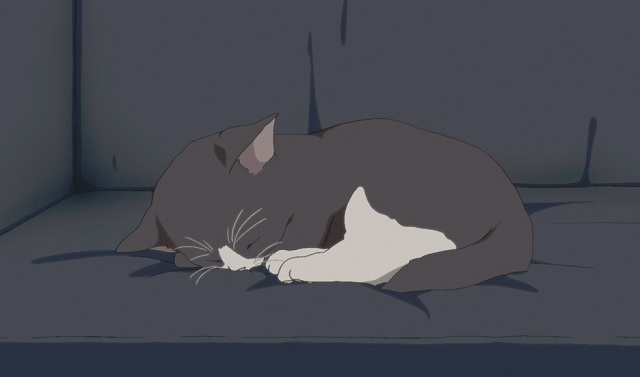 Very few, if any, photographs of Marbles exist, because he was just too awesome for film. Or we didn't have a camera, one of the two. Anyway, very quickly he and I became completely inseparable, a friendship that lasted until I was 21 and he was 17. Marbles was not a "center of attention" cat. Oh, don't get me wrong, he was more than happy to be skritched for extended periods of time, but he was perfectly content to just hang out with me while I did whatever it was I was doing. Homework? He'd be lazing on the table near the books. Reading on the couch? He'd be stretched along the top of the couch... or he'd force himself between my leg and the back of the couch, whichever. Out in the backyard? He'd be there, keeping an eye on the birds... just in case. Of course when I went to sleep, he'd curl up against the small of my back. And when I went to catch the school bus, he'd walk with me to the stop, wait with me until the bus showed up, and then watch the bus pull away. He did this for years, to the point that I wondered what he did after the bus left. So one day in my senior year of high school, I found out. I made arrangements with the bus driver to leave the emergency exit at the back of the bus open. Yes, it was a different time back then. Anyway, he'd seen Marbles waiting with me for a few years himself, so he understood what I was talking about... so that day, I got on the bus as normal, walked the length of it, then got out the back door and hid behind a nearby car. As the bus pulled away, Marbles looked totally normal, but when it turned the corner, he changed. He got up, tail drooping and looking tired in general, and he walked...
trudged
... the two blocks back to the Old Home Pond, while I followed a discreet distance behind. Eventually, he made it to our back yard where he made his way to the vicinity of the back porch and just laid down in a black and grey puddle. He would have been 14, remember... pretty not young for a cat. At that point, I stepped into the back yard and said "Hi, Marbles!" Oh, what a transformation! He snapped to his feet, his tail went straight up, and he jogged right to me and immediately headbumped my shin. We spent the entire day in the sun, just doing Calvin-and-Hobbes-style things, with a couple of cans of tuna for him to boot. It was great. I was at work today, during a cigarette break (for everybody else... I just sat in the blissfully quiet training room with my eyes closed), when I realized that I missed him. 26 years, and I still remember the way he'd freak out over french fries, or the Great Thanksgiving Turkey Debacle... good times all.
That's all. No reason for it, just writing about Marbles. Here's a cute girl for reading this far.
Posted by: Wonderduck at 07:23 PM | Comments (3) | Add Comment
Post contains 1079 words, total size 6 kb.
1
It's an anime blog (when it's not being a rubber-duck blog, or F1 blog, or...). A cute slice-of-life post fits right in. No "reason" is required.
Posted by: Mikeski at July 14, 2015 08:22 PM (/KkcU)
Posted by: Avatar at July 14, 2015 11:41 PM (uqQHL)
3
Marbles was a good cat. Sometimes, when I was waiting for you to make a move in whatever wargame we were playing, I'd watch him watch you. He never had too much to do with me, though. Darther was much more sociable with visitors. And Chatterbox would somehow always be underfoot. Marbles was the class act.
Posted by: Vaucanson's Duck at July 16, 2015 11:24 AM (ergvX)
30kb generated in CPU 0.37, elapsed 0.907 seconds.
49 queries taking 0.7959 seconds, 264 records returned.
Powered by Minx 1.1.6c-pink.