February 07, 2013
Buffalo or X-Wing?
I'm sure that by now most of my readers have seen this photoshop job at least once before: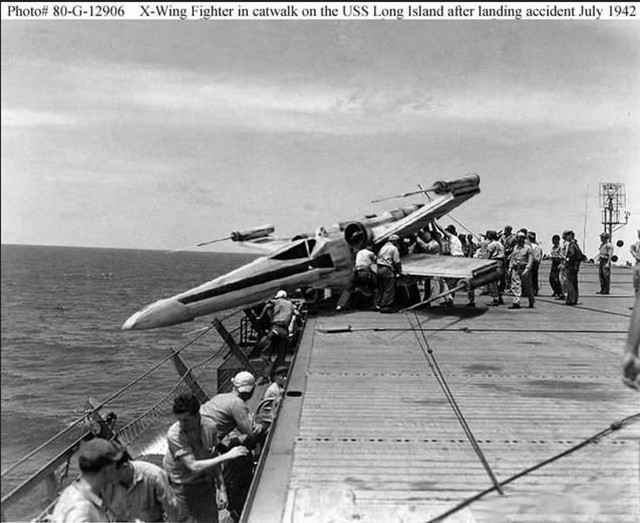 When I saw it for the first time, I just laughed... then took a much closer look at it, and was amazed at the job the person behind the 'shop had done. It really looks like an Incom T-65 X-Wing wound up on an escort carrier in 1942. What never crossed my mind, however, was to try and find the original. Well, tonight while browsing
ww2db.com
, I accidentally stumbled across it!
Bravo, Mr Photoshop Person, bravo.
Posted by: Wonderduck at 12:30 AM | Comments (3) | Add Comment
Post contains 97 words, total size 1 kb.
1
Well of course, it's not like they've have the right kind of fuel to re-launch it.
Posted by: Mauser at February 07, 2013 03:23 AM (cZPoz)
2
It really is an amazingly good job.
Posted by: Steven Den Beste at February 07, 2013 06:09 PM (+rSRq)
3
It isn't until you see the two side-by-side (okay, bottom-by-top) that you start to notice the little things he missed. Like the arresting cable in the foreground that the X-Wing couldn't have caught like that. Or the wire attached to the Buffalo's right wing that just sorta... floats there above and behind the X-Wing.
But if THAT'S the worst I can come up with...
Posted by: Wonderduck at February 07, 2013 06:47 PM (lzVVx)
Comments are disabled. Post is locked.
22kb generated in CPU 0.0166, elapsed 0.0897 seconds.
47 queries taking 0.0826 seconds, 279 records returned.
Powered by Minx 1.1.6c-pink.