November 29, 2013
Black Friday 2013
So I went out into the ravening hordes today.
I know, it's not the same "Black Friday", but any chance to get Steely Dan on here.
It's the first time I've left my apartment on the Day after Thanksgiving in... I dunno, nine years? Hey, I've done my time in Hell already, why would I willingly walk into it
again
if I didn't have to? As it is, I've done seven or eight Black Fridays in my retail career, including five in malls. Nope, that's plenty, thanks. But I went out to the grocery store today, and while the supermarket was fine, maybe even a little slower than normal on a Friday, the traffic on the roads was ridiculous! I live in the vicinity of the big mall in the area, but not exactly right next door or anything.
The roads were clogged. God help you if you were heading east (towards the mall), you were doomed. After seeing that, any thought I might have had about doing anything more than grocery shopping was immediately garroted by ninjas. Now that I've returned, put away my food, and had lunch, I do believe it's time for a nap.
Because I can. Because I don't work on Black Friday anymore. And don't think I'm not happy about that... too often it felt very much like this: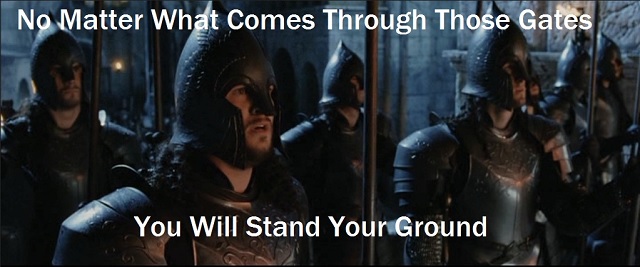 Posted by: Wonderduck at 03:25 PM | Comments (1) | Add Comment
Post contains 227 words, total size 2 kb.
1
Oh, a nap DOES sound nice. We were cut loose at 3pm, which is about four hours later than we really needed to have a full staff on hand. One, precisely one support call came in at quarter past 1, and we didn't need six guys sitting around twiddling their thumbs to handle a simple print spool cleaning script run.
Posted by: GreyDuck at November 29, 2013 05:44 PM (CUkqs)
Comments are disabled. Post is locked.
22kb generated in CPU 0.0167, elapsed 0.5396 seconds.
47 queries taking 0.5328 seconds, 277 records returned.
Powered by Minx 1.1.6c-pink.