May 14, 2009
Battle Lines Have Been Drawn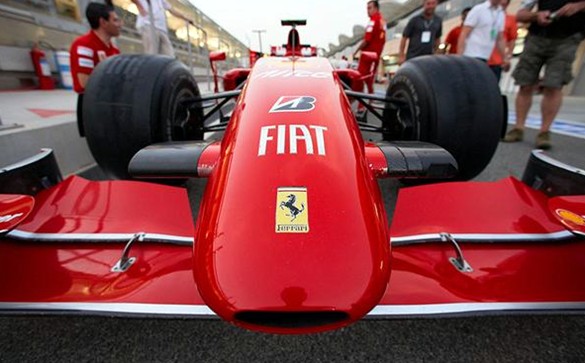 As we all know, the FIA has decided that there will be a $61 million spending cap for F1 next year. Teams that stay below that cap level will be allowed to do things differently than the teams that go above the limit. Unlimited revs on the engines and a bigger KERS power boost are a nice bonus, but having fully adjustable wings, both front and rear, would be a true boon. Forget about having to worry about a track being "low downforce" or "high downforce"... being able to adjust between high and low (or anywhere in-between)
at any time
, as often as you like, would be an incredible advantage to a car. So would unlimited offseason testing, another bonus given to the teams under the cap.
Of course, some of the current teams have a problem with this. Renault, not the most devoted F1 team to begin with (even when they were winning championships, they talked about withdrawing from the sport), has said that if the cap is put in place, they'll pull out of the championship. Toyota, perhaps thinking that this is the perfect way out of the money sinkhole they've created in their failed attempt to win just one race, has also said they're out when a cap becomes official. Fraternal twins Red Bull and Toro Rosso, both up-and-comers, have said the same.
However, it's the most popular team in F1 that drew the biggest line in the sand. No less a team than Scuderia Ferrari themselves has gone on record as saying that they're out if the cap is put in place... and with a May 29th deadline just a few weeks away, for now they're sticking by their guns.
Max Mosley, FIA supremo, says that F1 can survive without Ferrari, and he's probably right. As much as I, a professional Ferrari-hater, hate to admit it, F1 wouldn't be the same without the Prancing Horse.
There is an ugly battle coming here... and to be honest, for once I can't tell who will win and who will lose. Rest assured, there
will
be a loser. Either Ferrari's unbroken string of 60 years in the greatest motorsport series will end, or Max Mosley will be shown to be a conniving, yet sniveling, opportunist whose already weakened Presidency will surely be burned to the ground.
If a cap exists, five big teams will retire to the pits. That shouldn't be allowed to happen. Mosley
must
back down, or as the good folks at Planet-F1.com put it, "Mosley's legacy to F1 would be... no F1."
I'm betting on the teams. The Formula One Teams Association (FOTA) have a meeting with Mosley scheduled with Mosley this week, and I suspect something will shake loose then. Cross your fingers.
Posted by: Wonderduck at 10:03 PM | Comments (9) | Add Comment
Post contains 463 words, total size 3 kb.
1
I don't see how Mosley can stand up to the possibility of five teams leaving. He's going to have to give in on this. If it was only one team, even if it was Ferrari, maybe he could get away with it. But not with so many teams in open revolt.
In the end it's all about the fans, and losing five teams risks alienating the fans. You can be sure Mosley remembers what happened to MLB after the 1994 players' strike.
Posted by: Steven Den Beste at May 15, 2009 11:25 AM (+rSRq)
2
It's worse than that, really. If five teams go, they've got at least a reasonable chance of -taking the sport with them-. Set up a new F1 authority, do deals with the tracks, and then give the remaining teams a choice - come and play with the big boys, or try bragging about your victory over Force India. If they could swing one or two more teams, the rest would almost have to follow.
Maybe they just tried to set the cap too low? (Or too high? With the technical advantages available to the guys under the cap, there's a HUGE disincentive to outspend that cap unless you're going to outspend it by a hell of a lot.)
Posted by: Avatar_exADV at May 15, 2009 01:09 PM (pWQz4)
3
Five teams is an unrecoverable chunk of the field.
And like Avatar said. I know Ferrari doesn't like having to compete with prole outfits like Farce, but the fact that so many other "mid"-tier teams are also bent out of shape means that either that cap is way too low, or their engineers are telling them that those bonus performance options are game-breaking at any price.
Maybe you'll know, but has there ever been an "unlimited" race class with an emphasis on minimizing performance design constraints? Safety constraints would have to stay tight, but imagine what teams and manufacturers could come up with under a wide-open list like:
0) One human driver
1) Fits inside a 20'x7' footprint
2) Stays in contact with the ground during normal operation
3) Must not damage the race surface in the course of normal operation
4) No devices clearly intended to damage other vehicles
5) Anything else goes
I'd love to see just how many cylinders (or engines?) and aerodynamic fiddly-bits vehicles would end up with before an equilibrium was reached.
Posted by: Will at May 15, 2009 01:47 PM (WnBa/)
Posted by: Steven Den Beste at May 15, 2009 03:20 PM (+rSRq)
5
And outlawed
the fancar
. The thing is, race vehicles that really were designed for all out speed wouldn't look like cars.
Posted by: Steven Den Beste at May 15, 2009 03:22 PM (+rSRq)
6
Three points
- Where are all the conspiracy theorists who claimed that FIA was acting in interests of Ferrari? What a laugh.
- Breakaway teams cannot establish new series without FIA's blessing thanks to EU legislation that gives FIA the monopoly to regulate motor sports. Notice that the previous disagreement with a breakaway threat was with rights owners, and back then Mosley said he'd be happy to sanction it. Not so now.
- Remember what Mosley has done to U.S. GP in 2005? He does not care if only 3 teams remain on the grid as long as he keeps the reigns of power.
Posted by: Pete Zaitcev at May 15, 2009 06:55 PM (/ppBw)
7
Pete, no less a persona than Darth Ecclestone himself has stated that the FIA has in the past given Ferrari preferential treatment, including a higher percentage of funding AND preferential treatment in "the courts." You may not want to believe it yourself, but it's all there, and simple perusal of complaints involving Ferrari show a distinct lean in the favor of the Red Team.
Also, there are plenty of ways that a breakaway series can run without FIA sanction. Perhaps you've heard of the British Touring Car Championship? BTCC? Not a FIA series. Or NASCAR? IndyCar? DTM? Also not FIA-sanctioned.
Posted by: Wonderduck at May 15, 2009 07:31 PM (hlGBx)
8
And another thing: Lola, Prodrive, and Lightspeed announced plans of competing under the cap (and that's just serious entrants, not counting USF1 and their ilk). The sport does not need the fickle manufacturers. Which was probably the plan all along.
Posted by: Pete Zaitcev at May 16, 2009 12:43 AM (/ppBw)
9
Oh what a tangled web... *heavy sigh*
It would be nice if the Mosely stood back and looked at what would happen if he gets his way.
Posted by: Mallory at May 16, 2009 02:15 PM (WJ2qy)
Comments are disabled. Post is locked.
26kb generated in CPU 0.04, elapsed 0.118 seconds.
53 queries taking 0.0936 seconds, 226 records returned.
Powered by Minx 1.1.6c-pink.