July 08, 2012
F1 Update!: Great Britain 2012
While it hadn't been raining for the proverbial forty days and forty nights, it had rained a lot at Silverstone Circuit, to the point that the race organizers asked people not to come to Quals. So what effect did the weather have on the field as they pulled onto the grid? THIS is
your
F1 Update! for the 2012 Grand Prix of Great Britain!
*WHAT IS

THAT

?
: As 23 cars pulled onto the grid (The Red Menace's engine went
ploin!
halfway around), there were shadows on the ground and a flaming ball of burning gas in the blue sky. Yes, that's right, the sun made an appearance today. The Legendary Announce Team said that there was rain in the area that would show up around halfway, but it never happened. This is not as beneficial to the teams as you might think; pretty much everybody had a wet-track setup on their cars. Still, when everybody is wrong, ain't nobody disadvantaged, we suppose.
*LIGHTS OUT
: Once the field got away, polesitter HWMNBN made it perfectly clear that Ferrari had completely turned their season around. Back at the beginning of the year, their car was totally uncompetitive, and only the Spaniard's skill kept it anywhere near the points. Now he cut hard across the nose of Red Bull's Mark Webber and began to head off into the sunset. When Seb Vettel pitted on Lap 11, his soft tires worn to nubs, it looked like HWMNBN's gamble of starting on the Hard tires had paid off. It looked doubly so when Webber brought his car in on Lap 15, soft tires exhausted and failing.
*NEXT UP
: HWMNBN brought his Ferrari in for another set of hard tires the next lap, with enough of a lead to stay five seconds ahead of Webber. In a complete inversion of the usual case, the Hard tires were clearly the compound to be on, both fast and durable. The Soft rubber just wasn't doing much. Continuing his domination of the race, HWMNBN continued to open the lead, reaching 19.8 seconds when Webber stopped for another set of hard tires on Lap 34.
*THAT'S OMINOUS
: The dark clouds beyond Woodcote made Ferrari's plan very clear: run on the hard tires as long as possible until the rains came, make one less stop than everybody else, and stand on the podium in wet-weather slickers, galoshes and Ferrari-red umbrellas. All they needed was for the rain to fall. The problem with this strategy should be clear: if it
doesn't
rain, you're stuck on the poorer-performing soft tires at the end of the race. When HWMNBN's tires fell off the cliff and he began to cough up a second per lap to the fresh-tired Webber, he pitted for Soft tires on Lap 39. He emerged from the pits still in the lead, but now desperately praying for the rains to fall so he could get off the Soft tires for something...
anything
... else.
*PROHIBITION IS ALIVE AND WELL
: It stayed dry, and Webber began to stalk the red car, taking chunks out of the Ferrari's lead each lap. On Lap 45, the lead was down to a half-second, and Ferrari had sent half of their pit crew out behind the mobile homes to do a frantic rain dance. Missing a supply of eagle feathers and tomahawks, their shimmying had no effect and the clouds refused to open up.
*AND THEN...
: Inexorably, the Australian Red Bull driver, the support of the crowd firmly behind a member of the Commonwealth, closed in on HWMNBN. It was just a matter of time, and Webber waited patiently until his opening came. With five laps left, he cleanly slipped by the Ferrari for the lead and drove away, eventually winning by three seconds. HWMNBN finished second, with Seb Vettel less than two seconds behind him. Five seconds further back, Ferrari's other driver, Felipe Massa, finished a desperately needed fourth. It never did rain.
*DRIVER OF THE RACE
: The first lap of the race was rather confused and exciting, with plenty of action, at least one occurrence of three-abreast racing through a turn, and more than a little carbon fiber shed. In the biggest incident, Lettuce Grosjean made contact with Paul di Resta, which eventually led to the Force India driver retiring from the race. Grosjean, a slow puncture affecting his tires, pitted on Lap 2 for new soft tires, falling all the way down to 22nd... effectively last place, what with di Resta retiring and The Red Menace having died on the way to the grid. Over the course of the next 50 laps, the Frenchman drove a sterling race, eventually finishing in a more-than-solid sixth place. Not bad for someone who was told they weren't good enough for F1 a few years ago.
*TEAM OF THE RACE
: Red Bull. They out-strategized Ferrari, then outran them on a circuit that really favors cars that have different strengths than theirs possesses. They then finished 1-3. How can you not give them the award? Honorable mention to Ferrari, 2-4 at the end of the race, jumping to 2nd in the Constructor's championship, and HWMNBN leads the Driver's championship. Not bad at all.
*MOVE OF THE RACE
: Late in the race, Red Bull's Mark Webber had the tail of HWMNBN's Ferrari in his sights as they both roared down the Wellington Straight.
Using KERS and DRS, he pulled past as the two ran into the big sweeping left-hander, kept his momentum up, and was able to keep the Spaniard behind when he tried to counterattack. A perfectly clean pass, not the most dramatic in the world, but it WAS the most important: it was for the lead, after all.
*MOOOOO-OOOOVE OF THE RACE
: On Lap 38, Gandalf Kobayashi, locked in a legit struggle for points, swept into the new pit lane right at the speed limit, his Sauber team kneeling in position to receive their car. Nothing out of the ordinary here, something the Japanese driver had done hundreds of times before... except this time, apparently distracted by something bright and shiny, he hit the brakes a moment too late.
In the process of locking his clampers down, he skidded into four of his mechanics, wiping out the front jackman and the three front-right tirechangers. Fortunately, nobody suffered anything more than bumps and bruises, though there are reports of a sprained finger on the wheelgunner. Because nobody was hurt, I'm happy to give Gandalf his well-deserved Moooooo!
*SELECTED DRIVER COMMENTS OF THE RACE
:
more...
Posted by: Wonderduck at 08:51 PM | Comments (2) | Add Comment
Post contains 1552 words, total size 11 kb.
July 07, 2012
F1 Quals: Great Britain 2012
Yup, it rained. A lot. So much, in fact, we had a red flag for weather conditions in the middle of Q2... that lasted for over an hour. It lasted for so long that The Pond's DVR didn't catch the last two minutes of Q3, arrrrgh.
Q1 started in less-than-wet conditions, but then the rains came. Q2 started right on the edge of difference between Intermediates and Full Wets, but only four drivers even tried to take the gamble. None of them were able to turn a full lap before all heck broke loose. While the drivers soldiered on gamely, the conditions went from "awful" to "half the contents of the English Channel dumped on track". Let me put it this way: Slappy Schumacher used to be called "Der Regenmeister" for his skill at driving on a wet circuit. On the final lap before the stewards threw the red flag, he went off-track
four
times. One of those times, he seemed to slide sideways for a couple hundred meters before his Mercedes ground to a halt. It was
Korea-bad
, that's how bad it was. So what does the lineup look like after all this rain? Here's the provisional starting grid:
Jenson Button's lousy record at his home race continues; only twice in the past seven GP of Britain has he qualified higher than 14th, and he's
never
finished on the podium. He just couldn't get anything going with the McLaren today, and he's actually lucky he's 18th... it could have just as easily been worse, he was going so poorly. On the other hand, Mumbles Raikkonen had his KERS unit fail in Q1 and they never got it repaired. The weather was so bad that a lack of KERS didn't hurt him: pressing the "Go Fast" button probably would have just thrown a car off-circuit anyway.
As is usually the case when a grid is scrambled by rain, there's no guessing who'll win tomorrow, when it's supposed to rain heavily again. No predictions this time around, in other words... your guess is as good as mine, and possibly better.
Race is tape-delayed tomorrow, we'll be up afterwards with the F1U!
Posted by: Wonderduck at 11:04 AM | Comments (4) | Add Comment
Post contains 530 words, total size 17 kb.
July 06, 2012
F1 Practice: Great Britain 2012
It doesn't always rain at Silverstone on F1 weekend. But when it
does
... hoo-hah! During today's two practice sessions, it was, it must be admitted, somewhat damp. How damp?
Yes, about that like that. For pretty much the entire first session, and for most of the second, the rain was coming down like the dickens. When cars did attempt to get out on track, it usually ended up in... what's the word?
Tears
, that's it! It ended up in tears. It wasn't until the last half-hour of P2 that the rain backed down enough to go out with any realistic chance to get workable data. Even then, it was still wet enough to claim the Williams of Bruno Senna, who managed to bend both ends of the car in the same wreck. So with very little happening on track, let's go over some news from the F1 world!
First up, Maria De Villota's condition has been upgraded! It's now "serious, but stable." She went through another round of surgeries on her head and facial injuries today, the second batch. More information is coming out as to just exactly what happened; it appears that the truck's lift gate was down, and she hit it head-on. Even a helmet couldn't be much protection in that situation... she's seriously lucky she's alive.
Second, how much rain are they expecting this weekend at Silverstone? The track is actually telling fans not to attend the Quals session! At least, those fans without reserved parking or taking the ticket-only Park'n'Ride, or those camping at the track. Half of the parking lots at the circuit, grass fields mainly, are either under water or turned into swampy bogland. Oh, and the weather is also affecting the access routes to Silverstone... many people completely missed the day's practice sessions, stuck on the highway in a massive traffic jam.
Finally, here's a cool video I found a few days ago:
Quals Saturday morning; see ya then!
Posted by: Wonderduck at 03:36 PM | Comments (7) | Add Comment
Post contains 331 words, total size 2 kb.
July 05, 2012
Name This Mystery Ship XIX
This mystery ship just stumbled into my lap today. I had absolutely no plans to do one of these today, but it's too good to pass up... particularly because I don't think anybody will get it!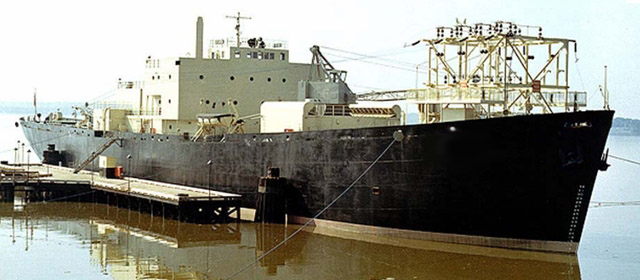 Take your best shot. No image searching, no cheating, no soliciting. Winner will get a post on a topic of their choice... g'wan, impress me.
Posted by: Wonderduck at 05:43 PM | Comments (7) | Add Comment
Post contains 66 words, total size 1 kb.
July 04, 2012
F1 Dodges Tragedy; Merely Terrible
Awful news from the F1 world as Marussia test driver Maria De Villota suffered severe injuries during a straight-line test at Duxford Aerodrome on Tuesday. She had completed a series of runs in the MR01, and was bringing the car back to the temporary pit box the team had set up at the airport. The engine had been heard to be misfiring, hardly uncommon when you're talking about something as finely tuned as a V8 engine that produces 800hp at 18000rpm. The MR01 had nearly stopped when it suddenly jerked and accelerated to around 40mph before running into the lowered tailgate of the team's car transporter. It's thought that the engine went into anti-stall mode, though a different malfunction or driver error can not yet be ruled out.
As one could expect, the tailgate/truck combination did not move when the lightweight F1 car struck it. De Villota suffered serious injuries to the head and face. Reports are that it took a very long time to extract her from the car, but that there were EMTs on site immediately. Taken to a nearby hospital, she was reported to have suffered "life-threatening" injuries. Earlier today, Marussia reported that she is currently in critical but stable condition. Terribly, the doctors have reported that she's lost her right eye.
One of two female drivers associated with F1 teams (along with Susie Wolff of Williams), it's quite possible that De Villota would have become the first woman to drive in a modern F1 race. While not as obviously talented as Wolff, she was in a team more likely to go for the headlines (and money). Chances are she would have done passably well; certainly no worse than some drivers we've seen. While it is possible to obtain a FIA superlicense despite missing an eye, it seems unlikely considering her advanced age; she's 32, which is rather old for a rookie driver by F1 standards.
We here at F1Update! wish her a speedy recovery!
Posted by: Wonderduck at 10:32 PM | Comments (2) | Add Comment
Post contains 333 words, total size 2 kb.
Independence Day 2012
George and Martha Washingduck wish you a happy 4th of July for all of us here at The Pond!
Posted by: Wonderduck at 06:31 AM | No Comments | Add Comment
Post contains 22 words, total size 1 kb.
July 03, 2012
F1 on TV!: Great Britain 2012
This is something I haven't felt in a while when it comes to F1: a little bit of excitement. Because The Circus brings itself home... the teams return to Silverstone! Here's the track map for the 2012 Grand Prix of Great Britain:
It's not the classic Silverstone. Heck, it's not even the
Silverstone of 2009
. The track used to go, for all intents and purposes, from Abbey to Brooklands. The circuit was modified to host a round of the MotoGP championship, and to update the pit lane. Said pit lane used to be between Woodcote (previously Turn 1
and Copse (which used to be Turn 1) and was about as old as any in F1. Oddly, the new pit lane is the shorter route from Turn 15 to the start/finish line, even with the speed limit in the pits... in theory. In practice, the FIA will bring down the wrath of god on anybody who tries that trick.
The new "Arena" section created some new passing opportunities, even moreso with the return of KERS, but overall the circuit is somewhat bipolar. It's one of the fastest on the calendar with the highest average turn speed in F1, but there's a huge need for downforce here, too, thanks to the various near-hairpins. The high-speed sweepers require great grip as well, so while Silverstone doesn't have the overall highest top speed, it's ridiculously quick. Which makes it fun to watch AND drive!
I've said this every year, but Silverstone is the home of my favorite Turn... or, more correctly, sequence of turns. The Maggots-Becketts-Chapel complex, when done correctly, shows off the incredible maneuverability of a modern F1 car as it whips to and fro. It's a big reason why I'd rather watch a race here than anywhere else on the calendar (though Spa is close).
The weather forecast is for a standard British Summer day... in other words, windy and rainy. It doesn't help that the circuit is actually built on the site of a WWII RAF air base, where high winds were actually a benefit. As such, it's somewhat elevated above the surrounding terrain, having in effect its own microclimate. This means that it's quite common for rain to fall during a race, adding to the fun.
So, all in all, it'll be a good racing weekend... I hope. Of course, the Good Men of the Legendary Announce Team will be bringing us all the coverage we've come to expect, even during the FOX-based race. Let's look at the schedule:
FRIDAY
P1: 4a-530a streaming
P2: 8a-940a live on SPEED
SATURDAY
P3: 4a-5a streaming
Quals: 7a-830a plausibly live on SPEED
SUNDAY
Pre-race: 1030a-11a tapedelay on SPEED
Grand Prix of Great Britain: 11a-1p tapedelay on FOX
Post-race: 1p-130p tapedelay on SPEED
REPLAY: 10p-1a on SPEED
Of course, all times are Pond Central. Add one hour for the East coast, subtract two for the West, and subtract five for all those F1 fans amongst the Laysan Albatrosses on Midway Atoll. We'll see you on Friday for coverage of P2!
Posted by: Wonderduck at 06:15 PM | No Comments | Add Comment
Post contains 511 words, total size 4 kb.
July 01, 2012
High School Of The Dead OVA
Okay, this is against my better judgement, but if I don't do an episodic recap of this OVA, I'll feel like I've left the series incomplete... and I
hate
that. Unfortunately, this OVA is also one of the dumber things I've ever seen, so there's that going against it. In the end, I know that if I don't do it now, I'll end up doing it down the line, but only after its been dangling over my head like a zombie of Damocles. So, like tearing surgical tape off a hairy arm, it's best to get it over with quickly. Now that I've set your expectations low, let me explain something about this OVA. It's outside of continuity, meaning that whatever happens here doesn't
really
happen. If I was forced to jam it into the actual storyline from the series, it wouldn't even fall between episodes... the best (and most likely) solution I can come up with would be between 21:10 and 23:00 of Ep12... in other words, during the final credits sequence. Considering that it came packaged with Book 7 of the manga and never broadcast, I suppose we're lucky it could even be shoehorned in at all. It's not worth the trouble, though, trust me on this one. May as well get it over with...
Ladies and Gentlemen, the cast of
HSotD
is proud to present their version of
On The Beach
. The part of the nuclear submarine will be played by a wooden rowboat, Australia is played by a beach, and the fallout is played by zombies... war. War never changes. Oh, and the crew of the submarine will be played by a bunch of high schoolers. Other than that? Exactly the same.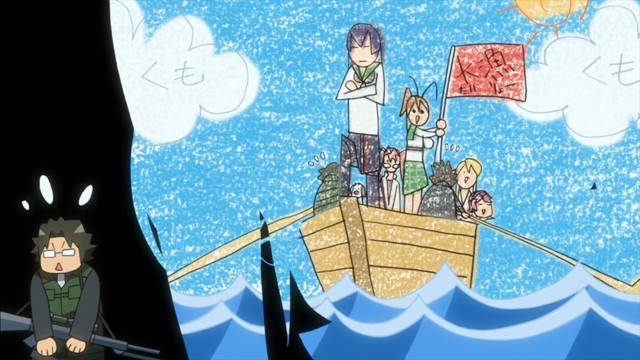 On the run from the undead, harried and cornered no matter where they turn, The Fellowship finds a
nuclear submarine
rowboat and heads for... um... the sea! Because the sea is perfectly safe at all times, no matter how small the boat you may be in! Why, there's never even once been a rainstorm, typhoon, tsunami or
flock of seagulls
that's done in boats or ships!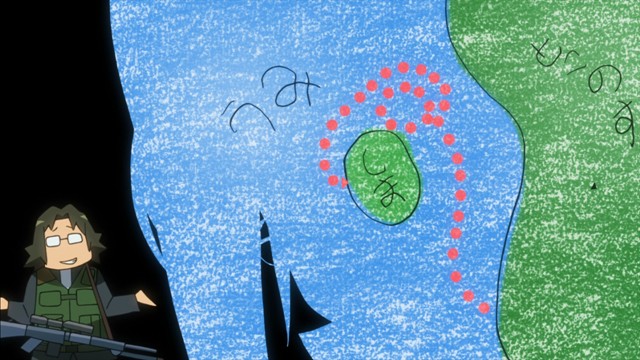 But Frodo and Hirano got tired of rowing. They've ended up on some island near the city... one that these lifetime residents of the city have never heard of! Wow, what are the odds? Good news, no zombies! Bad news, no nothing else either! No shelter of any sort.
After all, we can't take it easy on The Fellowship, can we now? Where's the fun in that?
more...
Posted by: Wonderduck at 10:51 PM | Comments (11) | Add Comment
Post contains 2269 words, total size 19 kb.
77kb generated in CPU 0.0205, elapsed 0.1098 seconds.
51 queries taking 0.0953 seconds, 320 records returned.
Powered by Minx 1.1.6c-pink.