September 11, 2010
F1 Quals: Italy 2010
I have to admit that I didn't believe it when they said it, but the statistic was true. Let's look at the provisional grid for the Grand Prix of Italy:
Just what statistic is it that had me so flabbergasted? This is Ferrari's first pole in thirty races. Love them or, as I do, hate them, one can't take away from the Scuderia the fact that they really are one of the top teams in motorsports history, if not
the
top team. One just assumes that, even in a down season, they'd've had a pole somewhere along the way. But no, the last time a Ferrari driver was the fastest at the end of a Q3 was Brazil, 2008. That's almost unbelievable.
Unfortunately, it had to come from HWMNBN. Ugh.
Team McLaren couldn't figure out whether to run the F-Duct system or not, so they split the difference. Lewis Hamilton decided to go the low downforce route and has the little tiny wing... and ended up fifth. Over half-a-second faster is his teammate, Jenson Button, who's got the blown rear wing, more downforce in the turns, and ended up second on the grid. Just as way of comparison, Button was nearly a second faster than HWMNBN through sector 2 which is where all the turns are, yet lost all that time and a smidge more through the fast parts of Monza. Button said in the post-quals presser that while the extra downforce is very handy, it also means that he has to run every lap in the race like it's qualifying, pushing both the car and himself the entire way around the track. If it were nearly anybody else, I'd think they'd be out of the race by the halfway point, either buried in a tire barrier or with a flaming lump where the engine had been, but Button is one of the smoothest drivers in F1.
That doesn't mean he's the best; his teammate is a better driver, Vettel is quicker, Massa is showing signs of his pre-injury form, Webber is darn good, and HWMNBN might be the best pilot in F1. Button, however, is practically gentle with his car, seeming to know exactly the best place to put his chariot to have it do what he wants it to do with the least amount of stress on the machine. That's a very useful talent to have, and one that should allow him to make the "push every lap" work. If it doesn't, he's almost certainly dead in the Driver's Championship.
Seb Vettel, the wunderkind of F1, on the other hand, hasn't a clue why he's starting sixth and admitted as much in the press conference. Despite having the same equipment and the same setup as his teammate Mark Webber, he's nearly 3 mph slower. The biggest problem, then, is that he has to attack, and attack hard right when the lights go out... which might lead to glory at the first turn, or lots of carbon fiber scattered across the chicane. This isn't a track that's suited to the Red Bull's strengths, so if he's not out in front, and quickly, he doesn't stand a chance without incidents occurring ahead of him.
Anybody seen Slappy Schumacher recently? He hasn't made it out of Q2 for six races running.... Speaking of streaks, I didn't realize that Toro Rosso's Seb Buemi is the only driver on the grid right now who has made it to Q2 in every race this season. He's never made it
out
of Q2 of course, but that's still a pretty impressive stat: no mechanical failures, no penalties, nothing like that.
On the topic of penalties, Vitaly Petrov will be starting 20th after qualifying 15th. He was given a five grid-spot demotion for blocking Virgin Racing's Timo Glockenspiel early in Q1... and how embarrassing is that? You're penalized for holding up one of the slowest cars on the grid... meanwhile, your teammate has outqualified you for what seems like the 733rd time in a row. Eeeeesh. We do hear that the McDonald's in Irkutsk is hiring, so he's got that going for him, which is nice.
Timo Glockenspiel expresses his displeasure, disbelief, at being blocked by Petrov

Race is tomorrow morning, with the F1U! sometime thereafter! See you then, if Petrov doesn't get in our way.
Posted by: Wonderduck at 06:13 PM | No Comments | Add Comment
Post contains 881 words, total size 16 kb.
You Gotta Be A Football Hero...
Today was the first home game of the season for the Duck U Ducks, and we had a great turnout!
Unfortunately, the good guys lost to the bad guys, 31-21, but from all reports it was a lot closer than the score indicates.
But I was there way before anybody showed up, so as to get Duck U Bookstore signs up, so people knew we were going to be open. It's amazing just how different a football field feels when there's nobody around and the weather is... marginal.
Posted by: Wonderduck at 04:38 PM | Comments (2) | Add Comment
Post contains 94 words, total size 1 kb.
September 10, 2010
F1 Practice: Italy 2010
A bright sunny day at Monza brought with it the usual dull practice sessions. No big surprise there, of course. The real surprise occurred when I got a good look at the cars. What do I mean?
Well, consider this. A few days ago I mentioned that if the teams could get away with having no wings at all at Monza, they'd at least give it a try. That's because
La Pista Magica
is such a high-speed circuit that any drag at all is a bad thing. Rear wings about as thin and flat as a sheet of paper are the norm, like this one on a Toro Rosso today:
Compare that to the rear wing used at Monaco, about as polar an opposite as can be found in F1:
Pretty substantial difference there. One's flat as board, the other is a friggin' barn door. It makes a difference, as Seb Buemi's Toro Rosso was fastest through the speed traps at a codswalloping 214mph. That'd be considered slow in the Indy Racing League, but they run on big, big ovals. On a road course, even one as "simple" as Monza, 214 is staggeringly fast.
But then some of the teams threw a monkey wrench into the situation. Take, for example, the McLaren of Jenson Button in First Practice:
Wait... what? That's a normal wing! At Monza? The hell? It must've been the slowest thing on the track with all that vertical stuff in the way, right? Nope, Button was the fastest in P1, and 5th in P2. It's that darn F-Duct system again, messing with our minds.
Earlier I said that there'd be little point to running the F-Duct at Monza, simply because there's so little wing involved, but it appears that the aerodynamic specialists in F1 are smarter than me. They realized, where I did not, that stalling the rear wing using the F-Duct serves the same purpose as having a small wing on the straights, while still allowing quite a bit of downforce in the turns. It's not quite as good as having no wing at all (like the Toro Rosso), at least on the fast bits, but when the car has to change direction it's a huge advantage.
Which explains why Button was 1st and Buemi 11th, even though the Toro Rosso was substantially faster through the speed trap. McLaren, Renault, Ferrari, Red Bull and even Sauber had the blown rear wing going, while the rest did not... and for the most part, it showed on the time sheets.
Formula 1: surprising ducks since 2004.
Quals tomorrow, but my coverage will be in the early evening, as the Duck U. football team takes to the gridiron for the first home game of the season and I've got to be at the store. See you then!
Posted by: Wonderduck at 08:52 PM | No Comments | Add Comment
Post contains 472 words, total size 3 kb.
September 09, 2010
Medical Question
Anybody out there ever have a hernia repaired? Someone I know has a bad one, and is going to have a surgery scheduled soon. I'd like to know more about the procedure, but not the usual wiki stuff...
Thanks in advance!
Posted by: Wonderduck at 11:21 PM | Comments (3) | Add Comment
Post contains 43 words, total size 1 kb.
September 08, 2010
WMSC Pats Ferrari On Head... Again.
The World MotorSports Council met today to rule on the case of Ferrari and their use of team orders at the Grand Prix of Germany. As you may remember, Felipe Massa was leading that race with his teammate HWMNBN trailing, when a radio call came from the guys on the pitlane: "Okay, (HWMNBN) is faster than you. Can you confirm that you understand that message?" Shortly thereafter, Massa did not accelerate coming out of a turn, allowing HWMNBN to blow into the lead and eventually take the victory.
Immediately after the race, the Race Stewards called Ferrari onto the carpet, fined them $100000, and sent the matter up to the WMSC for further sanctions. They had violated Articles 39.1 and 151.c of the Sporting Regulations, which states "
team orders which interfere with a race result are prohibited
" and "
any fraudulent conduct or any act prejudicial to the interests of any competition, or to the interests of motorsport generally.
" Penalties could range from a fine, exclusion from the results of the race, a further race ban, to being booted from the championship, or anything in between in any combination.
The WMSC's ruling in this rather clear-cut case? They confirmed the Stewards' fine and decided not to take any further action in this case. They then went on to say that "
The Judging Body has also acknowledged that article 39.1 of the Sporting Regulations should be reviewed and has decided to refer this question to the Formula One Sporting Working Group.
"
In short, not only did Ferrari escape any noteworthy punishment (100 kilobucks is approximately 0.00025th of the Scuderia's annual budget... it's probably less than their team's windshield wiper allowance), but the WMSC may very well change the rule! Now, nobody denies that team orders exist in F1 despite the ban, but teams are usually much more circumspect in their breaking of the rules. Ferrari did their violating with a not-at-all subtle radio message for the entire world to hear, and Massa made sure everybody knew what had happened.
Understand, it's not like I'm
surprised
by the decision in the least. After all, it's well known that "FIA" stands for "Ferrari International Assistance." I'm just sick and tired of their flagrant rules violations always being winked at... "oh, you naughty scamps. Run along and play now."
What will it take for the team to be actually penalized for an infraction?
Posted by: Wonderduck at 05:36 PM | Comments (2) | Add Comment
Post contains 404 words, total size 3 kb.
September 07, 2010
Rocket Girls Ep12: A Wrapup
Over three years ago, in the midst of one of my
occasional bouts of blog-self-loathing
, I mentioned that I had some thoughts about the final episode of the show
Rocket Girls
. Shortly thereafter, I forgot that I even mentioned it and away it went into the depths of the internet. Flash-forward to last week, when Pete Z won the fourth installment of the "Name This Mystery Ship" contest... which brings with it the winner's choice of a blog post.
His selection
was for me to write up those thoughts on
Rocket Girls
ep12.
To be honest, I had no idea what he was talking about. I found the post where I mentioned it the first time, and that jogged no memories. I had no idea what I was referring to! Still, a promise is a promise, so it was off to the show to watch ep12 again, see what sprang to mind.
By the end of it, I knew
exactly
what I meant.
If you remember, JAXA's manned two-seat capsule, the
Mangosteen
, had made rendezvous with NASA's space shuttle
Atlantis
in an attempt to rescue a space probe destined for Pluto. The problem was that the probe had reached an orbit too high for either the shuttle or the capsule to reach individually. After an amazing kludge, however, the shuttle gave
Mangosteen
enough of a boost so it could reach the probe, fix it, and send it on it's way. While unlikely, I could roll with that; it made for good story after all.
However, all is not well. Due to a data-entry mixup (ain't that always the way?), it turns out that the
Mangosteen
won't be able to return to Earth without burning up during re-entry. Some quick thinking on the part of both NASA and JAXA gives our heroines, hot pilot Yukari and mission specialist Akane, one chance: a skip re-entry. This involves the capsule rebounding off the atmosphere a couple of times so as to slow down enough to come through okay. Okay, I can buy that... it's been done before. But there's a snag: there's a whole slew of numbers (Coordinates? Drag coefficients? Shoe sizes?) that are needed so's the capsule can perform the maneuvers correctly. One tiny mixup and poof, they're burned to a crisp... and the crew of the
Mangosteen
traded away their pens to the NASA astronauts. No problem! Akane is a super-geeeeenius and can memorize any long sequence of numbers you care to throw at her. Okay, I can buy that, too.
Re-entry begins. The G-forces build. Akane, frail little flower that she is, passes out leaving hot pilot Yukari to just wing it. Soon enough, the stresses build enough to drop Yukari as well.
And this is where I began to get
really
angry at
Rocket Girls
.
more...
Posted by: Wonderduck at 10:02 PM | Comments (9) | Add Comment
Post contains 1050 words, total size 8 kb.
September 06, 2010
F1 on SPEED!: Italy 2010
There once was a time when F1 was about going fast at the expense of everything else. Driver safety was an afterthought, if it rated a thought at all. You had eggshells on wheels with big engines and small tires and no wings. It was a time when if a season completed without a driver death, it was considered a miracle. It was a time when the tires were skinny and the drivers weren't. It was the time of Ascari and Clark, Fangio and Rindt, Stewart and McLaren, Hill and Bandini, Surtees and von Trips. It was a time when the drivers were
truly
men. It was the time that the sport was
truly
king.
And Monza was its Holy Church.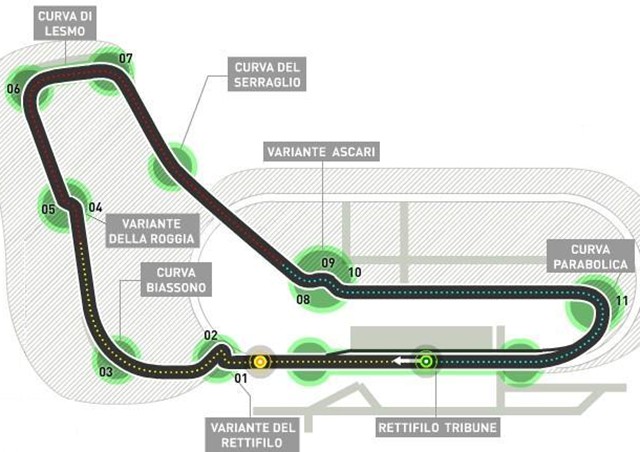 There was once a time at Monza when a driver would simply stomp on the gas pedal and not lift off until the car broke or the race ended. Today... well, not much has changed, actually. A modern F1 car is on full throttle for nearly 80% of the lap, a truly punishing endurance test for an engine when you consider that we're talking nearly 90 minutes at 18000rpm. They'll reach 210mph at the end of the front straight, just before braking for the Variante del Rettifilo.
At Monza, terms like "downforce" and "drag" are dirty words. Cars run with the bare minimum amount of wing possible; if their use wasn't mandated by the FIA, the teams would probably go without. In fact, the use of the rear wing is so minimal here that many of those teams that run an "F-Duct" system are likely to find the feature useless around this track.
SPEED will bring us its usual sterling coverage beginning from 7am to 840am on Friday, with the day's 2nd Practice session. Saturday, from 7am to 830am, we'll see the usual Quals session. And Sunday brings us the 2010 Grand Prix of Italy LIVE from 630am to 9am, with a replay from 12noon to 230pm.
If I had to bet on the race, which fortunately I don't, I'd probably lean towards McLaren. Like Spa, this is not a track that favors the Red Bull chassis (and their remarkable action around turns), and I feel like Ferrari is just smoke and mirrors for some reason. But that's why they actually run the races, isn't it? See you then!
Posted by: Wonderduck at 09:40 PM | Comments (2) | Add Comment
Post contains 395 words, total size 2 kb.
Labor Day 2010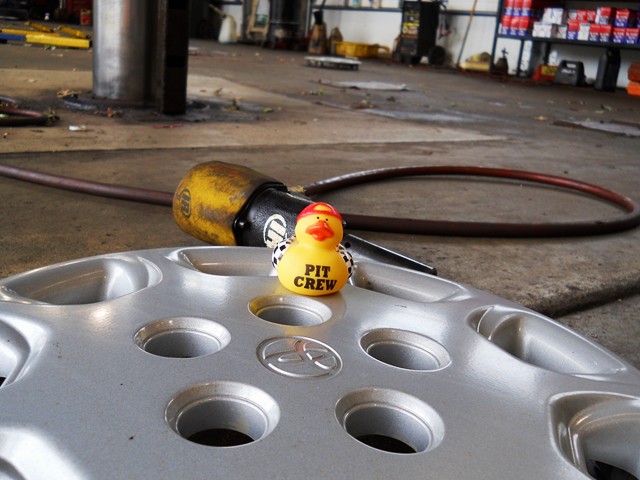 Thanks to the good folks at
Firestone
on Alpine for working on Labor Day. The Duckmobile really needed those two new tires, and the alignment job, and the nearly half-inch of total toe adjustment. It's nice to have a car that isn't fighting me for directional control again, and isn't making odd squealing noises, and has a modicum of traction in the wet!
Happy Labor Day, everbody!
Posted by: Wonderduck at 02:33 PM | No Comments | Add Comment
Post contains 70 words, total size 1 kb.
The Never-Ending Reinstall
It's been a while since I last did a re-install of Windows, and I was noticing some slowdown in the Chiyo-chan for whatever reason; it wasn't from any virus or spyware that I could detect. I suspect it might have been because of the whole problem with the external hard drive a month or two ago. Whatever, it's not like I had anything to do tonight, and with a NASCAR race on, I could watch that while I reinstalled Windows. Pure genius! I'd be done before the race was over!
Yeah, not so much. The race lasted four hours. By the time Tony Stewart won, I was still downloading updates... the last two times I did this sort of thing, it only took three hours
total
to have everything done. As I post this, I've still got a few apps to install, and it's almost seven hours later. Ugh.
We'll return to regular blogginationing on Monday.
Posted by: Wonderduck at 12:33 AM | Comments (2) | Add Comment
Post contains 159 words, total size 1 kb.
September 04, 2010
Name This Mystery Ship IV
While I am working on the post that Siergen won for identifying the HMS
Unicorn
last time around... he selected a topic I know next to nothing about... here's another possibility for someone to win their very own post on a topic of their choosing! Name this ship:

Winner gets a post on a topic of their own choosing... hopefully not one as difficult as Siergen's, but pretty much anything is free game!
I'm hoping this one is difficult... if it's not, you guys are even more obsessive than I am!
UPDATE
: Okay, maybe it was still "easy." Only took about four hours for Pete Z to come up with the
Wakamiya
, a seaplane carrier of the IJN.
She's best known as the ship that launched the world's
first naval-launched air raids
(against German targets in Tsingtao) on September 5th, 1914... 96 years ago today. In a way, this humble 8000 ton vessel with its four seaplanes and canvas-and-metal hangars is the direct predecessor of today's 104000 ton, 85 plane
Nimitz
-class carriers.
Funny how these things happen, isn't it?
Posted by: Wonderduck at 07:21 PM | Comments (5) | Add Comment
Post contains 184 words, total size 1 kb.
September 03, 2010
Extraction #2 Successful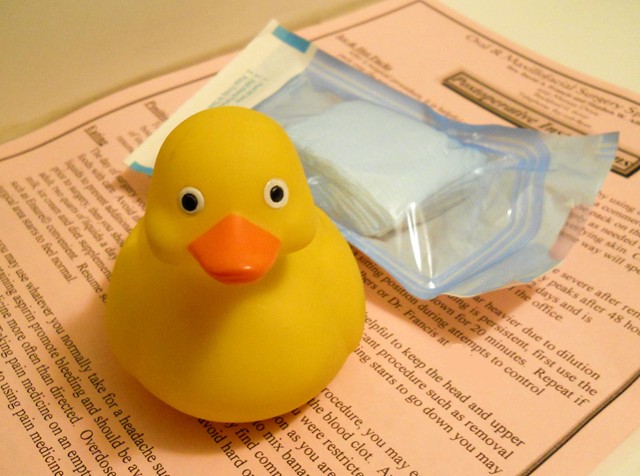 Well, the bad tooth has been removed, and this one was a different experience altogether. The nitrous didn't make me feel sick to my stomach this time, which was a pleasant bonus. The tooth didn't come out quite as readily as the last one, which wasn't nice. Turns out that it had two roots, where the first one (the mirror image tooth of today's) only had one... and one of the roots off broke when the Doc did the deed. No fault on him, he's very good. Heck, my dentist sends his children to him for oral surgery. Eat where the truck drivers eat, go to the oral surgeon your dentist uses.
And hey, he's got this print hanging in the extraction room: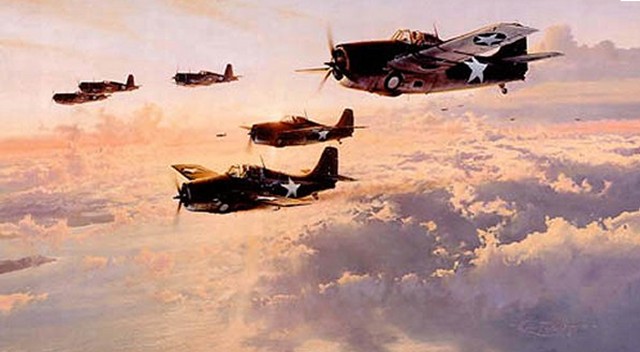 "In Gallant Company" by Robert Taylor
...which is nice. I don't think he was too impressed by my fascination with the Battle of Midway last time, but how many of his patients know the difference between the F4F-3, the F4F-4, and the FM-2?
Oh, and his assistants expressed an interest in visiting the site too...
Hi, Ladies
! The other tooth extraction post with that picture you wanted to see is
right here
. Thanks for visiting... and for helping make the extraction go easily!
Posted by: Wonderduck at 10:05 AM | Comments (1) | Add Comment
Post contains 209 words, total size 2 kb.
September 01, 2010
Dissecting The Austin F1 Circuit Map
There comes a time in every person's life when one of their core beliefs is shaken to its very core, and they must reassess everything they thought prior to that time in response. My friends, one of those times has come to me, for reader David has pointed me in the direction of a press release from the promoter of the new US Grand Prix in Austin, Texas. This press release contains a proposed circuit map as designed by Hermann Tilke. As readers of my F1 posts are aware, I am not fond of Hermann Tilke as a track designer. Only his design for the Istanbul Otodrom is any good as far as I'm concerned, with his other layouts ranking "meh" at best. Here's the overhead map for the Austin track:
I have to admit, publicly and with no shame whatsoever, that I actually like this. There seem to be a number of homages to other tracks here, like Tilke sat down and borrowed some of the best features of them. For example, I see Suzuka's famed "S Curves" or Silverstone's Maggots-Becketts-Chapel complex in the Turns 3-4-5 on the map, Montreal's Hairpin at Turn 11, Turkey's Quad-8 at Turn 16-18, and Abu Dhabi's massive back straight is echoed by the 3/4th of a mile long back straight here.
All of which is nice, to be sure, but it gets better... oh yes, yes it does... when you look at the elevation map. Seems this time, Tilke's gotten to play with something other than a featureless plain.
more...
Posted by: Wonderduck at 10:47 PM | Comments (9) | Add Comment
Post contains 798 words, total size 5 kb.
88kb generated in CPU 0.08, elapsed 0.2209 seconds.
54 queries taking 0.1553 seconds, 315 records returned.
Powered by Minx 1.1.6c-pink.