June 15, 2013
An Explanation
Over at Steven's place,
he apologizes
for not providing his usual bountiful amounts of free ice cream. I, on the other hand, am
not
going to apologize for not give you much in the way of deep meaningful free ice cream as of late, because I'm actually doing you a favor by not writing.
Cute duckling picture counteracts the darkness
Collectively I hear your eyes roll like so many 14-pound balls down a well-waxed bowling alley. "Oh look, Wonderduck is going to whine about how bad he is at writing again." Nope, I'm not. What I
am
, however, is in a rather hideous mood. It was only brought to my attention recently, but enough people confirmed it so it must be true.
See? Cute duckling versus evil Wonderduck = cute duckling flawless victory!
In some of my various notes and such, I can see that these people are correct. I do appear to be in something of a snit (or is that a bolotomus?), and I fear that it has leeched into my scribblings. Or will, if I let it... and I would. This is not a good thing, even on an Episodic Writeup, and don't think I don't remember that I'm supposed to be working on the
Eva
movies.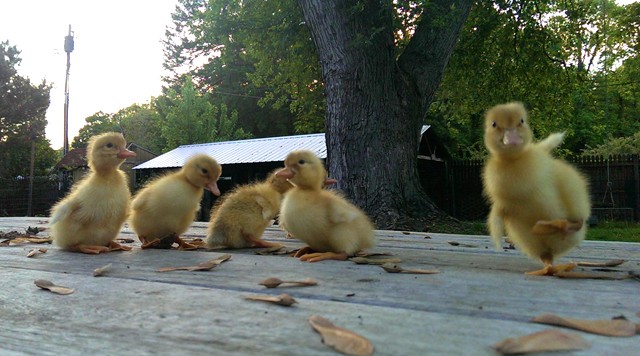 I'll be in Florida for half of next week... big company shindig. I'll take Wanderduck with me, probably get some "rubber duck at 30000 feet" pictures. Unfortunately, I won't be back until Saturday evening, meaning I'll be missing a good portion of the 24 Hours of LeMans. Drat, etc. So that's the story from my end. It's for your own good. Remember that.
Duckling happily contemplating how to kill everybody.
Posted by: Wonderduck at 10:18 PM | Comments (6) | Add Comment
Post contains 286 words, total size 2 kb.
1
Ah, duckies. The kittens of the avian world.
Have fun in Florida!
Posted by: Pixy Misa at June 16, 2013 09:51 AM (PiXy!)
2
Normally, I'd say that internet access at airports is expensive and a ripoff. But if you've got long stopovers, maybe you can figure out how to watch Le Mans at the airport, and have it be worth it. You might also find out if any sports bars at the airport are planning to run Le Mans on the television. (No guarantees, but hey, always worth a try! I've seen some weird sports channels show up at places like TGI Friday's, even.)
Posted by: Suburbanbanshee at June 16, 2013 10:04 AM (cvXSV)
3
No stopovers. I fly out of Florida Saturday at 2pm, get back to Pond Central probably around 7pm. Okay, it's not like I'm missing a LOT of the race, but any of the night-time lost is a tragedy.
Posted by: Wonderduck at June 16, 2013 11:25 AM (6INPy)
4
Oh, well. Have a good trip!
Posted by: Suburbanbanshee at June 17, 2013 09:22 AM (cvXSV)
5
Depending on where you go, you may be able to get free airport Wi-Fi. When I lived in Tampa 5-6 years ago, they didn't charge.
Posted by: RickC at June 17, 2013 04:38 PM (WQ6Vb)
6
The plan is that I won't be in any airport long enough to connect to wifi... hopefully.
Posted by: Wonderduck at June 17, 2013 09:12 PM (4qAlp)
Comments are disabled. Post is locked.
24kb generated in CPU 0.09, elapsed 0.4768 seconds.
47 queries taking 0.4273 seconds, 264 records returned.
Powered by Minx 1.1.6c-pink.