November 17, 2013
About That US Grand Prix Thing...
I may have a problem watching it. There's wave after wave of thunderstorms and squall lines coming through the area. High wind warnings are posted until 4pm, pretty much all of Illinois is under a tornado watch, except for some parts that have tornado warnings.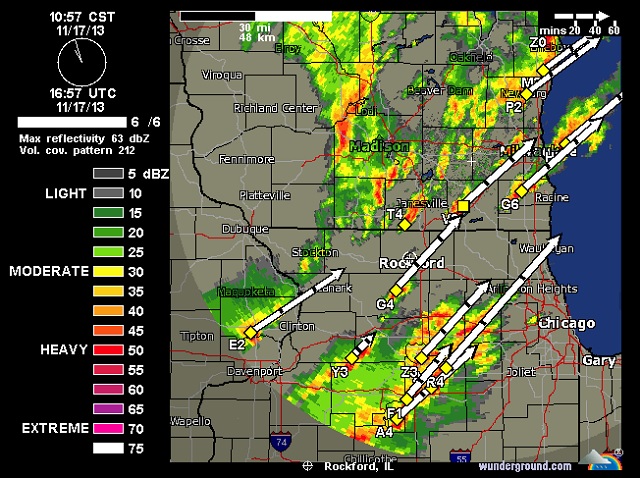 It goes without saying that this sort of thing plays hob with satellite reception... and that storm marked "G4" is aimed right at Pond Central. There's a Bears game at Soldier Field at noon, and they're preparing for the worst. 61000 people in an outdoor stadium when a bad storm rolls through? Not pleasant.
So we'll see what I get to see... stay tuned, I guess, though if my satellite goes out, there's every chance in the world my internet'll go out, too.
UPDATE
: Eep.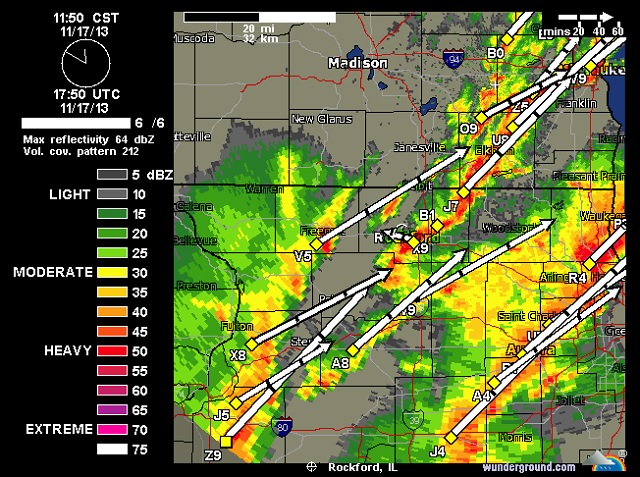 Squall line going over pretty much as we speak. Zero satellite feed.
UPDATE
: Satellite feed is back a half-hour from the race start. Too damn bad the station is breaking in every five minutes with weather updates. To be fair, things are nasty just south of Pond Central... there's been a tornado on the ground about 50 or so miles south of here, for example. We seem to be clear up here, though. I mean, it's going to rain, yeah, and thunderstorms, but the weather nabobs are saying that Duckford should be safe from the severe weather.
UPDATE @ 1236pm
: They just temporarily suspended the Bears game, and the fans are being evacuated into the recesses of Soldier Field. I heard Gene Steratore, the head ref for the game, say "tornado warning" and "heavy lightning". Great googly moogly.
Posted by: Wonderduck at 11:08 AM | No Comments | Add Comment
Post contains 274 words, total size 2 kb.
Comments are disabled. Post is locked.
22kb generated in CPU 0.011, elapsed 0.153 seconds.
45 queries taking 0.1455 seconds, 275 records returned.
Powered by Minx 1.1.6c-pink.