December 27, 2012
90 Years
There are ships from World War II whose names ring down through the ages for their great deeds. Names like
Enterprise
, names like
Samuel B Roberts
, names like
Tang
and
Wahoo
. Then there are ships who have generated a legend for other reasons. Ships like
Yamato
, or
Bismarck
, or the lamented
Arizona
. But there are other ships, ships that are known only to historians and grognards. Ships that left a lasting legacy that only the truly attentive would be aware of, ships like the one that was commissioned 90 years ago today.
If you've read The Pond for any length of time, you know that I'm a fan of the underdog, and much more interested in the "supporting cast" than the star actors.
Everybody
knows about the big carriers, for example, but nobody pays any attention to the escort carriers. The Mustang, Spitfire and Zero get the headlines, but the Vindicator is what I'll be happy to read about for hours. Which is why this ship is one of my favorites. Ladies and Gentlemen, I give you the the first aircraft carrier designed and built from the ground up, the
Hosho
.
Commissioned December 27th, 1922 into the Imperial Japanese Navy, the
Hosho
was never to be a top-of-the-line fleet carrier, even when brand new. She could only carry 15 planes in 1922, that number decreasing rapidly as aircraft size and weight increased. Only 552 feet long from bow to stern, she was only slightly longer than an average American escort carrier built 20 years later. She was also very lightly built, weighing in at under 9700 tons at full load. For comparison, the USS , a light cruiser commissioned in 1938, weighed in at 10000 tons.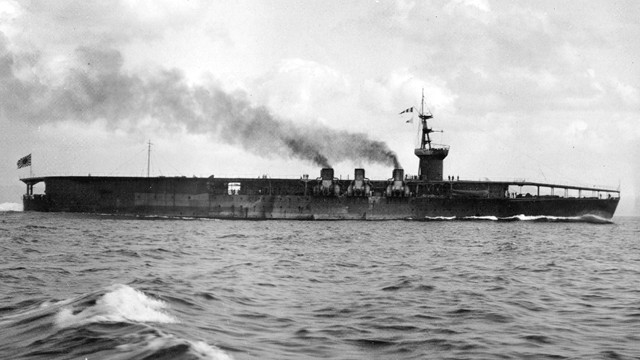 But her size was not to be her main value to the Imperial Japanese Navy.
As the United States discovered with USS
Langley
and the Royal Navy found out with HMS
Argus
, possession of an aircraft carrier does not mean that suddenly one has a naval air arm. What it DOES mean is that you can begin to figure out how to operate aircraft carriers, which are seriously different beasts from any other warship.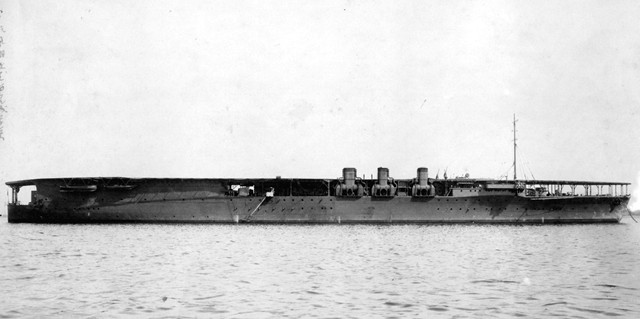 As an example, as built the
Hosho
had a small island forward on the starboard side, with a pronounced -5º rake to the flight deck at the bow. Within two years of going to sea, the island was gone, the flight deck forward no longer had the rake. Trying to figure out how best to do something, nearly from scratch, is a complex and difficult enterprise... and flying airplanes from a moving flight deck is perhaps the hardest thing to do. The IJN tested 15 different types of arresting gear on the
Hosho
, as well as inventing optical lighting gear to help with landing which is in use in modified form by the US Navy's aircraft carriers. Lessons learned with the operation of the
Hosho
were incorporated into every aircraft carrier designed by the Japanese, starting with the
Akagi
.

Her diminutive size precluded her from participating in much combat, however. In the 1930s, she did launch attacks against Chinese targets, but with only a dozen planes and a crew of 500, they were hardly effective. With the beginning of the war against the United States, the
Hosho
was assigned to the Third Carrier Division, providing anti-submarine and recon abilities to the Combined Fleet's battleship battle-line. At this point, she could only carry eight obsolescent torpedo bombers and was essentially unable to defend herself. After screening the "Main Body" at the Battle of Midway, she was turned into a training carrier. The modifications, however, made her top-heavy and unstable in rough seas; she was effectively banned from operation anywhere other than the Inland Sea and never during storms, for fears of capsizing. It was there that she suffered two attacks in 1945, taking but minor damage. She survived the war, the only Japanese aircraft carrier in service at the beginning of hostilities to do so.
Hosho
was scrapped in 1946 after a number of missions to return surrendered troops to Japan from various islands, an inglorious end to an inglorious but important ship.
Posted by: Wonderduck at 09:13 PM | Comments (1) | Add Comment
Post contains 694 words, total size 5 kb.
1
Not really as inglorious as it was necessary and doleful to the transportees. Love your work, amigo.
Posted by: The Old Man at December 28, 2012 09:17 AM (dBz2M)
Comments are disabled. Post is locked.
26kb generated in CPU 0.0136, elapsed 0.0959 seconds.
47 queries taking 0.0877 seconds, 277 records returned.
Powered by Minx 1.1.6c-pink.