March 25, 2013
"...and Screw This Whole Area In Particular."
It's hard for a ship to look proud when painted in Measure 32, but somehow the USS
Aaron Ward
(DM-34, ex DD-773) pulls it off in this picture. Like James Bond, martini shaken not stirred, dressed in a clown costume.
Originally a
Sumner
-class destroyer, the
Ward
was taken in hand right after launching and converted to the last of 12
Robert H Smith
-class minelayers. All the conversion did was remove the torpedo tubes and add minelaying equipment (which, it might be noted, was never actually used by any of the
Smith
s in WWII). Otherwise, they were treated as any other destroyer. Joining the fleet at Pearl Harbor on February 2nd, 1945, she received additional training in and around Hawaii before joining TF 52 at Okinawa on March 22nd. She served there for around a month, leaving station occasionally for supplies and such. On April 30th, 1945, she took station at Radar Picket #10 off the coast of Okinawa. She beat off one attacker early in her stay, but bad weather kept Japanese aircraft out of the sky for a few days. That all changed late on the afternoon of May 3th. From roughly 4pm to around 730pm, she was attacked by at least a dozen kamikazes. Of those, she was hit by six.
Gone was the neatly turned-out destroyer-minelayer. Left behind was a legend.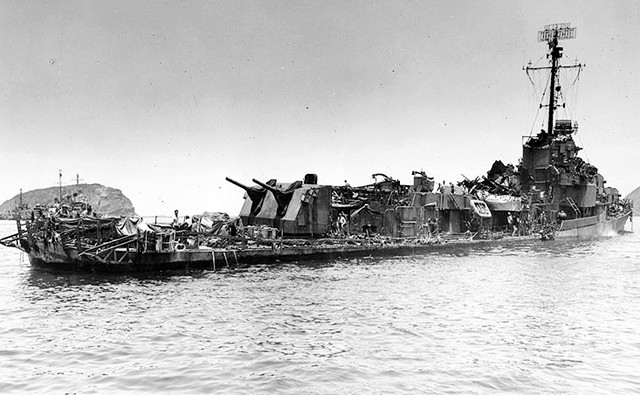 27 of her crew were killed in the attacks, but the ship was saved. Arriving in New York under her own power in August of 1945, she was judged not worth repairing. She was decommissioned in September of that same year, and scrapped in 1946.
Posted by: Wonderduck at 10:11 PM | Comments (7) | Add Comment
Post contains 276 words, total size 2 kb.
Posted by: Mitch H. at March 26, 2013 09:10 AM (jwKxK)
Posted by: cxt217 at March 26, 2013 02:20 PM (6/RCS)
Posted by: Steven Den Beste at March 26, 2013 09:08 PM (+rSRq)
Posted by: cxt217 at March 29, 2013 01:50 PM (6/RCS)
Posted by: Steven Den Beste at March 29, 2013 03:00 PM (+rSRq)
Posted by: cxt217 at March 29, 2013 04:04 PM (6/RCS)
Posted by: cxt217 at March 29, 2013 04:09 PM (6/RCS)
Comments are disabled. Post is locked.
27kb generated in CPU 0.02, elapsed 0.101 seconds.
53 queries taking 0.0816 seconds, 282 records returned.
Powered by Minx 1.1.6c-pink.