June 10, 2015
Your Weekly Asuka, Ep10
She's back! The Goofy Cute is back!
-Hibike! Euphonium
, Ep10
But only for a few moments, after which she is gone is a cloud of seriousness and puppetmastering. For as mentioned weeks ago, whatever Asuka wants for the band club, Asuka gets.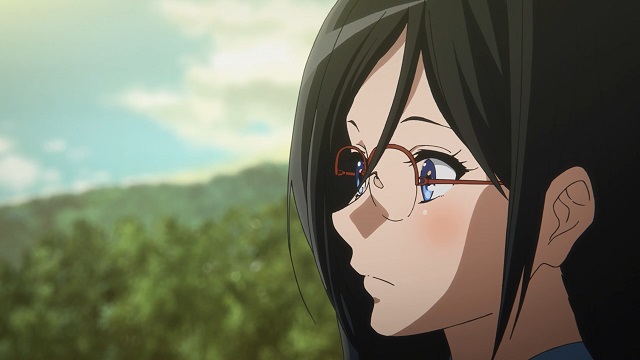 This week, we had drama in that many of the 2nd and 3rd year students were outraged that a first year student, Reina,
could possibly beat a popular 3rd year, Kaori, for the trumpet solo honors
... to the point that a sense of discontent and back-biting has arisen. Sides have been taken, with Team Kaori being both loud and sneaky. Rumors are floated that the Conductor has known Reina for years, and that favoritism played a major part in his decision during auditions.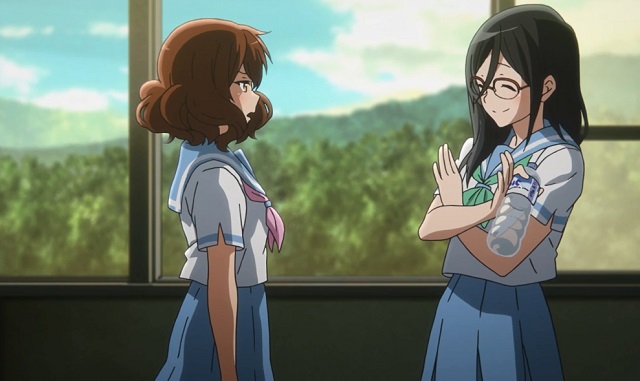 Kumiko, the POV character for the series, is perturbed by the way the band is disintegrating... and that her friend Reina is the proximate cause of the problems. She hears Kaori practicing the trumpet solo part, and winds up wanting to find out what Asuka's opinion on the solo situation is. "No comment", since she's the Vice-President and all. Kumiko ain't havin' it, so she presses the matter with Goofy Cute, asking for her personal opinion, off the record.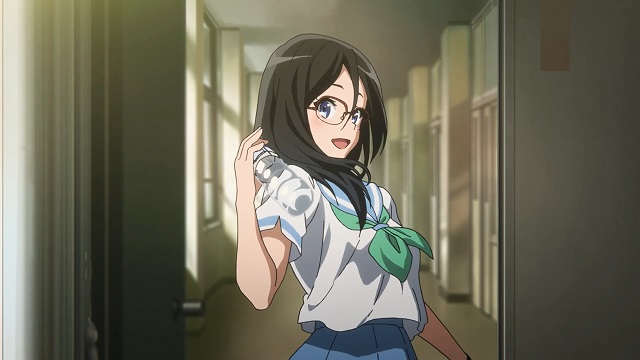 "I don't care. I couldn't give a damn." And then she traipses away, leaving an angry and depressed Kumiko behind. She knows Asuka has an opinion, but there's way too much mask and armor to penetrate to find out what it really is. Later, the rumor-mongering and backbiting becomes so bad that the Conductor allows for a second audition for anybody unsatisfied with the results of the first audition. Only one person wants a redo: Kaori, the 3rd Year trumpet player.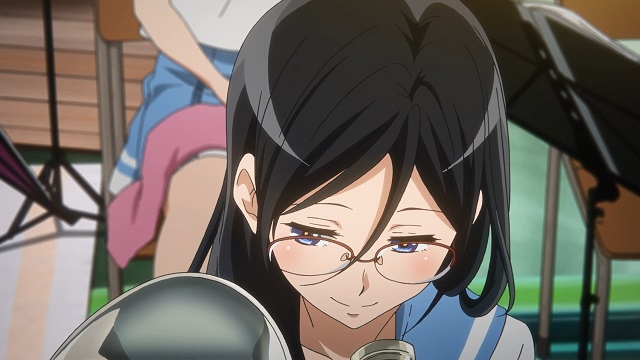 ...and Asuka smiles. Which leads me to believe that she was the driving force behind the rumors of favoritism. We already know she's devoted to music. We've seen that she's extremely knowledgeable about the world of music (for example, when their playlist for the upcoming contest is handed out, she knows quite a lot about the obscure composer that created one of the tunes, just off the top of her head). We've learned that the Conductor is rather well-known as a music educator, and that Reina's father, a well-known trumpet player himself, has known him for years. It seems likely to me that this is all information that Asuka would know. If she was dissatisfied with the results of the solo auditions, she could certainly say something casually where the wrong ears would hear... and the rumors would spread.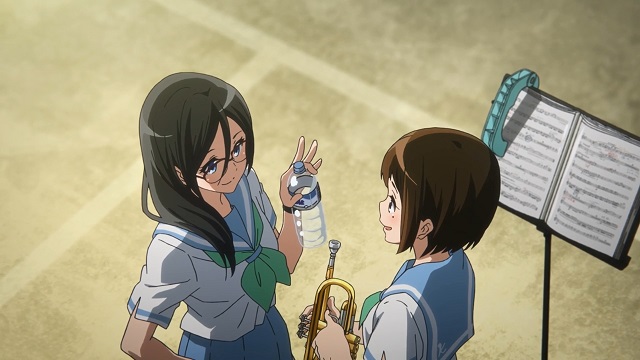 And Asuka gets what Asuka wants.
I'm willing to bet, though, that the audition next week will be done blind, with the soloists behind screens. The winner is going to be chosen by a show of hands, and if they're behind screens, it won't devolve into a popularity contest. Mark my words.
Posted by: Wonderduck at 09:22 PM | Comments (6) | Add Comment
Post contains 480 words, total size 3 kb.
Posted by: Ben at June 10, 2015 09:58 PM (S4UJw)
Posted by: Wonderduck at June 10, 2015 11:57 PM (jGQR+)
Posted by: GreyDuck at June 11, 2015 07:48 AM (/zxpg)
Posted by: Suburbanbanshee at June 13, 2015 09:15 PM (ZJVQ5)
Posted by: Ben at June 14, 2015 07:13 AM (DRaH+)
Posted by: Mitch H. at June 17, 2015 08:39 AM (jwKxK)
33kb generated in CPU 0.0141, elapsed 0.3818 seconds.
49 queries taking 0.3731 seconds, 284 records returned.
Powered by Minx 1.1.6c-pink.