March 19, 2009
The Return of Anime Night!
It's been a long while since The Librarian and I have gathered at Pond Central for dinner and some anime. Over the past few months, life has just gotten in the way. Oh, we've gotten together every now and again for dinner, but the legendary Anime Night looked to be a thing of the past.
Until tonight. Tonight saw the return of the tradition. Dinner from Panda Express, a long bit of conversation and laffs, then four episodes of some series. But what series? It's been so long since the last Anime Night, we decided to start something new.
"They're all insane."
That was the comment uttered by The Librarian after the first episode of our new show. And what show was it?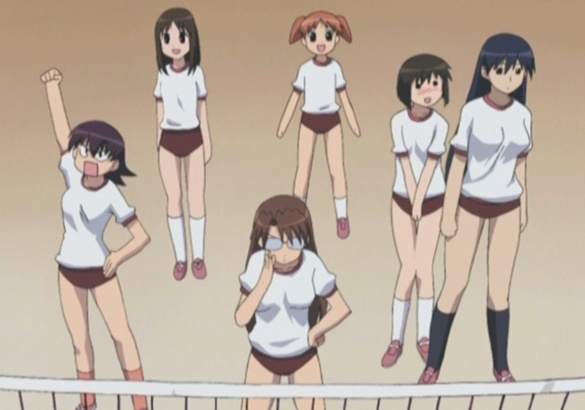 YES! Yesyesyesyesyesyesyes!
Azumanga Daioh
has long been my acknowledged favorite anime, but it's been a couple of years since I last watched it. The Librarian has seen an episode or two, but a really long time ago... so this promises to be a really enjoyable few weeks.
To be honest, I had forgotten how much
fun
AzuDai
is... and just how good it is, too. The animation quality is still quite good for a seven-year-old show (it suffers in comparison to, say,
Gurren Lagann
or
Clannad
, but so do most series), but there are many more still-shots than I remember. Sound and music is excellent, but there's no question the heart and soul of
AzuDai
is the characters... and those don't suffer from age in the least, and likely never will.
A better ensemble cast you will never, ever, find. Just a bunch of kids and their (eccentric) teachers, going through life in their own way... without angst, without serious problems, just enjoying themselves. Just what this tired duckie needed.
Posted by: Wonderduck at 10:28 PM | Comments (5) | Add Comment
Post contains 298 words, total size 2 kb.
1
I bought the Azumanga Daioh box set after reading your glowing reviews. Maybe it's time to get it down off the shelf and watch it!
Posted by: madmike at March 20, 2009 09:49 AM (mV2q+)
2
Darn skippy, Mike. You'll not regret the time... just make sure to clear your schedule, because there's a good chance you'll wind up marathoning the series.
Posted by: Wonderduck at March 20, 2009 05:57 PM (tMdKd)
3
So, when Osaka dropped her handkerchief, did you laugh or cry (The Litmus Test of Azumanga Watcher)?
Posted by: Pete Zaitcev at March 21, 2009 11:26 AM (/ppBw)
4
I smiled, more because of the sound effects of the soap than because of the incident itself.
Posted by: Wonderduck at March 21, 2009 12:25 PM (tMdKd)
5
Myself, I don't recall reacting either way.
Posted by: Steven Den Beste at March 21, 2009 01:55 PM (+rSRq)
Comments are disabled. Post is locked.
24kb generated in CPU 0.03, elapsed 0.1033 seconds.
53 queries taking 0.0829 seconds, 274 records returned.
Powered by Minx 1.1.6c-pink.