December 29, 2009
Some F1 News and Reactions
As you remember, Michael "Slappy" Schumacher has returned to F1 as a driver for the new Mercedes team. His contract is for three years at a reported £7million per, after which he'll become a spokesman and consultant for Mercedes-Benz. Sounds a lot like his old setup for Ferrari, actually. The Daimler Executive Council, directors of Mercedes' parent company, is grumbling about the cost of the contract, saying that the laid-off workstaff can't understand the whole thing and thinks that Mercedes should, instead, pull out of F1. That won't happen, but they have a point... after all, Honda, Toyota and BMW thought that way.
Luca di Montezemelo, Ferrari head honcho, is putting a brave face on Slappy's leaving, saying that it's good for F1, and if something is good for F1 then it's good for Ferrari. Inside, though, you've gotta think that he's seething. Throw in the fact that Slappy will be teaming again with Ross Brawn, the combination that led to five Championships for Ferrari, and di Montezemelo must be wondering where the luster behind the red cars has gone. I think it disappeared when Lucky Luca unceremoniously shoved Slappy out the door back in 2006. Schumi didn't want to go, but Ferrari wanted Massa and Raikkonen instead... and forced arguably the best driver in F1 history to retire.
Of course, if Slappy is back, of course there have to be rumors that lil' brother Ralf will be returning to F1 as well, this time with Toro Rosso. I think I speak for all F1 fans worldwide when I say "No. Please, no. Just... no."
2010 is going to be a
very
interesting season, just chock full of built-in storylines. For example, Britain (McLaren, Button, Hamilton) vs Germany (Mercedes, Rosberg, Schumacher), McLaren vs Ferrari vs Mercedes, Hamilton (2008 Driver Champion) vs Button (2009 Driver Champion) on the
same team
, four new teams on the grid (or five if you include Sauber coming back), Alonso vs Massa at Ferrari... and that's just off the top of my head.
Speaking of new teams, there are visible signs of life at USF1! They (finally) activated their website, which
you can see here
, but more importantly there's a video on it that shows (amongst other things) substantial progress on the building of the actual chassis... and a good idea of what the car will actually look like. On the wall in one shot of the video, there's a CAD print of a F1 racer: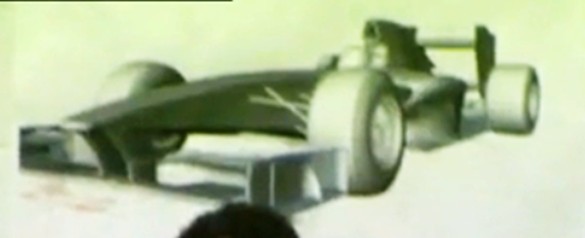 ...which doesn't actually mean anything, you're saying to yourself. To which I'd say, I agree entirely. Except for the extended sequence that's shown a few moments later, as the team makes the monocoque and the nose of the car out of foam, plastic molds, and then finally carbon fiber. Here's a screenshot from that: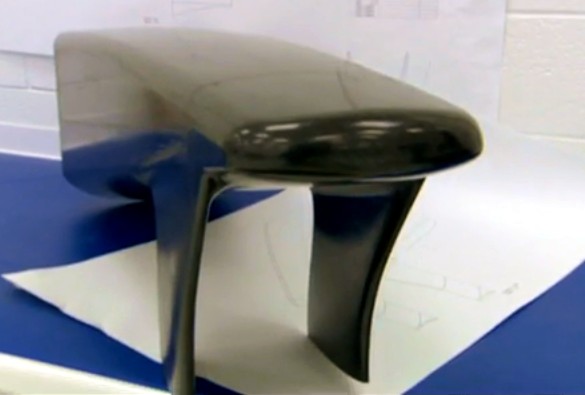 Please note that the verticals lean backwards, just like they do in the CAD drawing. Carbon fiber isn't cheap, it's not likely that a new startup like USF1 would be making noses just to fark with us.
I think we now know what the USF1 car is gonna look like. Now if only we had a rolling chassis to drool over...
Finally, one piece of good news to report! SPEED
officially announced
that they've re-upped their contract with Formula One Management, meaning that they'll continue to be the network to cover F1 for the foreseeable future. The Legendary Announce Team will be back, as well.
Posted by: Wonderduck at 01:13 PM | Comments (4) | Add Comment
Post contains 574 words, total size 4 kb.
Posted by: Steven Den Beste at December 29, 2009 02:08 PM (+rSRq)
Posted by: Mallory at December 29, 2009 02:51 PM (WJ2qy)
Posted by: Steven Den Beste at December 29, 2009 04:51 PM (+rSRq)
Posted by: Wonderduck at December 29, 2009 05:46 PM (ffKVz)
Comments are disabled. Post is locked.
26kb generated in CPU 0.0476, elapsed 0.347 seconds.
47 queries taking 0.3395 seconds, 280 records returned.
Powered by Minx 1.1.6c-pink.