May 07, 2015
Random Anime Picture #97: Transcribing
-Hibike! Euphonium
, Ep05
Meet Yoriko. A third-year student at Kitauji High School, she is the librarian for the band club. As such, she is in charge of marking changes in the sheet music for individual performers, correcting errors, which means she's supposed to work closely with the director. At least, that's the way it works for professional ensemble librarians. I assume that her position has at least some passing resemblance to those requirements.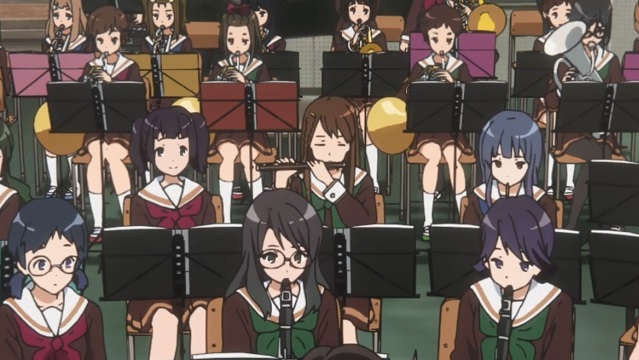 She's playing the piccolo here, but she's been seen practicing with a flute as well. She has had one line in the show to date, during Ep02: "When you switch from C to D...". In that one line, she is soft-spoken. In short, she's what I would usually call a "Skippy" in a writeup if she was important enough to have a scene devoted to her. Since she hasn't been, she is, instead, a step down from a Skippy, a J Random Student. She's got a name, but she's still a J Random.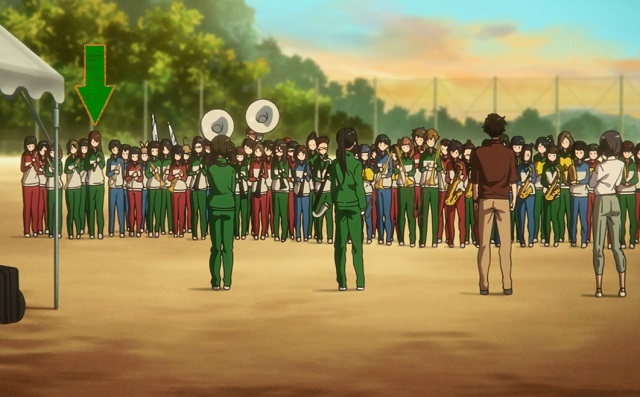 Coincidentally she is also very tall, with only three male members of the band having inches on her. She's just another J Random, "third-spearcarrier-from-the-left" type.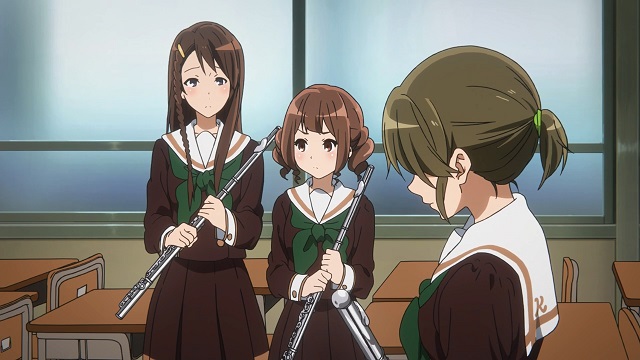 Yet, in the perhaps twenty seconds of screentime she's had in five episodes of
Hibike! Euphonium
, most of which in an group of people (the picture of her doing the librarian stuff is the only time she's solo onscreen, and that's for perhaps two seconds) KyoAni has managed to work in a surprising amount of characterization and background. After all, she's a tall, soft-spoken, bookish type with a passion for music (note that she's the only one with her eyes closed in the ensemble picture!) and an eye for detail. It's amazing what you notice when you look for stuff. This whole character profile began simply because I liked the picture of her sitting at the desk, transcribing music. J Random Student? Skippy?
Or Yoriko Saika, character. I wonder what her story is?
Posted by: Wonderduck at 08:57 PM | Comments (1) | Add Comment
Post contains 329 words, total size 2 kb.
1
All three students in the bottom picture can be easily identified in the third picture. On top of that, each of them has had at least one line or contribution to the story in some way. Each person in the second picture can be tracked consistently to other scenes in the first five episodes. They consistently play the same instruments and are drawn the same way every time.
The only caveat, and I'm not gonna swear to it, is Kumiko claims at one point that there are 60 members of the band club, and I'm pretty sure only about 20-ish are identifiable, maybe 25-ish. Of course, not EVERY single member of the band is important...but considering the plot is driven by six people (and those unequally), the fact that over twenty characters are distinct individuals after only five episodes is remarkable.
Also, for those who are thinking about giving the show a try, you can watch the first five episodes as a movie, more or less. It has a character arc and a plot that gets resolved.
Posted by: Ben at May 07, 2015 09:29 PM (DRaH+)
27kb generated in CPU 0.0126, elapsed 0.0769 seconds.
49 queries taking 0.0685 seconds, 279 records returned.
Powered by Minx 1.1.6c-pink.