August 11, 2016
Random Anime Picture #121: It's A Cat. No, Seriously.
-Amanchu
, Ep03
I've come to the conclusion that, despite all the talent and skill she has at drawing everything else ever, Kozue Amano simply can
not
draw a cat to save her life. Well, that's okay. She gave us
ARIA
, so she gets a huge free pass in my book.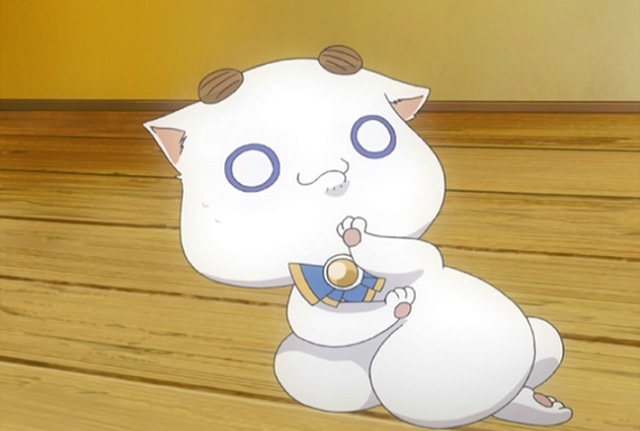 Really. It's a cat.
Posted by: Wonderduck at 07:01 PM | Comments (3) | Add Comment
Post contains 62 words, total size 1 kb.
1
Okay, sure, whatever, I'm still telling everyone to avoid making any contracts with either of them, not even in order to acquire magical-girl-type powers...
Posted by: GreyDuck at August 12, 2016 07:26 AM (rKFiU)
2
The cat in the first image looks more like an AIBO than any of the cats readily available for comparison.
Reminds me of walking into a Kentucky Fried Chicken in Kingman, Arizona sometime in maybe the late 90s.
On the door was a poster that seemed to depict a cartoon pig. I puzzled over this and an unfamiliar word in large type in one of the fun-oriented fonts. I came up with the hypothesis that the word was a Japanese-English hybrid for "pork man" and must be a tie-in for some kind of sausage biscuit they were introducing.
Somewhat later, piecing together more evidence, I learned the word meant "pocket monsters," and the creature depicted was called Pikachu and was to be caught but not eaten.
It struck me as an unsuccessful promotion overall. It was a bit ahead of the US Pokémon-card craze, for starters. The unintentionally ridiculous spectacle of an animated Colonel Sanders on TV, talking about it in some Nuyorican or Angeleno voiceover artist's idea of a Southern accent, probably didn't help. If memory serves, they gave it up before long.
Posted by: Ad absurdum per aspera at August 13, 2016 08:13 AM (470Py)
3
I encountered this
link
to the Japanese after-action report for the battle of Midway this morning. I assume you've seen it before, but just in case, I thought I'd pass it on. If nothing else, some of your other readers might see it and be interested.
Posted by: David at August 14, 2016 11:08 AM (YHSti)
26kb generated in CPU 0.0104, elapsed 0.0663 seconds.
49 queries taking 0.0598 seconds, 281 records returned.
Powered by Minx 1.1.6c-pink.