August 04, 2012
Picking At My Posting
You know how you have a lot of food on your plate, but none of it looks extra-special tasty? You wind up just sort of lackadaisically nibbling at this, chewing a bit on that, not really doing anything with it? That's pretty much where I am right now with The Pond. I've started work on two major posts, the
Ben-To
Ep01 writeup and the Late War Best Fighter thing (finally!), but haven't really felt like devoting the hours required to make them any good. So instead, I'm doing them in 10-15 minute nibbles. It's weird, and I'm not sure I like the result, but there you are. At least they're being worked on, right?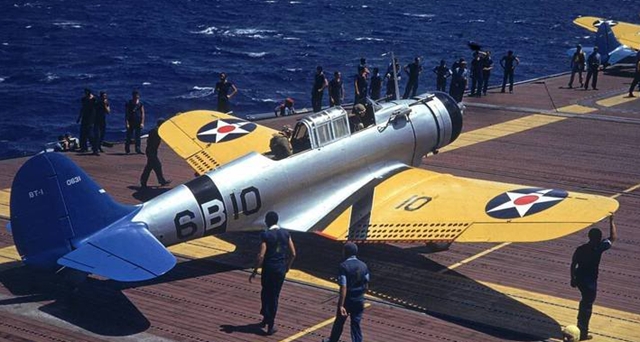 Best darn photo of a
Vindicator
I've ever seen. It's a pre-war shot of an
Enterprise
"Bombing 6" plane, stolen from the archives of
LIFE
. No, there's no point to it being here, other than I wanted to put it up.
So there's stuff in the pipeline to look forward to! Just hope I have the time to work on them... Duck U classes start on the 22nd, the new fledgelings move in on the 18th. Yep, it's busytime at the Bookstore, and I'm scheduled for 48 hours next week. Who in the world writes the darn schedule anyway?
Oh right... me. Darn it.
Posted by: Wonderduck at 10:08 PM | Comments (7) | Add Comment
Post contains 222 words, total size 2 kb.
1
Oh, Wind Indicators! The color photo reminds me of a book collection of WW2 color photos of USN aviation, that opened with a very nice story of David McCampbell. I have dig through my collection to find it again.
For some reason, much activity has come to a halt on account of using Crunchyroll to marathon Puella Magi Madoka Magica and watch Anohana (There is no way you can really marathon Anohana - for the simple reason you can not sit through all 11 episodes without any recovery time in between viewings.).
C.T.
Posted by: cxt217 at August 04, 2012 11:36 PM (CYVgr)
2
Just came off 13 straight days of work building airliners with lots of overtime). Hopefully tomorrow I can start adding some pictures to my last post. Then I have to decide between a quick excoriation of Solty Rei, The next Deadman Wonderland, or a series summary of Michiko to Hatchin.
Posted by: Mauser at August 05, 2012 12:25 AM (cZPoz)
3
Dear Sir:
I have just read, and thoroughly enjoyed your Oct. 6, 2011 blog entitled The Flight to Nowhere. It is such a complete article on the topic that I'd like very much to post it in a yahoo group dedicated to the Battle of Midway, Shattered Sword; (yes, named after Parshall and Tully's book, but as far as I know neither of them are members). If you wish, you can access the group here.
Best regards,
Jim Hanford, Brownstown, MI
Posted by: James Hanford at December 27, 2012 10:37 PM (4JgQc)
4
Jim, I've replied to you via e-mail.
Posted by: Wonderduck at December 28, 2012 01:29 AM (cymHZ)
5
Except it is not a Vindicator. Tail reads BT-1. Which makes it a Northrop and not a Vought SB2U. That is the SBD's daddy, designed by Earl Heinemann. He left Northrop and went to work for Douglas shortly after designing the BT-1. I would link you to my photos of the SB2U at the Naval Aviation Museum, but I just realized I have not shared them on my flickr account. I will be rectifying that.
Lynn Travers
Posted by: LT at December 30, 2012 03:17 PM (qXLUk)
6
I'll be darned... you're right!
Posted by: Wonderduck at December 30, 2012 03:24 PM (cymHZ)
Posted by: Wonderduck at December 30, 2012 06:43 PM (cymHZ)
Comments are disabled. Post is locked.
26kb generated in CPU 0.0176, elapsed 0.4111 seconds.
47 queries taking 0.4016 seconds, 283 records returned.
Powered by Minx 1.1.6c-pink.