August 12, 2015
Not Giving Up On Gakkou Gurashi
Though to be honest I probably should. Between work and life in general, I'm finding it difficult to crank out the writeups for
Gakkou Gurashi
... heck, I'm finding it difficult to generate the time to watch it, let alone spend the four hours-plus a good writeup takes.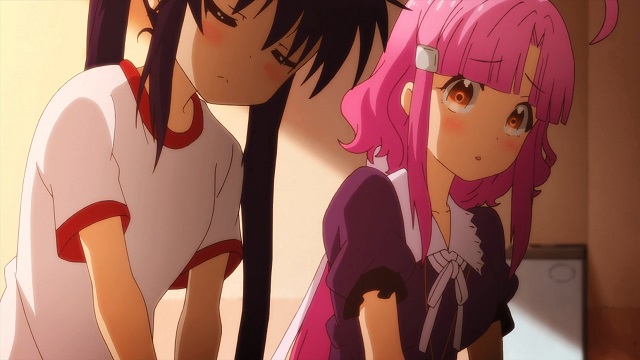 But I
want
to do this so very much. But, y'know:
the spirit is willing, but
.... Yeah, its kinda like that. It's a LOT like that. It IS like that. Once I get a handle on everything, I'd expect regular programming to return. I'm just not there yet.
The show's worth the effort, though.
Posted by: Wonderduck at 11:59 PM | Comments (7) | Add Comment
Post contains 107 words, total size 1 kb.
1
Getting a handle on everything IS paramount. We understand, man.
Posted by: GreyDuck at August 13, 2015 03:27 AM (/zxpg)
2
I guess that means you're not blowing up other naval geeks in World of Warships either. That was my second guess, right after being the FNG at work.
Posted by: Will at August 13, 2015 05:28 PM (1EtXn)
3
As fun as that sounds, Will, I'm afraid not. No account... and while I'm (obviously) interested, I'm less than thrilled with WarGaming's PTW format.
I mean,: premium,
gamewinning
, ammunition? Really?
Posted by: Wonderduck at August 13, 2015 09:19 PM (jGQR+)
4
I'll hold out for Gaijin to come up with a ships mode (or more like, I haven't even been playing WT - so many good games, so damned little time.)
I'm half torn between watching the show, and half waiting for your writeups (however long that might take) so that I can enjoy them without having seen the show. But there's no reason to do 'em to a schedule, it doesn't mean anything if you too don't enjoy it.
Finding a great deal of joy in this season. Not a good show every day, but plenty of popcorn-level plus a couple of gems.
Posted by: Avatar at August 13, 2015 09:25 PM (qxzj1)
5
I won't claim that gold ammo isn't BS (while gold-slinging in public matches is generally frowned upon, clanners will often do it when desperate), but it doesn't exist in WoWS. (At least for now. I don't know if it will be added later or not.) The whole armor/penetration system is vastly simplified. Bigger guns hit harder. There's still lots of math for angles etc going on in the background, but the player isn't faced with a choice much more complicated than firing HE or AP. HE for inflicting general damage, wrecking modules, setting fires, and slowly grinding a guy down, or AP for trying to pierce the citadel for large alpha. Both are freely available. So far the only thing gold seems to do is speed up the grind.
A friend and I have both had really good luck so far with the Phoenix cruiser at tier 4.
Torpedoes suffer seriously from arcade mode shenanigans, but they're manageable if you keep your head on a swivel and know the play-style of your opponent ships.
Posted by: Will at August 14, 2015 06:42 AM (1EtXn)
6
Gecko can wait until the muse say's it's time.Besides, Spa is only nine days away, eight for qualifying or seven for practice.
Posted by: jon spencer at August 14, 2015 08:48 AM (JSYPT)
7
Besides, Spa is only nine days away...
Oh crepe... I forgot about that.
Posted by: Wonderduck at August 14, 2015 03:56 PM (jGQR+)
27kb generated in CPU 0.1, elapsed 0.1476 seconds.
55 queries taking 0.1176 seconds, 284 records returned.
Powered by Minx 1.1.6c-pink.