March 16, 2011
Midway Tragedy
Roughly halfway between the west coast of America and Japan, there lays a small atoll consisting of two significant islands and a handful of smaller ones, mostly surrounded by a low-lying reef. Called "Midway" for obvious reasons, it was first a location for guano mining. Later, Pan Am used the atoll as a stopover point for their "China Clipper" service. As World War II approached, the US military recognized it as having an important location for the defense of the west coast. Barracks, runways, gun emplacements, a seaplane base, and even a submarine base appeared, seemingly overnight.
Of course, we remember Midway as the namesake location of one of the most important battles of any sort in history. One aspect of Midway atoll that seemingly every history of the Battle remarks upon are the ubiquitous avian residents, the Laysan Albatross.
Better known as the Gooney Bird for their goofy, clumsy appearance on land, nearly a million of these birds live on Midway today, and there's no reason to think any fewer were there during WWII. Gooneys are known to have extremely long lives, with the oldest known to be over 60 years old, and possibly older. It's quite possible that some Gooneys alive today were present on Midway during the battle.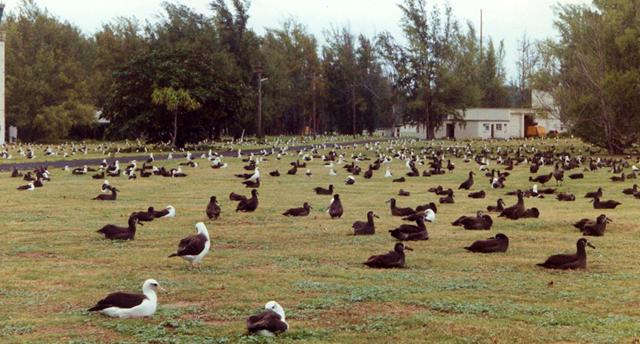 Lost among the tragic news reports coming out of Japan in the wake of the magnitude 9.0 earthquake and huge tsunami that followed it, were bulletins from Midway atoll. Sand Island, the largest of the islands that make up Midway, was 20% covered by water from the tsunami's five foot tall waves, while Eastern Island had been 60% covered. Spit Islet, the largest of the minor land masses that make up the atoll, was completely inundated. As a result of this, over a thousand adult Gooney birds were killed, and many thousands of flightless chicks were drowned as well. "
We may see just a slight decline in breeding birds next year, next year and the year after that
," said Barry Stieglitz, project leader for the Hawaiian and Pacific Islands National Wildlife Refuges. "
There will be a gap in the breeding population when these birds that would have grown up this year, would have matured and started breeding for the first time.
"
Posted by: Wonderduck at 09:46 PM | Comments (2) | Add Comment
Post contains 374 words, total size 3 kb.
1
I've never seen a picture of the (avian variety) Gooney Bird before. Hope the populations recover quickly.
Posted by: Pixy Misa at March 17, 2011 08:57 PM (2yngH)
2
They've got disturbingly human eyes. If I weren't told that these were photographs, I'd think they were stills from a CGI movie like
Madagascar
.
Posted by: Mitch H. at March 18, 2011 12:35 PM (jwKxK)
Comments are disabled. Post is locked.
24kb generated in CPU 0.0098, elapsed 0.1101 seconds.
47 queries taking 0.1048 seconds, 278 records returned.
Powered by Minx 1.1.6c-pink.