August 12, 2012
Just Another Skyrim Picture
Even now, after eight months and over 200 hours of gameplay,
Skyrim
can still throw things at me that make me just sit back and gawp in amazement.
click for the full picture... I recommend it.
On those occasions that I get all introspective and crap, I remind myself just how much computer gaming has changed over the years. When I got my first real computer, "pretty graphics" looked like this: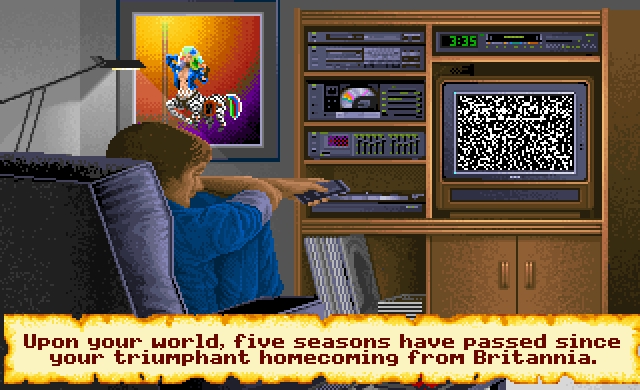 ...or this:
...so it's just mindblowing to see stuff like this: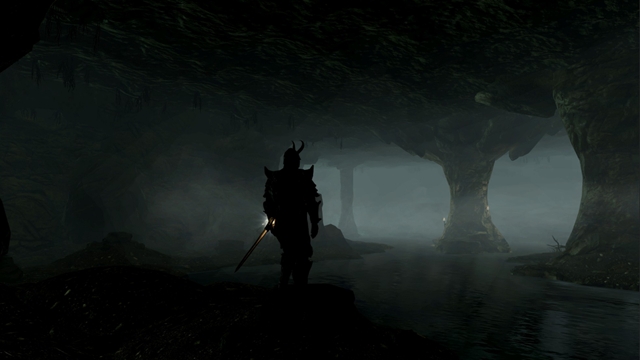 I love living in the future.
Posted by: Wonderduck at 06:18 PM | Comments (8) | Add Comment
Post contains 92 words, total size 1 kb.
1
Woohoo, a screenshot from the original Wing Commander, with Paladin and Angel.
Back in the days when I was tooling around on the hand-me-down Commodore 128, Reach for the Stars and the like had pretty graphics made up of essentially ASCII characters. I thought the jump in graphics quality was great when I got a PC, but now...
C.T.
Posted by: cxt217 at August 12, 2012 08:08 PM (a1piG)
2
It bears repeating: Whatever they paid their art director and that entire art team, they got their money's worth and then some. Freakin' gorgeous game.
Posted by: GreyDuck at August 12, 2012 10:22 PM (Buiw/)
3
And
Skyrim
ain't bad, either!
Posted by: Wonderduck at August 12, 2012 10:56 PM (aZ8MF)
4
Amusingly dated graphics notwithstanding, in my mind I can still hear the background music that accompanies that bar scene on the Tiger's Claw, so clearly they were doing something right...
Posted by: flatdarkmars at August 13, 2012 11:23 AM (I55Es)
5
Trust me, I wasn't criticizing. I think the
Wing Commander
series is
still
the best star-fighter-zappy-zappy sim out there. Particularly
III
and
Prophesy
, but even the weaker games (I'm looking at you,
IV
)are better than 90% of the stuff that's come out since.
Yes, better than
X-Wing
, better than
Tie Fighter
, the works. If GOG carried them, I'd rebuy the whole series...
Actually,
Prophesy
helped me sell a half-dozen computers when I was working at RadioShanty. People were just
amazed
by it...
Posted by: Wonderduck at August 13, 2012 05:43 PM (aZ8MF)
6
Have you heard about
these guys
? First part of the game became available in March.
Posted by: Steven Den Beste at August 13, 2012 07:54 PM (+rSRq)
7
Right, I'm probably going to have to shut down The Pond. I'm gonna be too busy playing that.
Posted by: Wonderduck at August 13, 2012 09:22 PM (aZ8MF)
8
GoG has been a bit odd with Wing Commander. They have all the games except Prophecy, but they have none of the expansion packs for either WC1 or WC2. They DID get the DVD version of WC4, judging from the size of the game listed in their specifications, which gives the $10 million production budget Chris Roberts had for The Price of Freedom some justification.
Prophecy was nice to look at, and I was one of those people who actually bought the Prophecy Gold Edition. Fortunately, I had also bought the original release, with the really cool starmap that they left out of the Gold Edition.
And of course...RIP Jason Bernard.
C.T.
Posted by: cxt217 at August 13, 2012 10:03 PM (a1piG)
Comments are disabled. Post is locked.
26kb generated in CPU 0.016, elapsed 0.0836 seconds.
47 queries taking 0.0727 seconds, 284 records returned.
Powered by Minx 1.1.6c-pink.