October 04, 2009
F1 UPDATE!: Japan 2009!
Sunny skies over Suzuka today, but will everything stay bright for Red Bull? THIS is
your
F1 UPDATE! for the 2009 Grand Prix of Japan!
*VETTEL VICTORIOUS
: Starting from pole, Red Bull's Seb Vettel simply blew the the rest of the field off the track today. By the end of the second lap, he had a three-second lead. At one point late in the race, he had a 15 second lead... and set fast lap to boot (his teammate Mark Webber took it away a few laps later). Only a late safety car pulled him back to the field, but when the race restarted, away he went again. Much needed for the team as well, for not only did Vettel keep himself alive in the Driver's Championship, but he kept Red Bull alive for the Constructor's Championship as well.
*BRAWN BOTHERED
: The team could have won the Constructor's Championship with four points today. Jenson Button could have kicked out Seb Vettel from the Driver's Championship with six points. Neither happened. Button finished eighth, and teammate Rubens Barrichello came in seventh, for a total of three points. Not even when the safety car came out, bunching the field together, could either driver make a move to pass BMW's Grizzly Nick Heidfeld for that last point. They're still likely to win the Constructor's in Saõ Paolo, but the team's gotta be kicking themselves for letting this chance slip by.
*DRIVER OF THE RACE
: With his teammate starting from the pit lane and pitting three times in the first four laps for modifications to his newly built car, the last hopes for Red Bull rested solely on Sebastian Vettel's shoulders. Many young drivers would have been crushed by the pressure but, as we've learned, Vettel is no ordinary young driver. Instead, he ran a mostly perfect race, marred only by his desire to go very fast when he didn't need to and thereby stressing his final race engine unduly. It didn't bite him today, but those spent revs could come back to haunt him. But for today, Vettel was easily the class of the field and well-deserving of the DotR. Honorable mention goes to Jarno Trulli's second-place finish.
*TEAM OF THE RACE
: With the team perhaps facing the budget axe, Toyota really needed a good result at their "home" race. Unfortunately,
with Timo Glock out
, it all came down to Jarno Trulli. Amazingly, he pulled out his best start of the season, settling into third place behind Lewis Hamilton. He the proceeded to stay about three seconds behind Hamilton until the final pitstops, at which point the team mechanics pulled out the most meaningful stop of Toyota F1's life. The
team
managed to get Trulli in and out so quickly that Trulli leapfrogged Hamilton for second place, the team's second in a row. Hopefully, that'll be enough to keep them in the sport as more than an engine supplier. If not, however, it's a pretty decent result to go out on.
*MOVE OF THE RACE
: This was a fun one. On lap 39, Heikki Kovaleinninninnie and Giancarlo Fisichella came into the pits together. Their stops were nearly identical in length, and as they exited pit lane, Fisi had about a car's length lead over the McLaren. The instant they crossed the speed limit line, both drivers stepped on the gas, with Heikki on the inside. For some reason, Fisi drifted towards the center of the track. Realizing his error, he tried to slam the door on the silver car, but it was too late: Heikki had gotten inside the Ferrari. Even being pushed (slightly) onto the grass wouldn't stop the
Floundering
Finn: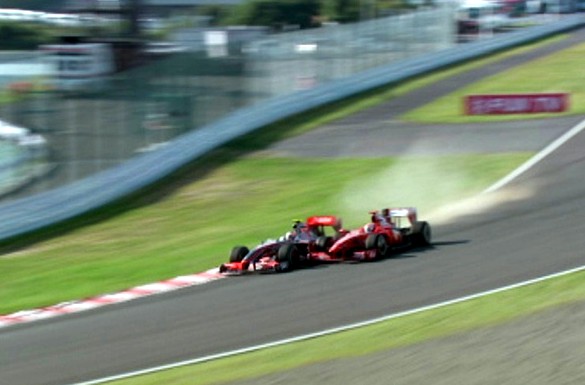 ..and he made this most unique Move of the Race stick; unique because it all started in the
flippin' pit lane
!
*MOOOOO-OOOVE OF THE RACE
: Adrian Sutil's Force India was looking quite racy early on. He was in 9th place and harrying Heikki Kovaleinninninnie, in 8th, quite hard. For three or four laps, Sutil would get right up behind the McLaren in 130R, but Heikki wouldn't give him an opening into the Casio Triangle. Must have been frustrating, I'm sure. Still, on lap 13, Sutil saw a glimmer of light to the inside and jumped at the chance. Through the first part of the chicane, he got his nose out in front of the McLaren. You could almost hear his thought process: "I'm in the lead, therefore I can take whatever driving line I want!" Except it doesn't work that way, of course. He tried to go the the inside of the next turn in the chicane... and Heikki was there. The two touched, spinning Sutil from 9th to 12th. All it would have taken is a desire to
hold your frickin' line
and he would have had the pass made. Instead, he earns his second MoootR in a row. In some ways, we here at F1U! really hope he gets into a good car next year, so he can really show what he can do. In other ways, though, we
dread
the thought of Adrian Sutil at the front of the grid...
*DRIVER QUOTES OF THE RACE
:
"Woohooo! YEAAAAAAAAA! WHEEEEEE!!!11!!1!!!eleventy!" - Sebastian Vettel (
note: real quote... except for the whole 'eleventy' thing
)
"I am the most morose 2nd place finisher you'll ever see. My team is about to gift me with as many geishas and Sapporos as I can handle, and I still look like I ran over my dog on the way to the podium." - Jarno Trulli
"Considering how we started this year, third isn't so bad... but can we
please
fix the damn KERS by Brazil, hmmmm?" - Lewis Hamilton
"mrmrmrmmbl mrmlbbblblmrmrbl mrmblblbbm, mmm blllbbl mrmmrb. Mrbl." - Kimi Raikkonen
"I have absolutely nothing to say that is either relevant or true. Like usual." - Nico Rosberg
"At least the safety car got me some air-time today. Sure, it was because I was holding up the Brawns, but I still got on TV!" - Grizzly Nick Heidfeld
"Hey, Jenson? Pbpbpbpbpbbbbth!" - Rubens Barrichello
"Oh yeah? Well I've still got the lead, neener neener!" - Jenson Button (
note: things are getting tense in the Brawn camp, apparently
)
"Two more races until I can sign with a team that actually wants to race. Wait, what do you mean, I only have offers from Renault and Toyota?" - Robert Kubica
"Look, when I complained about
cars not slowing down for the yellow flag
, I DIDN'T MEAN ME." - HWMNBN
"I need to practice, excuse me. *ahem* Welcome to the Helsinki McDonalds, can I help you?" - Heikki Kovaleinninninnie
"I'm living my dream." - Giancarlo Fisichella (
note: ...and Ferrari's nightmare
)
"Hey, F1U!, stick your (censored) (censored) (censored) (really censored) (is that even possible?) (censored) award (censored) (censored) with a goat." - Adrian Sutil
"Dude, like, chill, man. It's not like anybody listens to a Force India driver anyways." - Vitantonio Liuzzi
"
My father
was here all weekend. I'm sure he'll go on and on about how HE scored points here, and how come I haven't yet and why haven't I met a nice girl and so forth and so on..." - Kazoo Nakajima
"How about me in second place behind the safety car? Wasn't I just so cool?" - Lettuce Grosjean (
who was a lap down at the time
.
Nobody's sure why he wasn't waved around to the rear of the field, like he should have been...
)
"Five pitstops. Five bloody pitstops. Or was it six? They all blend together after a while. Y'know, I win my first race, then suddenly the rest of the season goes straight to hell..." - Mark Webber
"AIEEEEEEEEEEEEEEEEEEEEEEEEEEEEEEEEEEEEEEE!" - NKOTT
"Wow, here's a shocker: I didn't crash! Okay, yeah, I broke the clutch, and that never happens in a F1 car, but at least I didn't crash, right?" - Sebastien Buemi
And so the Japanese Grand Prix draws to a close. We still have everything to race for in Brazil, which we here at F1U! sure didn't expect... but that's the beauty of Formula 1, isn't it? We'll see you in two weeks at our least favorite circuit!
Posted by: Wonderduck at 02:08 AM | Comments (1) | Add Comment
Post contains 1357 words, total size 9 kb.
1
Excellent F1 Update as always!
Vettel continues to impress--and I love his Schumey-esque victory celebrations!
Posted by: Mallory at October 04, 2009 01:39 PM (WJ2qy)
Comments are disabled. Post is locked.
27kb generated in CPU 0.0124, elapsed 0.0759 seconds.
47 queries taking 0.068 seconds, 201 records returned.
Powered by Minx 1.1.6c-pink.