October 25, 2015
F1 Update: United States 2015
The sky was grey and heavy as the Thundering Herd was led to the Circuit of the Americas' grid by polesitter Nico Rosberg. If you tilted your head and squinted, you could almost believe it wasn't raining, the first time that had happened this race weekend since early in Friday Practice 1. The track was still wet however, and the field was on Inters and glad for it. Would it rain some more? Would it ever dry out? THIS is
your
F1Update! for the 2015 United States Grand Prix!
*TURN 1
: The first turn of any F1 race is usually exciting as 20 cars try to file through a space made for two or three. When something goes pear-shaped in the midpack, it accordions back through the field like a train derailing. The one track where this should never occur is the Circuit of the Americas, where Turn 1 looks wide enough to fit the entire field through wheel to wheel. Except when something intentional occurs. At the start, polesitter Nico Rosberg was on the outside, nominally the racing line, with his teammate Lewis Hamilton right alongside, and it stayed that way as they ran up to the first turn. Except Hamilton closed up next to Rosberg and kinda didn't bother to turn all that much, pushing his German teammate to the limits of the track. At this point, Rosberg had a choice: fight back, possibly damaging both cars but more likely making Hamilton back down, or give up and surrender first place to Hamilton. He gave up, allowing himself to be shoved into the runoff area and dropping down to fifth place. At this point, the Legendary Announce Team had something of a disappointing moment, as they made it sound like they believed that Hamilton had lost control, when anybody with a set of eyes could see it was totally intentional. We here at F1U! rolled our collective eyes and expected to see Hamilton gallop off into the distance, never to be seen again. Behind the frontrunners, five cars were involved in incidents resulting in debris scattered around the outside of the first turn
*ABOUT THAT GALLOPING
: Did you know this was the first wet race we've had this season? It was. Which means this was the first time these cars had any real race time on the Intermediate tires, and we discovered something very interesting. The Red Bull chassis is very good indeed on Intermediate tires, and the Mercedes... isn't. Instead of running away and hiding, Hamilton instead found himself in an actual race, with Kid Kvyat and Daniel Ricciardo right behind him, and Rosberg not far in arrears in fourth. A Virtual Safety Car for the Turn 1 debris locked the field for a couple of laps, but the ending of the period saw Rosberg either be incredibly opportunistic (if you're a charitable sort) or a filthy cheater (if you have eyes), jumping past both Red Bulls at the restart. He was actually alongside Ricciardo when it ended, and he made short work of Kvyat using the momentum from that move.
*CHARGING RED BULL
: On Lap 12, Ricciardo tried twice to get past Rosberg for second. The first attempt saw him go too deep into Turn 1. At Turn 2, though, he caught the Merc and set his sights on the lead. Suddenly, the F1U! crowd actually started to be interested. A few laps later, for what we believe was the first time this season, someone made an actual and real pass for the lead in a Formula 1 race when Ricciardo got past Hamilton. It took only a few more laps for Rosberg to dispatch his teammate, who was complaining about his "worn inters." Then, crucially, Hamilton pitted... for slick tires.
*THAT'S A FIRST
: Valterri Bottas and Lettuce Grosjean had shifted to the soft slicks back around Lap 5, and they didn't work... it was still way too wet. But when Hamilton stopped on Lap 18, the time had come and the other teams knew it. By Lap 20, the entire top 10 had stopped and put on the running shoes, and for the first time this race weekend, we saw F1 cars that were able to stretch their legs. And by Lap 26, it was Rosberg leading Hamilton... Mercs in front, as usual. It stayed that way until Lap 36.
*ENDGAME
: On Lap 36, Force India's Nico Hulkenberg got a little over-excited at being in passing position on Ricciardo and stuck his nose where it didn't belong. One broken suspension later, and we had another Virtual Safety Car period while the recovery vehicles dragged the stricken Force India away. Rosberg, Kvyat and Ricciardo stopped for new tires, promoting Hamilton into the lead and Ferrari's Seb Vettel to second.
*INTERLUDE
: If Hamilton won, Vettel had to finish in second place to keep the driver's championship contest open until Mexico. Rosberg's only chance was to win. After the pitting, Hamilton led Vettel, Embryo Verstappen, Rosberg.
*RESTART / RESTOP
: On Lap 40, the racing re-began... and again Rosberg quickly dispatched the driver in front of him, blowing past Verstappen and setting his sights on Vettel. A couple of laps later, the deed was done and Vettel was in third. And then the critical moment of the race occurred, when Kvyat lost his car and smacked hard into the steel barriers. As the incident happened in an awkward location, Berndt Maylander was summoned and a real Safety Car period began. Now instead of pitting under green, Hamilton and Vettel got to pit under yellow flags. Returning to the track after their stop, Rosberg led Hamilton and Vettel. The restart occurred on Lap 46.
*END
: We looked to have a fantastic 10 lap sprint to the finish. Instead, Rosberg blew a turn just enough to let Hamilton by for the lead... and on his fresh tires, there was no way anyody was going to haul him back in. Rosberg barely managed to keep Vettel behind him to keep third place... and hand Lewis Hamilton his second consecutive World Driver's Championship, and his third overall. It was still the best race of the 2015 season by a very long shot. A wet track makes everything better.
*HAT DRAMA
: Afterwards, Rosberg sat dejectedly in the "podium room," where the top three finishers get to relax for a few minutes before heading out for the podium ceremonies. Hamilton was there as well, of course, still pumped up on victory emotion. After getting a hug from Paddy Lowe, the Merc tech director, Lewis grabbed his 1st place ballcap, lobbed the 2nd place cap to Rosberg, and handed the 3rd place cap to Vettel. However, Rosberg wasn't paying attention, being (understandably) too wrapped up in his own emotions...
and this happened
. When they moved out to the podium, Rosberg was booed by the crowd. We here at F1U! think that Rosberg should have clocked Hamilton upside the head with the cap... we understand Hamilton was high on his victory, but we also think that Lewis was an insensitive berk, too. Still, congratulations must be given to Hamilton on his third World Driver's Championship... he's moved into very rare company by doing that.
Next week we see the debut of the new circuit in Mexico City! See you then!!!
Posted by: Wonderduck at 11:17 PM | Comments (2) | Add Comment
Post contains 1218 words, total size 8 kb.
October 11, 2015
F1 Update: Russia 2015
A pretty day greeted the F1 Circus as Nico Rosberg led the field to the grid. His Mercedes teammate, Lewis Hamilton, sat next to him, supremely confident in his lead in the Driver's Championship. Combined, the two had to outscore their Ferrari rivals by a mere three points to secure the team's second Constructor's Championship. So would they manage this? Would Ferrari's Seb Vettel and Kimi Raikkonen, champions both, be able to outrace the Silver team? Or would the Mercedes-powered Williams of Valterri Bottas have something to say about the matter? THIS is
your
F1Update! for the 2015 Grand Prix of Russia!
*LIGHTS OUT... OY!
: The start of the race was everything Rosberg could have hoped for. Not only did he have and keep the advantage going into the big looping third turn, Hamilton pushed a bit too hard and washed away. The lummoxing Mercedes suddenly was no longer interested in attacking the lead, but was having to defend second from the hard-charging Raikkonen who had gotten past Bottas for third at the start. But it was all moot very quickly, as Sony Ericsson and Nico Hulkenberg came together in a mess of carbon fiber and tears. The safety car was called out and the exciting start was put on hold.
*RESTART... OY VEH!
: While under the control of the safety car, race leader Rosberg called in to the pit lane: his gas pedal was sticking, to the point where he actually had to remove his foot completely from the pedal for the throttle to react. As you can imagine, this did nothing for his overall pace. Shortly after the restart, he relinquished the lead to Hamilton, then had to watch as the rest of the field went by as he nursed his broken Mercedes to the pit lane, never to be seen again.
*OHFERTHELUVVA...
: Shortly after the Ericsson/Hulkenberg coming-together, the Lotus of Lettuce Grosjean was seen in the pit lane getting a change of tires. The stop took longer than normal, but things seemed fine for the Frenchman anyway. Until he lost control, smacked the TecPro barriers with the back of the car, then pinwheeled and smacked the rest of the car into them, just to be completely sure he was out of the race. The safety car was called out again while the marshals removed the Lotus, cleaned up the pieces, and repaired the barriers with duct tape. No, we're not kidding. No, this isn't the usual technique.

*FINALLY... PEACE
: Once the race restarted again, Hamilton and Bottas pull away quickly from the squabbling Ferrari drivers, and everything settled down into something resembling a normal F1 race. During the various pit rotations, the standings became Hamilton, Vettel, Sergio Perez in the remaining Force India, Bottas, the Red Bull of Daniel Ricciardo (who would retire with something broken in the suspension), and Raikkonen.
*IVAN DID

WHAT

???
: Carlos Sainz was in the points, but had a brake problem. His front brakes had been overheating, despite his best efforts to keep them cool. Still, everything looked like he'd be okay... until his front-left brake disc exploded in a cloud of black brake dust. He spun and skidded back first into the wall at Turn 13, the same place he had his wreck in Practice 3. The impact seemed to be minor, but as he pulled away to limp back to the pits, one of his rear wing's endplates was visibly hanging by a single mounting point and swinging in the breeze. It took no time at all for it to fall off and end up in the middle of the track. And then a marshal ran out to collect it...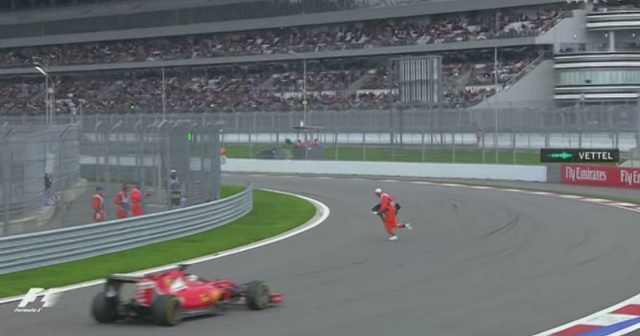 ...right in front of Seb Vettel. One must wonder which one was more surprised, and which one needed a new firesuit more. Moments later, Vettel called back to the pits: "We have a very brave Russian running across the track."
*THE END
: As expected, Hamilton's lead held up nicely, leading Vettel across the line by some six seconds. It was what was going on behind them that was interesting. Sergio Perez was in third but was on old tires. Valterri Bottas and Kimi Raikkonen were both stalking the Force India driver... and each other. On the second-to-last lap, Bottas got by the young Mexican driver, followed quickly by the Ferrari; the podium for Force India was clearly gone. Until, on the final lap, Raikkonen tried an... inopportune... move on his countryman Bottas. The Williams was sent into the barriers, broken and done. The Ferrari was injured but still, technically, running, leaving a trail of sparks behind. Perez went by to reclaim third, and Felipe Not Nasr Massa also went by for fourth. Raikkonen would finish in fifth, earning just enough points to keep the Constructor's Championship in play... barely. Until the Stewards came down after the race and gave the Ferrari driver a 30sec time penalty for causing an accident. This dropped him to eighth and handed the Constructor's Championship to Mercedes for a second time. Vettel's strong finish, mixed with Rosberg's DNF, moved him into second for the Driver's Championship, which in theory can be clinched at the next race.
Speaking of the next race, we'll be here in two weeks. And by "here", we mean "Austin, TX", and by "next race", we mean the United States Grand Prix! We'll see you then!
Posted by: Wonderduck at 10:51 PM | Comments (2) | Add Comment
Post contains 897 words, total size 6 kb.
34kb generated in CPU 0.0193, elapsed 0.5671 seconds.
46 queries taking 0.558 seconds, 204 records returned.
Powered by Minx 1.1.6c-pink.