April 17, 2011
F1 Update!: China 2011
It was a beautiful day in Shanghai, absolutely perfect for a Formula 1 race. Would it prove to be so for the polesitter Seb Vettel? Or would one of his rivals prevent him from winning his third race in a row to start the season? You'll soon find out, because THIS is
your
F1 Update! for the Grand Prix of China!
*BEFORE
: Prior to the start of a F1 race, cars form up on the grid after taking a "recon lap" of the track. To prevent teams from holding their cars in the pits until the very last possible instant before a race, they must be off pit lane by 15 minutes prior to race start. If a car fails to do so, they must start from pit exit and can't move until all the rest of the field passes that point on the track. Usually this is the home of cars badly damaged during Quals, or that had a last-minute engine failure, or teams like HRT or Virgin, for whom such a handicap will make no difference. You can imagine the panic felt by McLaren's mechanics, then, when they fired up Lewis Hamilton's car at 20 minutes to go, and fuel began spraying out from under the bodywork.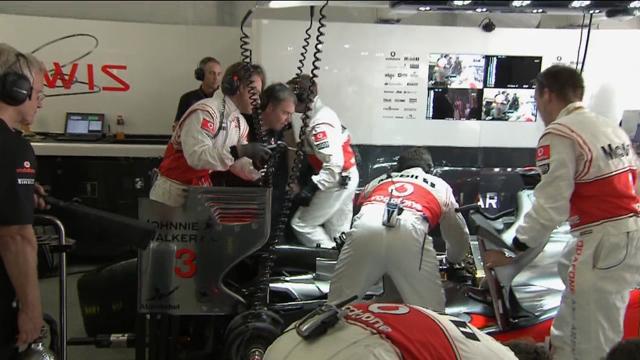 They had rip the rear panels off the car, figure out what was causing the leak, clean up the spilled gasoline, make sure the MP4-26 was safe to drive, then get Hamilton off of pit lane, all within five minutes. It turned out that there wasn't a leak; instead, the engine somehow flooded when they engaged the starter. A liberal application of paper towels to the inside of the car sopped up the fuel that dripped into the bodywork, they made some adjustments to the sprayer rail of the engine, and sent the 2008 World Champion on his way... with some 15 seconds to spare. They didn't put the rear of the car's body back on until it was on the grid. No, no stress there.
*DURING
: When the lights went out to begin the 2011 Grand Prix of China, we knew immediately that this was not to be a repeat of the previous two races. Red Bull's Seb Vettel bogged down off the line, allowing McLaren's Hamilton and Jenson Button to get past him before Turn 1, and Mercedes' Nico Rosberg nearly did so as well. It took a heroic effort by Vettel to keep his German countryman behind him, fighting him all the way through the Turn 1-2-3-4 complex, and only on the straight before Turn 5 did he shuffle the Silver Arrow back. By the end of the first lap, Hamilton had opened a one-second gap to his teammate, and nearly three to Vettel. That's the way it stayed for most of the first stint, Hamilton's lead bulging up to three seconds to Button at one point, then slowly dropping away. Eventually, both Jenson Button and Vettel passed him, dropping him to third. However, the first strategic play came from the man in fourth place, Rosberg. He made what seemed to be an early pit stop on lap 13. Instead of being caused by worn-out soft tires, the team had made the call to bring him in
before
the soft Pirellis "fell off the cliff". Then, as everybody else made their first stops, Rosberg ripped off some blazingly quick laps and found himself legitimately in first place. Button and Vettel made their stops together. Vettel came out ahead, aided by a major brainfade by the McLaren driver.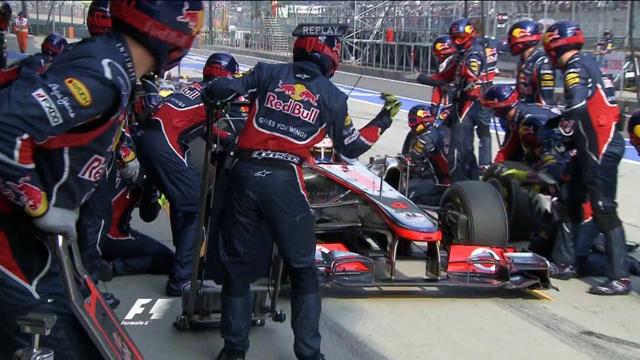 "
I was looking down at the steering wheel to adjust a switch: when I looked up, I thought I was in my pitbox, but then I saw the Red Bull pitcrew in front of me,
" said Button, who had to roll slowly forward into his own box while Vettel slid smoothly into his. That small delay was enough to get the Red Bull driver out first.
*MEANWHILE
: Red Bull's Mark Webber started the race in 18th, after a miserable qualifying session caused by electrical, mechanical and KERS problems prevented him from doing much. Starting the race on the hard tires, he slipped back to 20th after his first pit stop on lap 11. However, one unexpected benefit of his problems in Quals was that he had a full three sets of completely fresh soft Pirellis to use in the race. Getting his required stint on the hard tires out of the way early proved to be a masterstroke, as Webber began to climb his way through the field. It became obvious that the fight up front was so intense that everybody else was going to be using their hards on their last stints, giving Webber an interesting advantage... if he could get close enough to the frontrunners to use it. That was a mighty big "if", however, being as far back as he was.
*MIDRANGE
: Nico Rosberg had driven a fantastic race, leading the more heralded Vettel, Hamilton, Button and Ferrari's HWMNBN and Felipe Massa for a good spell on the strategic decision to pit "off-sequence," taking advantage of fresh rubber to slip past opponents who had dying tires. While that was a genius-level call, it would mean a longer final stint on the hard tires than the others, as his last set of softs would go away with more laps remaining. Realizing this, team principal Ross Brawn made another strategic decision: Rosberg would be on a two-stop strategy while all around him would be making three. This would, in theory, save him the 25 seconds needed for the roll down the pit lane and should give him a comfortable margin of error. Rosberg made his final stop from the lead on lap 40, coming out in third, just ahead of Lewis Hamilton and Jenson Button and just behind Felipe Massa, while Seb Vettel, fighting a dead KERS unit and unable to speak to his pit crew due to a failing radio, led the race with 16 laps to go.
*MEANWHILE PT II
: Mark Webber was driving like a man pissed off at the world. By lap 40, he was in seventh after making his last pit stop for fresh soft tires. Sixteen laps on softs was proving to be doable, though there'd be something of a dropoff in grip later in the run. On the plus side though, they had proven to be just over a second a lap faster than the hard tires that everybody else was on. The angry Aussie set to work. By lap 51, the standings were Vettel, Hamilton, Button, Rosberg and Webber... a miraculous drive by any stretch. The top five positions were covered by only nine seconds.
*ENDGAME
: One thing you almost never see in F1 anymore is a pass for the lead late in the race, unless there's a breakdown on the leader's car. While Vettel's KERS unit had died, it doesn't appear to have worked much during the race in any case, so we here at F1U! aren't counting that. So it came as a pleasant surprise when Lewis Hamilton swept past the 2010 World Champion on lap 52 for the lead, a lead he would never relinquish. It came as an even bigger surprise when Mark Webber, who you may remember started from 18th on the grid, caught and passed Nico Rosberg for fourth. To be fair, Rosberg's tires had given up the ghost, but still. Then our collective jaws dropped even farther when Webber set sail after Jenson Button for third. On lap 54, the dislocation of our mandibles became total when the Red Bull driver cleanly dispatched Button. The checkered flag flew with Hamilton five seconds ahead of Vettel, who was a mere two seconds ahead of his teammate, bringing to an end a frantically exciting race, one of the best dry races we've had in the seven year history of F1U!
*DRIVER OF THE RACE
: From 18th to third and fast lap of the race? Oh yeah, Mark Webber gets this one going away. Considering the relative pace between Webber and winner Hamilton at the end, if the Grand Prix of China had been 60 laps long instead of the regular 56, there's very little question that we'd be talking about the greatest single race performance of all time right now. Instead, it's merely fantastic. Honorable mention goes to Nico Rosberg for nearly making a brilliantly flawed strategy work. Not his fault the tires fell off the cliff.
*TEAM OF THE RACE
: Red Bull. While McLaren finished 1st-4th and Red Bull 2nd-3rd, that third place finish came from a driver who was as low as 20th at one point. Yeah, that worked pretty well, giving the team a huge haul of unexpected points. Now they've got until Turkey to figure out their KERS problem. That's a scary thought.
*MOVE OF THE RACE
: While there were plenty of more exciting passes during the race, none were more important than Lewis Hamilton's against Vettel on lap 52. He'd been harrying the Red Bull driver for most of a lap, parking his McLaren right under the rear wing of the World Champion's car all the way through the Turns 1-2-3 complex. He then made his move on the short run to Turn 4.
It was almost as if Vettel wasn't expecting a passing attempt at that point, as it wasn't until the very last moment that he even reacted with a blocking manuever, and that came when it was too late to do any good. Hamilton swept past into the lead for his first win of the year.
*MOOOOOOO-OOVE OF THE RACE
: Two candidates this time. The first, Jenson Button's attempt to become the third Red Bull car, we've already seen. While that cost him a place at the time, it probably didn't mean much in the grand scheme of things. For Toro Rosso's NKOTT, a pit blunder ended his race. Pitting on lap 10 from 12th place, the pit stop seemed to be routine... indeed, we got to see all of it from the point of view of a camera looking back at the right-rear of the car, which was pretty neat. The director stayed with that view as the car rolled out and back onto the track, at which point, an eagle-eyed viewer might have noticed that right-rear tire seem to wobble... but it might have been the stripe Pirelli had painted on the soft tire. A few moments later, it was obvious that it wasn't the stripe.
No, the tire made a mad dash for freedom. Only a catch fence kept it from making its way into the wilderness outside of Shangahi. Upon reviewing the video, it looks like the tire-gunner for that wheel never engaged the locking pin that prevents the wheel nut from working free after the tire change. Some teams have gone to pins that are engaged by the gun itself so take care not to read too much into that, but either way it seems appropriate that Toro Rosso has earned themselves a Moooooo-oove of the Race.
Olé
!
*SELECTED DRIVER QUOTES OF THE RACE
:
more...
Posted by: Wonderduck at 08:04 PM | Comments (4) | Add Comment
Post contains 2330 words, total size 15 kb.
April 10, 2011
F1 Update!: Malaysia 2011
The skies overhead were dark gray, heavy and humid, the ambient temperatures around 90 F... thoroughly unpleasant conditions for man and machine both. But would the rain come and throw the race into a tizzy? Or would tires, short-lived and prone to failure, prove to be defining aspect of the race? You're about to find out, because THIS is
your
F1U! for the 2011 Grand Prix of Malaysia.
*THE WEATHER
: Surprisingly, the leaden skies never opened up. Other than a brief sprinkle right around the first pitstops, the race was run entirely in the dry. Of course, the timing of the sprinkles made for some tense moments up and down the pit lane. If a car came in for Inters and it stayed dry, that would be a wasted stop and a few laps run on slow
slow
tires. However, if a car stayed on slick tires and it began to rain, you're going to be turning laps 45 seconds slower than everybody else... if you can keep it on the track in the first place. Lots of crossed fingers, dice rolling, and coin flipping later, everybody made the right guess.
*THE TIRES
: The combination of high temperatures and abrasive track surface made life hell on the Pirelli tires. Three stops were the norm today, four stops were not unheard of... though Gandalf Kobayashi managed to do the race on a two-stopper.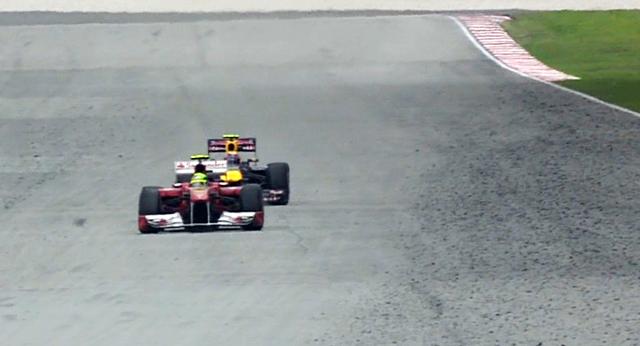 That's what the track looked like around Lap 40. That black stuff is known in the business as "clag," and it's what comes off the tires as they wear. You can see there's a clean line, but get off that you're taking your life in your own hands... literally. Your traction goes away
fast
when you're driving on little balls of rolled-up rubber. Unfortunately, it only took a few laps for the clag to build up to problem levels. While passing did occur today, it was mostly at the end of the back straight where there was no clag to speak of.
*THE RACE
: Once the lights went out, Seb Vettel ran away and hid. Again. By the end of a very busy first lap that saw Grizzly Nick Heidfeld jump into second place, Mark Webber drop to 10th, and everybody else jumbled up, Vettel had a two second lead. However, he never got farther ahead than nine seconds during his cruise to victory, and spent most of it about five seconds in front of second place. That's good... except some of that might have been because neither Red Bull had a working KERS system; Vettel had overheating batteries and couldn't use his after Lap 25, while Webber's went into shutdown mode on the recon lap. Explains his horrid start. Behind Vettel, the race was one of the more confusing things we here at F1U! had ever seen. The multitude of pitstops made keeping accurate track of what was going on nigh impossible.
*AFTER THE RACE
: McLaren's Lewis Hamilton had a bad day. Starting in second position, he got stuck behind Grizzly Nick Heidfeld for some 14 laps, ran out of soft tires at the halfway point, spent half of the contest on the slower hard tires and stumbled all the way down to seventh. At one point though, he was in third, being harried by Ferrari's HWMNBN, who was faster at that point in the race. Hamilton made two defensive moves to protect his position against a passing attempt by the Spaniard, who then clipped the McLaren coming out of the next turn. This sent the Ferrari to the pits for a new nose. Both drivers were brought before the Stewards post-race and handed 20sec. time penalties... HWMNBN for hitting Hamilton, Hamilton for his swerves. This penalty kicked Hamilton from seventh to eighth, while HWMNBN did not lose a position. F1U! thinks the penalties, while awfully ticky-tack, were both legit. We have yet to see Hamilton's swerving, though we've looked at the video a number of times, and the contact between the two sure looked like a racing incident to us. So it goes.
*DRIVER OF THE RACE
: Grizzly Nick Heidfeld had a heck of a start, jumping from sixth to second by the second turn. He then grimly held off all comers for most of the race while Seb Vettel could never quite get away from him. In the end, he wound up on the third step of the podium after holding back a hard-charging Mark Webber for four laps at the end of the race. Good job, Griz!
*TEAM OF THE RACE
: Red Bull. The death of their KERS unit made Webber's start understandable. His fight back up the order to finish fourth was impressive, and Vettel's runaway victory despite the lack of KERS had to have cold chills running down the back of every team in the pit lane. Honorable mention to Renault for their second podium in two races.
*MOVE OF THE RACE
: After Lewis Hamilton pitted on Lap 14, he returned to the race in 7th position, right behind Seb Buemi's Toro Rosso in 6th and the Mercedes of Slappy Schumacher. With fresh tires, he was surely faster than either, but approaching the long final straight, he had a decision to make. Would he hang back, protect his tires, and get past them when they pitted? Or did he risk burning his last set of soft tires off the rims by asking them to help him pass both cars? Since this is Lewis Hamilton we're talking about, the answer should be obvious.
Using the aerodynamic tow of the two cars ahead, he slingshotted past Buemi, pulling even with Slappy. However, neither driver really wanted to give up their positions without a fight.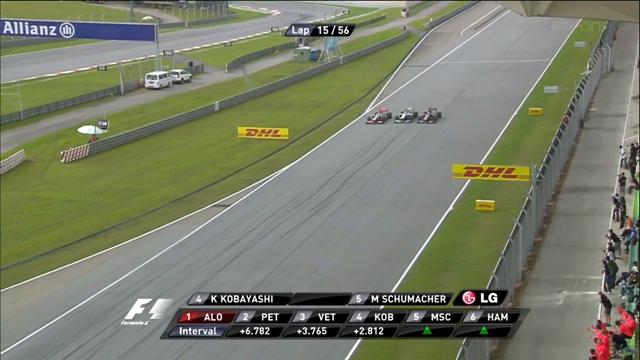 Slappy moved to the right to push Hamilton onto the dusty side of the circuit. This let Buemi, also slipsteaming, attack to the other side of the Silver Arrow. Three abreast they came down to the final turn... who would blink first?
As it turned out, the seven-time World Champion, pinched between two drivers young enough to be his sons, backed out, then dove into the pits. Hamilton gained two positions, Buemi one, and all three impressed by not turning their cars into smoking piles of carbon fiber. Hamilton gets the MotR, but all three could share it.
*MOOOOOOOOO-OOOVE OF THE RACE
: Here's something you don't see every day...
That's right, the steering column of The Red Menace's Renault is completely disconnected from the car. Fortunately his brakes still worked so he could bring his car to a relatively safe halt off-track. But what caused his steering to break?
Yeah, that'll do it. Petrov ran wide into a turn and wound up going agricultural. He thought he could keep going at full speed across the grass... he was wrong. Remember, F1 cars are totally unsprung, and the driver doesn't have a seat; they sit on the floor of the cockpit. The landing must have really, really hurt... maybe the Mooooooo-ooootR will ease the pain.
*SELECTED DRIVER QUOTES OF THE RACE
:
more...
Posted by: Wonderduck at 05:46 PM | Comments (7) | Add Comment
Post contains 1658 words, total size 11 kb.
44kb generated in CPU 0.0141, elapsed 0.5819 seconds.
46 queries taking 0.5725 seconds, 211 records returned.
Powered by Minx 1.1.6c-pink.