May 27, 2013
F1 Update!: Monaco 2013
Monaco is one of those circuits where you can always expect to have a not-dull time. Oh, the race itself may not be any good, but you're practically guaranteed to have an
experience
. So when the Circus formed up on the grid under a brilliant blue sky, the F1U! crew settled back in their comfychairs,
Chicago-style pizza from Giordano's
at easy reach, ready to
experience
a race around a tiny French fishing village. THIS is
your
F1 Update! for the 2013 Grand Prix of Monaco!

*LIGHTS OUT
: Despite a desperate lunge by third-sitting Red Bull driver Hannibal Vettel, the two Mercedes cars on the first row kept the lead through Sainte Devote. This allowed Nico Rosberg to begin to pull away while Shiv Hamilton played 'good teammate' and held up the rest of the field... as predicted by many. At any other circuit on the calendar except maybe Singapore, this strategy couldn't work: too much room. But at Monaco... narrow, twisty Monaco... the possibility existed that a determined and skilled pilot could make it work. You may say what you want about Shiv Hamilton, heaven knows we have, but after Mercedes gave him a podium he didn't deserve at
Malayasia
, he was both skilled and determined to give back to his teammate. So Shiv put on his Jarno Trulli Memorial Engineer cap and began to lead the train through the streets of Monaco. For nigh on 30 laps, Rosberg held close to a five second lead over third-place Vettel, and it was clear that Mercedes had figured out the tire problems that had plagued them all season. The train continued on, until Ferrari's Felipe Massa had a moment.
*SAFETY CAR
: During Saturday's third practice, Massa wound up skidding into the barriers at Sainte Devote, damaging his car so badly the team could not get him up and running in time for Quals. Now, on Lap 30 of the race, the same thing occurred. Indeed, the two incidents were so similar in appearance as to be a little frightening.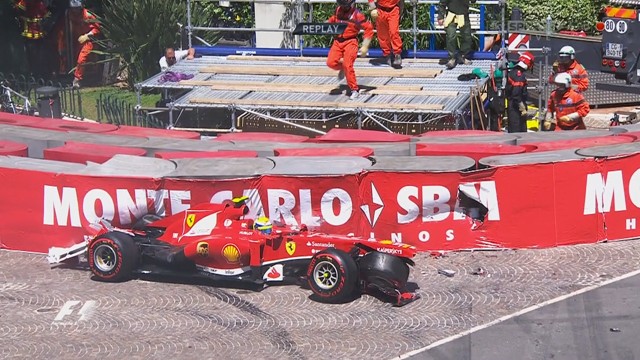 If anything, the result of this one was even worse. Massa was put into a neck brace and taken to Princess Grace Hospital, where he was held for a few hours and released. However, the long trail of broken car left behind by his inelegant departure from the race could not be cleaned up safely, and we got our first Safety Car of the year. The two leaders, halfway around the track from Berndt Maylander, immediately lean into the gas pedals and rush for the pits. At this point, Mercedes told Shiv Hamilton that they were going to pit both cars on the same lap, and that he needed to hang back a few more seconds so the team didn't stack them up in the pits. This he duly did, and he pulled into the pit stall vacated by Rosberg a mere eight seconds previously. This turned out to be just a couple of seconds too long, as while our Polesitter retained the lead, Hamilton exited the pits in fourth, leapfrogged by the two Red Bull drivers.
*PART II
: As the drivers perambulated behind the Safety Car, we got to hear a call from the pitlane to Hannibal Vettel: his rear tires were "marginal" after his first stint, while Rosberg's engineer told him that he still had "half the life" left in his after his stop. That couldn't have been an encouraging call for the Red Bull drivers, but when the Safety Car pulled in on Lap 38, the field gamely set off after the leader. After one lap, Rosberg had a two second lead, making it looked effortless. It wasn't until Lap 45 that something happened to shake things up.
*RED FLAG
: Back towards the rear of the Thundering Herd, Cardinal Maldonado was having a lousy race. To be sure, they'd all been lousy this season, but this one seemed particularly bad, and it wasn't about to get any better when he approached Tabac. Max Chilton's Marussia, not exactly known as a speedy vehicle was inside him, looking to pass... and pushing him very very wide in the process. Maldonado, best known for being a dangerous driver last year, moved over as far as he could to avoid contact, but the rookie kept coming... and coming... and coming... and...
The Williams was launched skyward, greatly reducing grip, before slamming at high speed into the TecPro barrier hard enough to peel it away from the steel Armco, leaving it curled in the middle of the circuit... right where Chilton's teammate, Jules Bianchi, could run into it. This he duly did, ruining the front of his car. A red flag was immediately displayed, halting the race on the spot.
*ENDGAME
: The remaining cars came to a stop on the grid while the damaged barriers were replaced. Tires were changed, minor damages were fixed, and people tried to figure out just exactly how to get past Nico Rosberg. Once the race was restarted, it was clear that nobody had figured that part out, as the Mercedes driver ran himself back out to a four-second lead, holding there until another Safety Car was brought out (see Moooooo-oooove of the Race, below). The restart did nothing to help the situation as Rosberg owned the restart and was right back to a four second lead almost immediately. Just how frustrating the race had been for Hannibal Vettel became clear on the penultimate lap, when he set fast-lap honors. When his team told him to back down, you get no points for fast lap, he replied "...but satisfaction." That was the only real satisfaction to be had, as he finished behind Rosberg by 3.5 seconds. In an interesting bit of synchronicity, it was in 1983 that Nico Rosberg's father, Keke, won the Grand Prix of Monaco.

*DRIVER OF THE RACE
: Nico Rosberg. He literally did everything right. What more could you ask for?
*TEAM OF THE RACE
: We're going to break with the logical answers today and instead give the TotR award to Force India. They finished 5th / 9th (from 17th!), the team's best result in Monaco ever, and Adrian Sutil pulled off some amazing passing moves. Way to go, guys, you deserve it.
*MOVE OF THE RACE
: While McLaren is having a lousy season, it's hardly because of Jenson Button. He's clearly doing the best he can with a car that just isn't any good, which isn't much... he's never been the sort of driver who can bring out the best of a bad car. Still, late in the race he was in 8th, behind HWMNBN and Adrian F'n Sutil as they piled into Rascasse, not exactly a common place to try and improve your position.
As they wound their way past the nightclub, HWMNBN found himself outside of the Force India, while Button had the inside line.
To be fair, nobody in their right mind tries to pass in Rascasse. It just isn't done. However, the presence of the Force India actually balked the Ferrari momentarily, lest the red car have its nose removed.
This opened the door for Button to haul his recalcitrant McLaren through the turn slightly faster than the two-time World Driver's Champion could manage, and pull off a pass that usually would end in nothing but tears and carbon-fiber shards. On a day full of impressive passes, this was the best of the lot. It's not much, Jenson, but here's your MotR!
*MOOOOOOOO-OOOOVE OF THE RACE
: On Lap 63, Lettuce Grosjean was following Daniel Ricciardo, who was racing for points. Coming out of the tunnel, the Lotus driver didn't really bother to brake as they approached the chicane.
Ricciardo was out on the spot, Grosjean pitted for a new nose, turned a couple of laps, then was retired. This was Grosjean's
fourth
accident of the race weekend. Consider this Moooo a "weekend achievement award." Way to be.

*SELECTED DRIVER QUOTES OF THE RACE
:
more...
Posted by: Wonderduck at 10:21 PM | Comments (1) | Add Comment
Post contains 1494 words, total size 10 kb.
May 26, 2013
Monaco F1U! Will Be Delayed Until Monday
Recording nightmare combined with a need for sleep and a vague "not feeling very well" sort of thing has put me off my game. It's 907pm, and I've only
just now
finished watching the Grand Prix of Monaco. I'm still trying to figure out if it was a
good
race, but it was certainly
entertaining
. And, heck, Lotus and Daft Punk teamed up for the weekend... no way that can be bad.
While I'm at it, though, let me pay the ultimate respect for the true face of the Monaco Grand Prix... this guy:
Every time the cars went through the tunnel, he was in shot. Every. Single. Time. There was one moment where he wasn't, but he quickly worked his way in, bringing sighs of relief to all viewers. The tunnel was safer because he was there. Thank you Mr Track Worker. Thank you.
F1U! tomorrow.
Posted by: Wonderduck at 08:27 PM | Comments (2) | Add Comment
Post contains 154 words, total size 1 kb.
May 12, 2013
F1 Update!: Spain 2013
Simply a beautiful day greeted the Thundering Herd as it mad its way to the grid behind the gleaming Silver Arrow of Nico Rosberg. Around the pit lane, however, dark clouds rumbled above the heads of the Pirelli representatives as complaints about their tires had reached "shrieking weasel" levels. So how would the rubber react when the lights went out? THIS is
your
F1 Update! for the 2013 Grand Prix of Spain!
*RACIN'
: "We have to drive slowly to protect our tires." "We're not racing, we're conserving tires." These and other statements like them have been heard for weeks around the F1 paddock. Very quickly today, however, it very quickly became obvious that one team had
finally
gotten tired of whining and decided to make the best of the tire situation. Scuderia Ferrari had told their drivers "we've got six sets of tires, let's use them." This may have meant another pit stop in relation to their competition, but the tradeoff was that they'd be going faster than the teams "protecting" their tires. It pains us to say this, but
BRAVO
, Ferrari,
bravo
.
*EVEN BETTER
: It worked. Right from the beginning, Ferrari had planned to do a four-stop race, while everybody else were suspected of committing to three-stoppers. By the end of the first round of pitstops, Ferrari's HWMNBN had all the advantages, and very soon thereafter, the lead. Meanwhile, his teammate Felipe Massa was shadowing him just a few positions behind.
*SCRAMBLING:
At one point in the race, Hannibal Vettel's chief mechanic "Rocky" Rocquelin called to his driver. "Relax, it's the last five laps that'll be decisive." This came after HWMNBN had made the three-time World Driver's Champion look slow and bad and awful. Shortly thereafter, though, Red Bull came to the realization that they were going to lose, and lose badly, if they didn't mirror the four-stop strategy. Alas, they made that decision too late, and Vettel was never a real threat during the race. Such a shame.
*GENTLE LOTUS
: In contrast to all the teams reacting to Ferrari's novel concept of "going racin'," Lotus driver Kimi Raikkonen kept on his three-stop strategy, comfortable in the knowledge that he could drive smoothly and quickly while being gentle on his tires. It used to be that Jenson Button was the king of tire kindness... no more. While he wasn't quite able to dice with HWMNBN for the lead, he was able to lock down second place ahead of Massa.
*MERC MASSACRE
: As expected, from the moment the lights went out to the time the race ended, the Mercedes chassis drove like crap. You know times are bad when the pit wall is telling their drivers to
slow down
in the middle of a race. Shiv Hamilton, who began the race in second place, finished up 12th with tires that refused to warm up and fell apart when he pushed. "I can't drive any slower" he replied to the pit lane. Pole sitter Nico Rosberg finished in 6th, having managed to keep the lead until the first round of tire changes.

*DRIVER OF THE RACE
: HWMNBN. From the start of the race, it was clear that The Spaniard had come to his home track to win. A brilliant pass through Turn 3 served notice that he was feeling his oats, and that he was going to be dangerous. That proved to be accurate as he won by nine seconds. Just an outstanding performance.
*TEAM OF THE RACE
: Ferrari. They had both drivers on the podium and forced everybody else to adjust to their strategy. Yep, that's the way to do it all right. The church bells are ringing in Maranello tonight.
*MOVE OF THE RACE
: One of the standing rules of F1Update! is that nothing that occurs during the first lap of the race is eligible for either the Move or the Mooooooo-ooove of the Race awards. We are breaking that rule today. As soon as the lights went out and the field began to move, it was clear that HWMNBN had a wild hair going today. Heading into Turn 3 he was on the outside, with Kimi Raikkonen, Shiv Hamilton, Hannibal Vettel and, ultimately, Nico Rosberg ahead of him.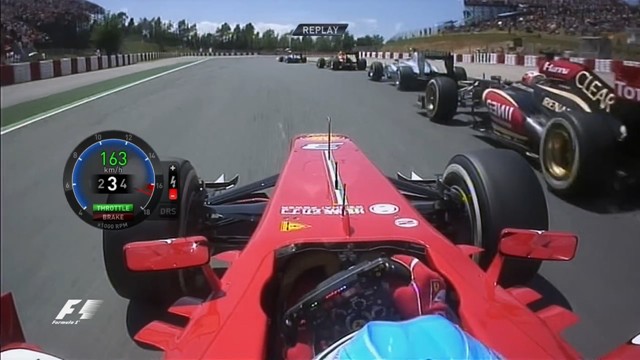 Secure in the knowledge that he could run his tires into the ground without penalty, he charged into the long, fast 180° Turn 3 with blood in his eye.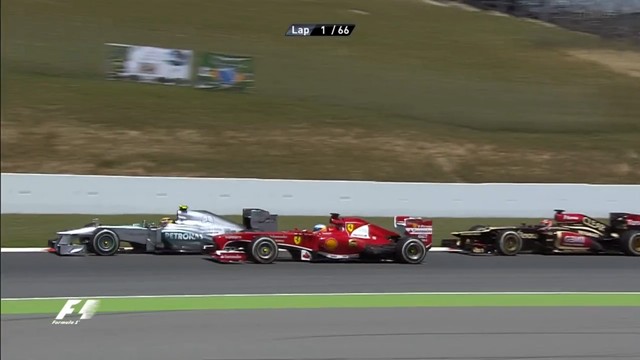 Raikkonen didn't fight HWMNBN, but Shiv Hamilton was less accommodating, making sure that the Ferrari driver had to take the
really
long way around.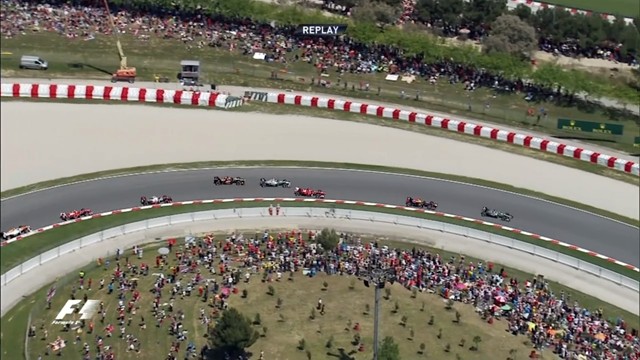 Undaunted, The Spaniard did just that, getting past the Mercedes and pulling himself back inside in the process. As it was, if Turn 3 had been longer, HWMNBN might have been able to track down Hannibal Vettel for 2nd. As is, he had picked up two places nearly before the race began. Just an astonishingly virtuoso performance, and worth us breaking our rules to give him the Move of the Race.
*MOOOOOOOO-OOOVE OF THE RACE
: On Lap 23, Geido van der Garde pitted his Caterham, emerged, drove half a lap and... his left-rear tire came off. Half-a-lap later, he managed to bring his car into the pit lane!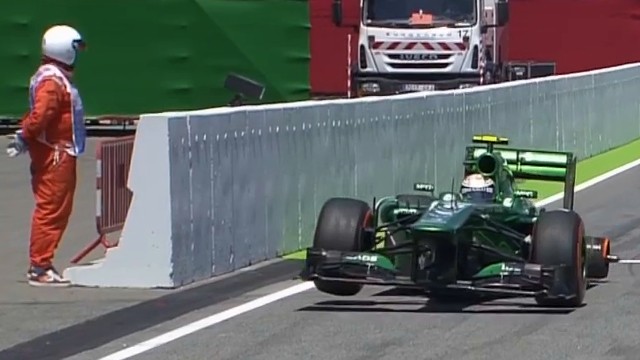 Impressive driving performance, but the team still got fined for an unsafe release fro the pit lane. Caterham, here's your Mooooo!

*SELECTED DRIVER'S QUOTES OF THE RACE
:
more...
Posted by: Wonderduck at 08:12 PM | No Comments | Add Comment
Post contains 1057 words, total size 8 kb.
37kb generated in CPU 0.0184, elapsed 0.1456 seconds.
46 queries taking 0.1376 seconds, 205 records returned.
Powered by Minx 1.1.6c-pink.