August 27, 2018
F1 Update: Belgium 2018
"I went to a fight, and a hockey game broke out!" THIS is your F1U! for the 2018 Grand Prix of Belgium!
*LAP 1, TURN 1
: We here at F1U! can completely understand if you thought the race at Spa-Francopants was exciting, because holy frijoles was a first lap! The race began with the usual charge towards the tightest first turn in Formula 1, La Source. You come running in at high speed, then immediately slow down to Toyota Camry speeds, turn greater than 90° to the right, then go galloping off towards Eau Rouge. That's what's supposed to happen, and for the the frontrunners, that's what occurred. And then you had Nico Hulkenberg. He was starting 18th because of a power unit change, and decided that he was going to make up all the lost places right away. At least, that's what we here at F1U! assume happened, because he went careening into La Source with all four tires smoking from locked up brakes after apparently forgetting that there were other cars on track. The result was... something.
Hulkenberg rammed the back of the McLaren of Fernando Alonso. This got the McLaren all sorts of wrong, and contact with Charles AMX-30's Sauber sent him airborne. The car went up and over first the side of, then the front of, the Sauber, dealing a frightful amount of damage to Alonso's chariot. However, since he came down correct-side up, this was not something that needed to be worried about. As it turned out, AMX-30 was very nearly decapitated by the front-right wheel of the McLaren when the entire car slid over the Sauber's HALO from right to left. Indeed, the halo snapped the right-front suspension of the orange and blue car as it went past AMX-30's head.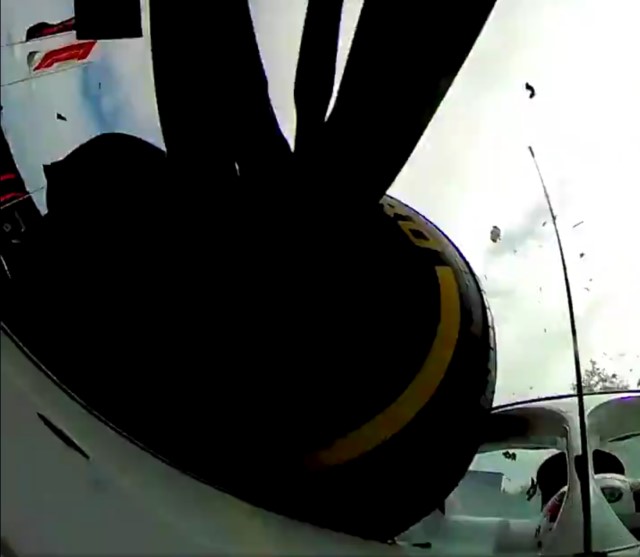 The view from the nose of AMX-30's Sauber, looking backwards.

We here at F1U! are not overly fond of the new safety device... it looks all sorts of ugly... but we'll give credit where credit is due: there's an excellent chance it saved a promising young driver's life today. But that wasn't all that happened, oh heavens no! See, as Alonso's car began its wild journey towards the sky, it snipped off the rear wing of Smiley Ricciardo's Red Bull. That caused the Aussie's vehicle to contact Kimi Raikkonen's Ferrari in passing, destroying its right-rear tire. Both cars limped to the pits, both cars got repaired (you don't often see a rear wing replacement in F1!) and went back out. Both cars would be forced to retire soon after, meaning Hulkenberg's Wild Ride was responsible for destroying a full quarter of the Belgian Grand Prix field! That deserves a wow, at least!
*THE STRAIGHT
: As one can imagine, a safety car was called out, but not immediately. This gave us just enough time for the leaders to go charging down the Kemmel Straight, Seb Vettel's Ferrari leading Hamilton's Mercedes leading the two Force Indias. Except that makes it sound like they were nose to tail... they weren't. No, as they came to the end of the straight, doing something like 180-190mph, they were four wide.
False Esteban! was on the inside for the approaching right-hand turn, but had to back off since Vettel had the racing line. Lawsuit Perez on the outside was just beaten into the turn by Hamilton, and wound up third. Just for the record? NASCAR doesn't usually go four wide ever: that way lays madness. Just sayin'.
*SAFETY
IN SPEED
: The safety car lasted for four or five laps, an eternity around the 7+ km long Spa circuit. And then came the restart. Vettel did a fantastic job on snookering Hamilton, leaving him desperately gasping for air once things went green again. How fantastic? He had a full second lead on the Mercedes into Turn 1. That's pretty impressive. Sadly, it was so impressive Mercedes basically pulled the plug on trying to catch the Ferrari. Oh, they tried for a while, but once it became clear that Vettel could keep the gap at any amount of time that he wanted they stopped trying. Gotta protect that engine, don'tchaknow? And once DH Verstappen made his inevitable way past the two Force India cars (they were a great story, but we knew it was coming, didn't we?), the podium was set... with over half the race to go. To be sure, there was still a little racing going on... Valterri Bottas, who started 17th in his Mercedes managed to haul himself all the way to 4th... but nothing earthshaking. In effect, the race was over by the end of the first lap.
*FORCE INDIA Ver. 2.0
: With their fifth-sixth place finish today, (Racing Point) Force India scored 18 points in the Constructor's Championship. They are now in 9th place, ahead of Williams, only one point behind Sauber, and 12 points behind Toro Rosso for 7th. Amusingly, they are also ahead of (Deadbeat) Force India, in 11th with zero points. Realistically they could get as high as 6th place... and wouldn't
that
be a performance with only half-a-season to do it in?
Right, Monza is this coming weekend... prepare for speedspeedspeed!

Posted by: Wonderduck at 11:04 PM | Comments (3) | Add Comment
Post contains 862 words, total size 6 kb.
25kb generated in CPU 0.0118, elapsed 0.1665 seconds.
45 queries taking 0.1587 seconds, 201 records returned.
Powered by Minx 1.1.6c-pink.