October 27, 2013
F1 Update!: Inda 2013
There was not a cloud in the sky when the Thundering Herd formed up on the grid for today's race in Upper Noida. There didn't need to be, as the sky was invisible from all the smog. No matter, race time approached, and polesitter Hannibal Vettel had a chance to join the F1 Immortals. Would he manage the feat of winning four consecutive driver's championships, or would Ferrari's HWMNBN manage to extend the fight for another race? THIS is
your
F1 Update! for the 2013 Grand Prix of India!
*NOPE
: The lights went out, releasing the straining field towards the first turn like a quarrel from a crossbow. For Vettel, on soft tires and with nobody in front of him, this was no problem. HWMNBN though, on medium rubber and mired in 8th place, was about to discover why the midfield is often called the "carbon fiber zone." He lost one of the endplates of his front wing on Mark Webber's rear tire in Turn 1, then suffered a big impact with Jenson Button in Turn 4. Thus ended any chance the Spaniard of extending the championship chase as he was forced to pit for a new nose, emerging buried in 20th and never to be heard from again. He would finish the race in 11th, out of the points.
*THE REST
: With the question of whether Vettel would be crowned Champion out of the way early, it merely became a question of whether he would win the race, too. By the end of the first lap, he was almost three seconds in front of the Mercedes boys and his strategy had become clear: run as hard as he could for as long as he could on the soft tires, then switch to the mediums and let everybody else pit to regain places. After turning what were, essentially, two qualifying laps, he had nearly five seconds in hand. What WAS surprising is that he stopped immediately after. He emerged in 15th and immediately began his cruise to the front. And it
was
a cruise, too: very few of the drivers ahead of him bothered to put in even a token effort to keep him behind. Why bother, when he would have the benefit of DRS eventually? By Lap 10, he was in 5th place. By Lap 29, he was back in the lead, though he would pit a couple of laps later. This mattered not, as everybody around him pitted slightly earlier and he would regain the lead by Lap 35.
*CHALLENGE OVER
: There was only one car showing any signs of being able to duel with Vettel today, and that was the RB9 of Mark Webber, Vettel's erstwhile teammate. While it was questionable as to whether or not he could have caught the leader, if there was anybody in the field willing to give it a shot, it'd be the Aussie. After all, he's retiring after the season, and it's not like the two of them are exactly friends. Even
that
went the way of Vettel, when Webber's gearbox began to malfunction. Moments later, he was told to park the car with a failing alternator. While it's not clear if Vettel had the same malfunction, the team DID tell their young champion to stop using KERS and even his drinks button, all the better to relieve strain on his alternator.
*THE END
: A few laps later, Vettel swept across the finish line, almost 30 seconds ahead of second place Nico Rosberg in what might have been the single most dominating race the combination of Red Bull strategists and Red Bull driver had put together. Flat-out amazing. Not only was it his third straight win at India, and not only did it clinch his fourth consecutive driver's championship, but it also clinched the Constructor's Championship for the team as well. Possibly even more amazing is that this is Adrian Newey's
10th
constructor's championship as a car designer. There's rumors that Newey plans to retire after 2014, to take up the challenge of
America's Cup
boat design. We here at F1U! hope that happens; Newey is so good at his job that his abiltiy completely unbalances the championship. But it takes a good driver to get the most out of the car, and that's what Red Bull has in Sebastian Vettel, four-time World Driver's Champion. The donuts Vettel performed on the front straight after winning cost him a reprimand and €25000, but we think it was worth it.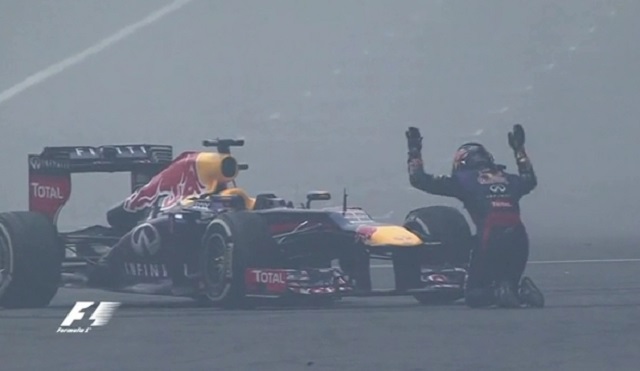 Next weekend, they race in Abu Dhabi. See you then, see you there!
Oh, and here's McLaren's
Tooned
, Ep06.
Posted by: Wonderduck at 08:35 PM | Comments (7) | Add Comment
Post contains 770 words, total size 5 kb.
October 13, 2013
(not-so-mini) F1 Update!: Japan 2013
It was a bright sunny day in Japan as the Thundering Herd took to the grid at Suzuka, led by Red Bull's Mark Webber. How long would that last? And would the Aussie, retiring at the end of the season, be able to stay up front? Or would his teammate Hannibal Vettel, sitting next to him on the grid, manage to run away and hide as he's done so many times in the past?
This
is
your
F1U! for the 2013 Japanese Grand Prix.
*THE RACE
: The past two races have seen a grand total of one leader, total: Hannibal Vettel. He's led every single lap run since the start of the Singapore Grand Prix. But it became amazingly clear very quickly that this wasn't to be the same sort of race as we've seen of late: Vettel getting a good start, then running away and disappearing over the horizon. No, instead both Red Bull drivers had less-than-stellar starts, the Lotus of Lettuce Grosjean jumped into the lead from fourth, and Mercedes' Shiv Hamilton managed to skewer himself on the front wing of Vettel. It didn't do much damage to the Red Bull, despite Hannibal's squeals, but Hamilton had a ruined rear tire. He was almost a lap down by the time he made it to the pits, and the team retired the car a few laps later. Meanwhile, Lettuce slowly managed to inch away from the trailing Red Bulls, opening up a lead of a couple of seconds on Webber by Lap 10. The Aussie was the first of the three drivers to pit, on Lap 11, followed a lap later by Grosjean in what was clearly a covering move by Lotus. Vettel as usual made his tires last longer than his immediate competition and didn't stop until Lap 14. After the pit stops, all three were on the hard tire, and the order was Grosjean, Webber and Vettel. Until Red Bull decided to maximize their chances of a win, that is. On Lap 22, after a remarkably short stint for hard tires, Webber was brought to the pits. The team had switched him from a two-stop strategy to a three-stopper. Amazingly, the Aussie came out in third place, as the top three cars had opened up a huge gap to the rest of the field. In effect, there were two separate races going on today: the Podium Race, and Everybody Else. This strategy shift turned the race from one taking place on the track to one taking place in the pits and the plotting tables... a type of race that Red Bull has proven to be very good at. As it turned out, staying on the two-stop strategy was the correct one, as Vettel wound up taking the lead after his second stop. On tires eight laps newer than Grosjean's, Vettel passed the Lotus on Lap 40, functionally for the lead as Webber pitted on Lap 43 from first. There was some possibility that Webber could have caught his teammate, but instead it took him some six laps to get past Grosjean; he could get close, but wasn't quite able to complete a move. As it was, Vettel led Webber by seven seconds at the end, and Grosjean was two behind Webber. The Ferrari of HWMNBN was nearly 37 seconds behind the Lotus.
*WHAT DOES IT ALL MEAN?
: Vettel has now won five races in a row, something that's only happened
a few times in the history of F1
. We didn't realize that Slappy Schumacher actually did it twice in 2004: a five-win streak followed by a seven-win streak. That was the year we here at F1U! began watching Formula 1... we're amazed that we stuck with it.
*OH BY THE WAY...
: The STBFTWC will probably have to wait one more race. Vettel will go into the Grand Prix of India with a 90 point lead over HWMNBN. If he finishes fifth or higher, he wins the driver's championship, no matter what HWMNBN does. In effect, the Ferrari driver has to win out while STBFTWC has a historic string of breakdowns.
India in two weeks... break out the chapati, tikka masala and Kingfisher, everybody! See you then.
Posted by: Wonderduck at 09:19 PM | Comments (5) | Add Comment
Post contains 704 words, total size 4 kb.
October 07, 2013
(Mini-ish) F1 Update!: Korea 2013
It didn't rain, and the result was preordained. Yet there was some awfully weird stuff happening in Yeongam, South Korea the other day, and we're here to cover it. THIS is
your
F1Update! for the 2013 Grand Prix of Korea.
*THE RACE
: To the surprise of absolutely nobody, the lights went out and Hannibal Vettel, our polesitter, jumped away to the lead. However, and this is a huge difference, he did not go streaking off over the horizon, looking like he was trying to lap the entire field and standing a good chance at managing the feat. Instead, he only managed to open up a 2.5 second lead over Shiv Hamilton, a lead that didn't much look like it was going to get much larger. As radio calls began to fly back and forth between drivers and pit walls, the reason for the smallish lead became clear: tires. The two tire compounds Pirelli had brought to the track, the super-soft and the mediums, were not lasting anywhere near as long as expected. In particular, the front-right tire was taking a serious beating around the back half of the track, what with all of its left-hand turns. Still, none of this was making it look like Vettel was going to be kicked out of first place any time soon.
*THE WEIRDNESS
: And then the weirdness began. On Lap 28, Nico Rosberg was all over the back of his Mercedes teammate, Shiv Hamilton. Hamilton was suffering from tire problems; all the tires on the day had graining problems, but once the graining wore away, the tires would be almost as new. Not so with the set on Hamilton's car at this moment. We quote from his radio call to his pit wall: "They went through the graining period already; now they're sh*t." All of this made passing Hamilton a slice of pie for Rosberg. He got into the Brit's slipstream, opened his DRS, and pulled out from behind... and this happened:
The two top mounting points for the nose of Rosberg's Mercedes failed, dropping the front wing to the pavement. We here at F1U! have watched Formula 1 for years, and we've never seen a car's nose detach without having suffered
other
damage, like from an accident. While spectacular, and in the long run it certainly cost Rosberg a podium shot, the car was essentially undamaged. Once the nose was replaced, the Mercedes continued on as if nothing had occurred. What happened three laps later, however, was somewhat more critical. On Lap 31, McLaren's Sergio Perez had a huge lockup going into Turn 1, putting a visible flat-spot on the front-right tire. A few hundred yards later, with Mark Webber close by, this happened:
Perez's tire completely let go, the rubber carcass separating completely from the kevlar backing, and taking big chunks of McLaren bodywork with it as well. Webber, fresh out of the pits and shod with a brand new set of medium tires, had no choice but to drive through the debris field. Almost immediately, the Red Bull pit wall told him he had punctures and he had to pit for a new set of tires. Problem is, he had 24 laps to go and the last set of medium tires that he had... were the ones that had just been ruined. Say goodbye to his chances for a podium. Fortunately for all concerned, the Safety Car was called out to allow for clean-up of the tire and associated detritus. It stayed out for six laps, then came in and racing began again. The restart lasted all of three turns, for it was there that Adrian F'n Sutil spun and slid directly into the side of Webber's Red Bull. Sutil continued on, but this is what happened to Webber:
The contact apparently shattered the oil cooler, which promptly caught fire, as intense a blaze as any we've seen in F1 for a while. However, that isn't the weird part. No, the weird part is that, before the Safety Car was called out, this was spotted on-circuit:
The track Fire Vehicle was sent out
before
the field had been neutralized... and that's Hannibal Vettel directly behind it. Almost immediately after this, the Safety Car was called for, white flags (indicating a slow-moving vehicle is on track, and drivers should be alert) were being waved and it looked like the field began to form up behind the truck, instead of the Safety Car! NEVER seen that before. Fortunately for everybody, that was the last of the weirdness and the race continued as normal afterwards.
*THE END
: In the grand scheme of things, though, none of this was anything but a mild diversion for Vettel, who wound up romping home ahead of the Lotii of Kimi Raikkonen and Lettuce Grosjean. He now has a 77 point lead over his nearest competitor, and can clinch the driver's championship in Japan.
*WHAT DOES IT ALL MEAN?
: Vettel earned his second consecutive Grand Slam (winning from pole, leading every lap, setting fast lap of the race), the first driver to do that in F1 history. There's no reason to think he couldn't do it in Japan, either. Yeesh.
*FINALLY:
Japan is Sunday morning. We'll see you then!
Posted by: Wonderduck at 09:23 PM | Comments (2) | Add Comment
Post contains 876 words, total size 6 kb.
October 06, 2013
F1 Update!: Korea 2013 DELAYED
Readers...
I'm having problems being creative tonight. This events of this race, particularly the second half, actually deserve a decent writeup, and I don't feel like I have it in me at the moment. It'll happen on Monday.
Probably.
Yours,
-Wonderduck
PS: While you're waiting, here's McLaren's
Tooned
Ep05
I'm curious to see how they're going to handle the next driver...
Posted by: Wonderduck at 06:49 PM | Comments (2) | Add Comment
Post contains 66 words, total size 1 kb.
46kb generated in CPU 0.1583, elapsed 0.753 seconds.
48 queries taking 0.7014 seconds, 220 records returned.
Powered by Minx 1.1.6c-pink.