March 23, 2008
F1 UPDATE!: MALAYSIA 2008
Will Ferrari bring itself back from the disappointment of Australia? Will McLaren charge off into the distance and take a commanding lead in the dual championships? Will BMW consolidate their gains? Will we stop asking questions and get on with it? THIS is the F1 UPDATE! for the Grand Prix of Malaysia!
*

WHOOPS...
:
This might be getting ugly, and it couldn't happen to a nicer bunch of guys than Ferrari.
Those were the words of the owner of this website after Friday practice. Whoops. Kimi Raikkonen won by 22 seconds over 2nd place finisher Robert Kubica, and was over 70 seconds ahead of 8th place HWMNBN. The only dark spot on Ferrari's day was Felipe Massa burying himself in the kittylitter, costing the team a 1-2 finish. Since we can't sack the owner of this blog, we'll just point at him and jeer instead.
*

TARNISHING?
: We're starting to see signs that Lewis Hamilton may not be the greatest thing since rye bread. He appeared to be uncommonly hard on his front tires and brakes today, and that might have added to his day's troubles. In the last 15 laps of the race, he wasn't quite able to close up on Jarno Trulli's Toyota enough to mount a serious charge, and while some of that might be due to the improvement of the Toyota chassis itself, a good portion has to be laid at Hamilton's feet. We here at F1 UPDATE! believe that, perhaps, he's not as good as running in traffic as he is up towards the front. Understandable, since he rarely has to do so. We'd still take him...
*

DRIVER OF THE RACE
: Robert Kubica, BMW. Kimi Raikonnen won handily, but probably would have finished behind Massa had Felipe not decided to beach himself. Kubica, on the other hand, actually had to drive hard for his position, and was flawless with the lurking McLaren of Koveleinninnine just a few seconds back. Kimi, on the other hand, could have gone over to Kuala Lumpur International Airport, hopped a quick flight to Finland, had a drink or two, flown back to KLIA, picked up something in the duty-free shop, gotten back in his car, and resumed the race and
still
have a couple of seconds lead. Gotta go with Kubica this week.
*

TEAM OF THE RACE
: BMW-Sauber. They scored two podiums in a row for the first time ever, they put Kubica on the 2nd step of said podium, and Grizzly Nick Heidfeld had fast lap of the race. If that's not an indication that this team is for real, nothing is. They're still not up to Ferrari/McLaren levels yet, but they're closer now than they ever were before.
*
MOVE OF THE RACE
: Since we refuse to give a MOTR to anything that happens on the first lap of a race, we can't give it to Lewis Hamilton's breathtaking manuever at the turn 1, lap 1, where he started outside of HWMNBN, then dove underneath, passing the Renault AND Trulli AND Heidfeld, all in one go. No, instead, we're giving the MOTR to Heidfeld and HWMNBN for their sequence on lap 4. Both were behind David Coulthard's Chin on the short straight, and coming on strong. Heidfeld went right of The Chin, HWMNBN went left, and we had three-wide racing for a bit.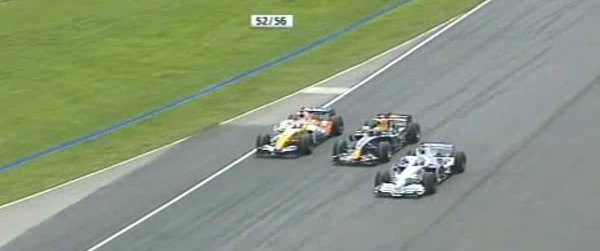 The Chin was probably apoplectic as Heidfeld went by, as he did a fine job of slamming the door on HWMNBN going into the turn. The Renault driver simply kept his foot in, and over the course of the next two turns and a short chute, got round the Red Bull. A gem of driving prowess from both Heidfeld and HWMNBN, though in different ways.
*

MOOOOOO-OOOVE OF THE RACE
: They can't all be gems, and the Mooooo-ooove celebrates the cow-like waddling that all F1 drivers display at one time or another. This race, the prize goes to Felipe Massa, who threw away a sure podium and a possible win simply by letting his rear-end pass his front-end on lap 31, turn 8. At the time, he was only a couple of seconds behind Kimi, but 20 seconds clear of Kubica. Even a simple spin would have been recoverable, but Massa went the extra mile by sliding offtrack, rolling backwards on the asphalt runoff area for a few lengths, then finding a big enough pile of gravel to high-center himself. He then proceeded to dig himself in for a few seconds.
Nicely done, lad... guess that lack of traction controll is a b*tch, huh?
*

DRIVER QUOTES OF THE RACE
:
more...
Posted by: Wonderduck at 07:06 PM | Comments (6) | Add Comment
Post contains 1324 words, total size 9 kb.
March 16, 2008
F1 UPDATE!: AUSTRALIA 2008!
Ahhhhh, the first race of a season... always full of wonder and questions. Who'll be good, who's bad, who'll surprise and disappoint? Does the offseason testing mean anything, or is it all window-hanging? Let's find out, and get right to the updatin'!!!
*

WELCOME BACK
: If all the races were going to be like this, there'd be a lot more fans of Formula 1 out there. While the winner wasn't really ever in too much doubt, everything behind the McLaren of Lewis Hamilton was up in the air all day. This race, you saw some of the best driving you'll ever witness, as well as some of the worst, sometimes from the same person. The reliability of the cars came into question with 14 racers ending up on the side of the track due to accident or breakdown (there was also one driver DQ'd). To be fair, the air temps were hovering around 100
o
F. all day, and that's really tough on these cars, but still and all. Now, since it's the first race of the year, you can't really put too much stock in the overall results... but
boy
, was it fun.
*

WHAT THE...?
: Last season, Ferrari swept the Driver's and Constructor's Championships (with a little help from the FIA's exclusion of McLaren) in a solid display of how to do things in Formula 1. In this race, however, Ferrari looked more like Joe's Garage And Lube Racing. Massa running out of fuel, Kimi discovering that it's easy to pass when you don't hit the brakes (but hard to make the upcoming turn), then that it's good to have your tires on the track when you decelerate. Then there were the disorganized pit decisions that Ferrari made (why keep Kimi out on the track during a yellow when everybody in the park knew he'd have to pit in a couple of laps anyway?). Basically, Ferrari looked amateurish, and they were lucky to have earned a single point today... and it took a DQ ahead of them to get that. One imagines Ron Dennis is smirking tonight.
*

DRIVER OF THE RACE
: Lewis Hamilton, McLaren. A 10 second lead by lap 15, a 30 second lead late, he was only out of first place for 5 laps due to pit-lane rotations. While Kubica gave him a challenge at the start (you can't be any closer to each other without being naked), that only really lasted for two or three laps. After that, the only question was would Hamilton keep it on the track and would it hold together? The answer to both was yes, and Lewis ran away with it. His first stint was particularly impressive, setting and resetting Fast Lap on laps 3, 5, 6, 7, 9, 11, 13, 14, 15 and 17. That's domination.
*

TEAM OF THE RACE
: Williams. Nico Rosberg gets a podium, Kaz Nakajima in the points, and the only team other than McLaren to get both cars to the end of the race? Considering how miserable a season Williams had last year, it's good to see them have a good race for once. McLaren gets an honorable mention for their Win-5th, which is nice, but they've got to be kicking themselves for losing a great chance to steal a march on Ferrari.
*

MOVE OF THE RACE
: On lap 57 of 59, Heikki Kovelaineininnie was challenging Renault's HWMNBN for 4th place. Considering that HWMNBN drives a very wide car, and the antipathy he has toward McLaren, there's no chance that Heikki would have an easy pass, and it wasn't. But it WAS a clean, firm, and impressive move. That Heikki threw it away a half-lap later by pressing the pit-lane limiter on the front straightaway (allowing HWMNBN to blow past the suddenly slow McLaren) takes nothing away from the move.
*

MOOOO-OOOOVE OF THE RACE
: Celebrating the bovine lurking inside every F1 driver, the Mooooo-ooove is given to the driver or team that has the clumsiest moment of the race. This week, Timo Glock's Toyota slid a little too far out of a turn, got into the grass, and wallowed around in a more-or-less uncontrolled fashion. It should have been fine, if embarrassing, but this is Melbourne's Albert Park. When it's not being used for the Grand Prix, it's just an ordinary (if large) park/golf course/lake facility. Glock skittered across the grass, crossed a strip of asphalt, and hit a very tall lip back onto the grass. The result? Well... not good:
Avert your eyes, women and children...

Mental note: F1 cars are not meant to be dropped. It took Glock a long time to get out of the cockpit, undoubtably with a very sore back. Maybe his Mooooo-oooove will help sooth the pain.
*

DRIVER QUOTES OF THE RACE
:
more...
Posted by: Wonderduck at 03:26 PM | Comments (6) | Add Comment
Post contains 1289 words, total size 9 kb.
35kb generated in CPU 0.0208, elapsed 0.4655 seconds.
46 queries taking 0.4547 seconds, 212 records returned.
Powered by Minx 1.1.6c-pink.