November 27, 2011
F1 Update!: Brazil 2011
The skies above looked ugly, big black clouds approaching the Autodromo Juan Carlos Pace seemingly from all directions. It wasn't raining yet, but every driver on the grid and every mechanic in the pit lane had an eye cocked towards the heavens, looking for the first hint of drizzle, downpour or deluge. Would rain be the deciding factor in this, the last race of the season, or would we get a straight-up run to the checkered flag? THIS is
your
F1 Update! for the 2011 Grand Prix of Brazil!
*LIGHTS OUT
: As we've come to expect, once the race began Seb Vettel streaked away from his pole position to open a 1.1 second lead over his teammate Mark Webber. After two laps, it was 2.4 seconds and this began to have all the hallmarks of a battle to see who would be the first to finish the race AFTER the Driver's Champion. But all was not well inside the guts of Seb Vettel's RB7.
*INTERLAGOS HATES GEARBOXES
: Around Lap 14 we first got evidence that this race was not going to be going all Seb Vettel's way. A radio broadcast from the pit wall said it all: "We need you to short shift into second gear." A couple of laps later came another call: "We have a gearbox problem. Short shift for second and third gears." As the race went on we were treated to more such calls... and Seb Vettel's unintentionally humorous responses. For example, on Lap 25 the team's message was an audibly more urgent "we have a serious gearbox problem, short shift please." In response, Vettel ripped off the fastest lap of the race thus far. Then, finally, the team made it perfectly clear to their World Champion that he had to baby the gearbox if he wanted to finish the race: "Short shift every corner, every lap." If nothing else though, Vettel wanted to race, impending gearbox failure or no, for he replied the way a racer should: "If I do that, I'll fall behind!" Alas, the radio was cut at that point, for we suspect the pit wall's response would have done justice to a pissed-off Marine drill sergeant. While Vettel's situation proved to be the most amusing, his was not the only car to be plagued by a balky gearbox. McLaren's Lewis Hamilton was warned that he had a dying gearbox and that there was nothing he or the team could do about it. A few laps later, an ugly grinding noise announced that the ratios had departed this Earth and headed to gearbox heaven. Force India's Paul diResta and Renault's Red Menace also had gearbox issues but they held together long enough to complete the race with little reduction in speed.
*RAIN. PRECIPITATION. MOISTURE.
: As the race began, the FIA's weather prognosticators reported that it was going to rain, it was just a question of when. They had good reason to believe this; you could
see
rain falling in the city of São Paulo just beyond the Autodromo Juan Carlos Pace's walls. Repeatedly the purveyors of precipitation sent warnings to the teams: "Rain in five minutes." "Rain in 10 minutes." "Rain expected inside of 30 minutes." On Lap 35, Ferrari tweeted that there was going to be rain in just a few minutes... and immediately brought HWMNBN in for a set of dry weather tires. Confusion reigned amongst the Legendary Announce Team. Finally, the masters of moisture gave up, saying that they didn't expect any rain until after the "current checkered flag." As Bob Varsha said, "what, there are more than one?" In the end, the expected rain never did fall and the race proceeded apace.
*TOWARDS THE END
: After the Red Bull pit wall blistered the ears of their youthful wunderkind, his Australian teammate began to close in at the rate of a half-second per lap. On Lap 30, the Driver's Champion pulled aside to let Webber go by. A good call, as racing a hobbled car against a teammate's healthy vehicle never ends well. Suddenly everything became much more interesting, for while first place in the Driver's Championship had been locked up a month ago, there was still an active battle for second, third and fourth. The only hope Webber had to finish second was to win the race and for McLaren's Jenson Button to have a breakdown and for HWMNBN to finish fourth or worse. If Button got even one point,
he'd
be second no matter what the Red Bull driver did. The failure of Hamilton's gearbox gave hope that Button's would suffer a similar fate, but the Ferrari driver seemed to be firmly ensconced in third place.
*AND THEN...
: Going into the final round of pit stops, the order was Webber, Vettel (driving a gritty race), HWMNBN and Button. All four drivers put on the harder tires and set sail for the end of the race and the season. It looked like Button would finish second in the Driver's Championship, followed by HWMNBN and Webber... except for one thing. If there was a single overarching problem with the Ferrari F150° Italia all year, it was that it was terrible on the harder tires. If there was one thing that Jenson Button had proven again and again this year, it was that he could make his McLaren MP4/26 work well on any tire compound... and today was no exception. He began to take huge chunks of time out of the Ferrari's lead, leaving no doubt what was about to occur. On Lap 61, Button simply cruised past HWMNBN for the bottom step of the podium, coincidentally handing third place in the Driver's Championship to Mark Webber. However, the race was not yet over, for as Button dealt with the Spaniard, Seb Vettel began to show signs that his gearbox was making his life a nightmare. He completely blew a turn, taking to the asphalt runoff area to continue the race. If that continued, Button had a slim chance to catch him for second place.
*THE END
: While Button was snipping a half-second off of the gap to Vettel per lap, the lead was much too great. Mark Webber swept across the line for his first (and only) victory of the year, followed some 17 seconds later by Vettel's limping Red Bull. Button was next to cross the finish line 11 seconds later, followed by HWMNBN with a similar gap.
*FINAL DRIVER'S CHAMPIONSHIP STANDINGS
: Vettel, Button, Webber, HWMNBN, Hamilton, Felipe Massa. Curiously, Grizzly Nick Heidfeld, who hadn't driven since Round 11 in Hungary, still finished in 11th place.
*FINAL CONSTRUCTOR'S CHAMPIONSHIP STANDINGS
: Red Bull, McLaren, Ferrari, Mercedes, Renault, Force India, Sauber, Toro Rosso, Williams, Lotus, HRT, Virgin. If you took all the points from third through 12th and added them together, you'd have a total of 772 points. Red Bull
alone
had 650.
*DRIVER OF THE RACE
: Seb Vettel. At one point in the race, he radioed to his pit wall that he felt "like Senna in '91." In that particular Brazilian Grand Prix, Ayrton Senna won the race despite having only first, second and sixth gears. Here, Vettel kept his crippled gearbox going well enough to not only finish second, but finish second easily. While we still don't know exactly how bad his gearbox damage was, the increasingly strident calls from his race engineer suggested it wasn't good. A sterling drive for the two-time World Champion in difficult circumstances.
*TEAM OF THE RACE
: Red Bull. Really, how can you not give it to them? They finished 1-2, they coaxed an ill car for some 60 laps across the finish line (when their biggest rivals couldn't get one of theirs to last 10 laps from when the problem became apparent), and heck, they just squashed the sport all season long. Just tip your cap to them and move on to next year.
*MOVE OF THE RACE
: In Formula 1, particularly in the age of DRS and KERS, a pass can come at any time two cars are close enough. There are certain places and times, though, that a pass just doesn't occur. In the S-Curves at Suzuka, for example, or Turn 1 at Monaco. It just isn't done. Another of that sort is Turns 6 and 7 here at Brazil. Fast right-hand sweepers of decreasing radius, blowing those will ruin the entire middle sector of Interlagos, if it doesn't pitch you off into the Brazilian terrain. So of course it's ridiculous to expect to be passed there, and it's even more unlikely that you'll have to defend against a pass on the outside of the turns. So on Lap 11, when HWMNBN closed in on Jenson Button heading down the short chute to Turn 6, Button probably felt pretty good.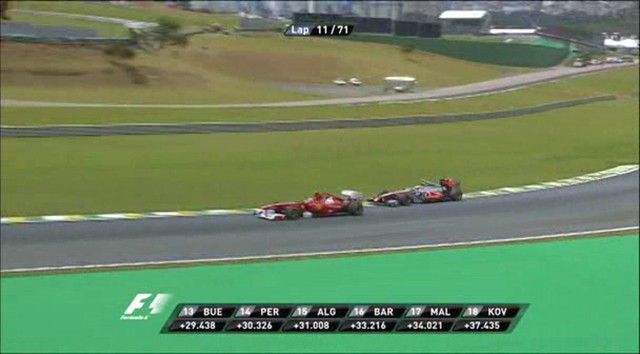 ...and then the Ferrari, tires apparently covered in stickum, Krazy Glue and honey, swooped to the outside of Button and blew the metaphorical doors off the McLaren. A heckuva pass in a very unlikely spot!
*MOOOOOOOO-OOOOVE OF THE RACE
: Rule #1 when performing a tire change: tighten down the wheel nut. Rule #2: make sure you follow rule #1.
Thanks, Virgin Racing. We knew we could count on you to give us a laugh today, and you didn't disappoint. The wheel nut's bid for freedom gave us a chuckle during a tense race. Here's your Mooooo!
*DRIVER QUOTES OF THE RACE
:
more...
Posted by: Wonderduck at 08:13 PM | Comments (7) | Add Comment
Post contains 2029 words, total size 14 kb.
November 13, 2011
F1 Update!: Abu Dhabi 2011
The grid formed up under a bright but setting sun for the penultimate race of the season with the familiar sight of Red Bull's Seb Vettel on pole. However, McLaren's Lewis Hamilton and Jenson Button obviously had the measure of the RB7. On this track where passing is a rarity, the run to the first turn could be decisive. Which car would lead the field? THIS is
your
F1U! for the 2011 Grand Prix of Abu Dhabi.
*SHOCK
: The lights went out, releasing the Thundering Herd to charge down to Turn 1. In what had to be the least surprising outcome ever, Vettel not only held the lead into the first bend, but quickly showed that everything we had thought about the McLaren's advantage over the Red Bull was false. As the Red Bull powered into and through the turn, it opened a four or five car-length advantage over Hamilton and we here at F1U! threw up our hands in disgust. And then...
We still haven't heard exactly what caused Vettel's right-rear tire to deflate, sending the Red Bull into a spin just as he turned into Turn 2. It may have hit a carbon-fiber shard left over from the earlier GP2 race. When the car accelerated off the line, it may have had enough grip to torque the tire off the rim. It may have had a slow puncture even before the race began. Whatever the reason, by the time Vettel got his car back on track for the slow, difficult crawl back to the pits, tire flailing at the rear bodywork the whole time, the entire field had gotten past. By the time he made it to his pit stall and officially completed his first lap, the field had mostly finished the second. Mechanics swarmed the Champion's car, but a fast and thorough inspection of the right-rear made it clear that the damage inflicted by the shredded rubber was too bad to allow the RB7 to continue. Seb Vettel had retired from a race for the first time this season.
*AWE
: With Sebby out of the picture, the mantle of "dominating leader" fell to Lewis Hamilton. By the end of the first lap, he had a 2.5 second lead over the Ferrari of HWMNBN who got into a scrap with Jenson Button for second place, aiding Hamilton's attempt to pull away. Once things settled down, it became clear that the McLaren would not be headed in any way. Farther back, Jenson Button fell to 4th place, passed by Mark Webber, when his KERS unit failed. While he was eventually able to get it working again, for the rest of the race he would wind up having to reset it every two or three laps. Back up at the front, it was obvious that we were looking at a strategy race.
*PITS
: With Lewis Hamilton able to open a lead but not able to run away and hide, any excess time spent in the pits would be crucial. Of course, pit stops have always been important in F1, but it's been rare this season for the pit crews to be decisive. At a track where a pass was difficult to pull off, and even harder to make stick, time lost or gained in the pits would be a bonus beyond horsepower's abilities to create... or make up. As it turned out, that's exactly what occurred: cars that had quick stops were able to maintain their positions, and those with poor stops lost position. When Button had a good first stop but Red Bull had an uncharacteristically slow one for Mark Webber, Webber fell out of the race for third place. As it turned out, he never recovered, even with the team switching him onto a three-stop strategy... with the third stop, for the mandatory run on the harder of the two tire compounds, coming on the final lap. On the second round of stops, HWMNBN stayed out two laps longer than Hamilton, trying to open up enough of a gap to jump the McLaren for the lead. Any sort of gap he had been able to create was thrown away by a methodical, safe... and slow... stop from the Ferrari mechanics. Where McLaren, Mercedes and Red Bull routinely spit out stops in the 3.5 second range or even faster, it took Ferrari 4.5 seconds to service HWMNBN. Going into the stop, he had maybe a 50/50 chance to keep the lead. Coming out, Hamilton had easily gone past, regaining the lead and holding it for the rest of the race.
*ENDING
: The rest of the race was somewhat anticlimactic. Hamilton took his third victory of the season by over eight seconds over HWMNBN. Jenson Button had managed to keep his recalcitrant KERS unit functional enough to take third, some 20-odd seconds behind the leader. Mark Webber looked like he was going to have a tough time finishing fourth; his lead over 5th place Felipe Massa was right on the edge of the "pit delta", the amount of time it took to drive into the pits, get serviced, then rejoin the race. The delta time was 20 seconds, and he had almost exactly that much of a lead. But then Massa made the matter moot by spinning and handing Webber 15 seconds to play with. Somewhere in the Red Bull compound, a bemused Seb Vettel could only wonder what could have been...
*DRIVER OF THE RACE
: HWMNBN. Hamilton had the better car, the better pit crew, and the better strategy. Yet he just could not dispose of the Ferrari driver, who hung grimly just off the tail of the McLaren, never letting him get free and clear. All of this was done with a Ferrari that wasn't as fast or nimble as his opponent. Probably one of the most impressive drives for second I've seen in a long time.
*TEAM OF THE RACE
: McLaren. When Sebby went away, the boys from Woking knew they had a chance to play Bigfoot... and they took it. Even a balkly KERS unit in one of their cars didn't prevent them from getting both drivers on the podium.
*MOVE OF THE RACE
: To be honest, it's hard to give this award today. There just wasn't all that much passing of note. We suppose we'll have to give it to both Mark Webber and Jenson Button, for their duel on Lap 3. Button led the pair into the long long straightaway. Webber got to use the DRS and just barely managed to get past the McLaren when they swooped into the chicane. However, there were TWO DRS zones today, and now Button got to use it to counter-attack... and immediately blew Webber's metaphorical doors off. Highly entertaining, but not exactly dramatic. A tepid "Meh" to the Abu Dhabi track, and a "meh" MotR.
*MOOOOOOOO-OOOOVE OF THE RACE
: Another "meh" for this award. There just wasn't that much bad driving occurring. The most bovine maneuver had to be Felipe Massa's spin when he had a chance to finish fourth.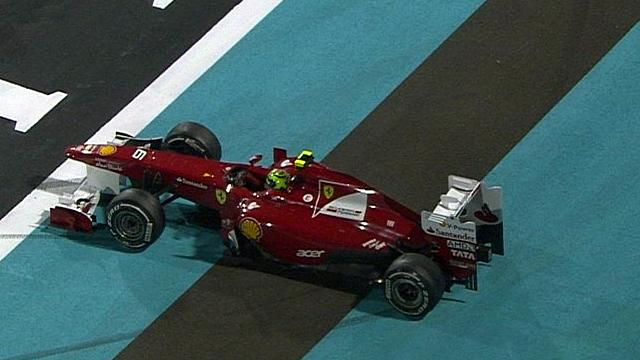 To be fair, he did have some damage to the right element of his front wing from running over some debris, and he was on the harder tires. A spin is a spin, however, and it did kill any hope he had of his best finish of the season, so Felipe Massa: A Moooooo is you!
*SELECTED DRIVER QUOTES OF THE RACE
:
more...
Posted by: Wonderduck at 10:54 PM | No Comments | Add Comment
Post contains 1723 words, total size 11 kb.
40kb generated in CPU 0.0316, elapsed 0.3499 seconds.
45 queries taking 0.3336 seconds, 207 records returned.
Powered by Minx 1.1.6c-pink.