August 30, 2009
F1 UPDATE!: BELGIUM 2009!
Once again, Spa brings us the best race of the season. Action, drama, neck-and-neck racing, even a little bit of controversy, all of it could be found at the 2009 Grand Prix of Belgium.
This
is YOUR F1 Update!
*LAP ONE HIJINKS
: We here at F1U! try not to mention the events of the first lap of any race. Too many cars trying to go into too little space usually sends one or two of them back to the pit lane for a replacement nose or new tires; it happens almost every race. Today, though, was a little different.
When the lights went out, fourth on the grid Rubens Barrichello's anti-stall system cut in, reducing him to little more than a slowly moving obstacle as the rest of the thundering herd bore down upon him. Ferrari's Kimi Raikkonen twitched past him narrowly, but the others got past him clean. Into La Source, polesitter Giancarlo Fisichella kept clean, and indeed, began to pull away from Jarno Trulli's Toyota and hot-starting Robert Kubica's BMW. However, they and Grizzly Nick Heidfeld managed to pretty much block La Source as they went through. Kimi Raikkonen, showing both the wisdom of experience and a total disdain for the rulebook, barely bothered to turn, instead going wiiiiiiiiide into the runoff area outside turn 1. Then, with nothing but clear asphalt in front of him, he mashed the "go-really-fast" button and voomph, he was in second by Les Combes.
While Kimi mumbled "rulebook? What rulebook?", chaos reigned in La Source. Three cars, including Adrian Sutil's Force India, wound up requiring new noses as everybody ricocheted off each other. Actually, the surprise is that
only
three cars suffered damage. One cockpit camera shot showed Lewis Hamilton's McLaren being jostled from either side by other cars... at the same time. Still, nobody was knocked out, so no blood, no foul. That, however, would soon change.
Into Les Combes, Kimi went a little too hot into the turn, scorching his tires and cutting across the curbs. Kubica, unsure what was going to happen in front of him, slowed up and missed
his
braking point, also going across the grass and throwing a cloud of dust into the air. Further back, it seems that Jenson Button saw the dirt flying and maybe slowed up a small amount. Almost instantly, the Renault of Lettuce Grosjean plowed into the back of the BrawnGP racer, sending them both spinning into the tire barriers. An instant later, the same thing happens to Lewis Hamilton's McLaren, with NKOTT's Toro Rosso sending both of them off into the tires, narrowly missing the stricken Renault.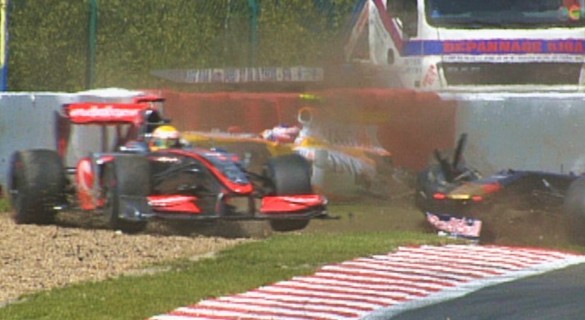 Almost instantly, the safety car was deployed, bringing the breathless antics of the first lap to a remarkable end. The damage toll: four cars out, three cars visibly damaged, and one, HWMNBN'd Renault, with some subtle wheel damage that'll only become apparent during his pitstop on lap 21. At that point, his left-front tire could only be changed with much difficulty and the team sent him out after a nearly 20second long stop. They then recalled his Renault, saying they couldn't be sure that his tire was secure (see Grand Prix of Hungary, 2009). He retired shortly thereafter.
*MEANWHILE
: Once the safety car peels off to begin lap 4, the Force India of Giancarlo Fisichella manages to stay in front of Kimi's Ferrari through La Source, but in Eau Rouge the Ferrari driver again puts his thumb on the "go really fast" button and nearly runs into the back of Fisi. Another snap to the side clears the Force India, and Kimi took the lead, a lead he would never relinquish.
*HOWEVER
: This was not a runaway victory for the Scuderia. Grimly, Fisichella hung onto the back of the mumblin' Finn. The lead that Kimi had opened during the KERS-assisted pass stretched no farther than 1.8seconds, and then the Force India began to slowly wind him back in. The Ferrari had a small advantage in the fast sectors (1 and 3), but the slower sector 2 belonged solely to Fisichella, usually to such an extent that he would make up the time deficit of the other two and a little bit besides. The lead was down to less than a second when the two came into the pits on lap 14. Both stops were clean, though the Force India mechanics seemed to take a little bit longer. The two cars rejoined the race the same way they entered the pits: Kimi in front of Fisi by less than 1.5seconds. On they went, with the story progressing as it had earlier: the Italian slowly reeling in the Finn, but never quite being able to get close enough to challenge for a pass. The 31st lap of the race brought both back into the pit lane, Raikkonen leading by about a second. Both Ferrari's and Force India's mechanics got their respective chargers out in 7.1 seconds, and again, they were only a second or so apart back on the track.
*THEN
: It all somehow
got better
. Lap 35 saw Seb Vettel's Red Bull come out of the pits in third place, just about 5 seconds behind Fisichella, who by now was only .7sec behind Raikkonen. Vettel, free of challengers behind him, was able to concentrate on running down the dueling Ferrari and Force India. Quickly, the gap to second place dropped to three seconds, while Kimi's lead was down to about a half-second on Fisi.
*FINALLY
: The church bells in Maranello pealed in happy celebration as the Ferrari of Kimi Raikkonen crossed the finish line still about a half-second ahead of the Force India of Giancarlo Fisichella, who remained about three seconds ahead of the Red Bull of Seb Vetttel.
*BUT
: With three laps left to go, the sixth place Brawn of Rubens Barrichello, who had been pushing hard to take 6th place away from Heikki Kovaleinninninnie, suddenly begins expelling a plume of smoke.
Behind him, 8th and 9th place, Nico Rosberg and Mark Webber, begin to salivate at the prospect of a free point. The Brawn backs off of Kovaleinninninnie, but he can't take it too easy, since the other two drivers are breathing down his neck, hard. Still, the car seems to be running okay, and the smoke doesn't seem to be getting worse, so Rubens presses on. With one lap to go the pitwall calls him on the radio, saying that it's just an oil leak, and he'll
probably
make it to the end of the race. Maybe. They hope. Knock wood. Well, Barrichello must have run over a rabbit on-track and gotten one of its feet stuck in the bodywork somewhere, because the Mercedes engine held together to get across the finish line.
*AND THEN...
: Break out the smores!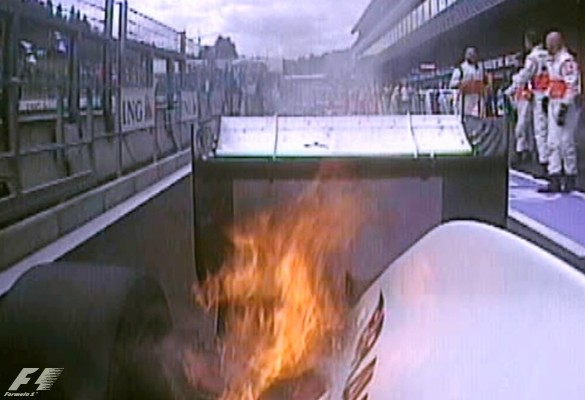 The Brawn caught fire in parc ferme, seconds after the race had ended. Someone once said the perfect racecar would run at 100% right until it crossed the finish line, then it would fall into a billion pieces. Guess the Mercedes engine is pretty perfect then, eh?
more...
Posted by: Wonderduck at 06:31 PM | Comments (6) | Add Comment
Post contains 1693 words, total size 11 kb.
August 23, 2009
F1 Update!: European Grand Prix @ Valencia 2009!
All those fans F1 gathered after the four-race stint on FOX were in for a shock today! THIS is
your
F1U! for the European Grand Prix @ Valencia!
*CASUAL FANS BEWARE
: To be honest, even we here at F1U! headquarters were nearly put to sleep by the EGP@V today. Only the alleged "drama" of the first win in five years for Rubens Barrichello managed to keep us going. To their credit, SPEED's Legendary Announce Team did a fine job of keeping the viewer informed of the strategies involved regarding pitstops, but that's awfully thin gruel to base a race on.
*RED HOT PIT STOP ACTION!
: From the start of the race, it was obvious that this was not going to be a runaway victory for any of the three favorites: Lewis Hamilton and Heikki Kovaleininninnie for McLaren or Rubens Barrichello for Brawn. Closing in on the first round of pitstops Hamilton had a six-second advantage on his teammate, who was only a couple of seconds ahead of Barrichello, who it was thought had about four laps worth of fuel more than the McLarens. Heikki stopped first, Lewis second, giving Rubens a chance to run in open air for the first time. By the time he completed his pitstop, he had leapfrogged Kovaleininninnie via the rotation. When Hamilton headed to the pits on lap 36, he had a mere 3.6 second advantage on the charging Barrichello. Then it all went wrong for McLaren.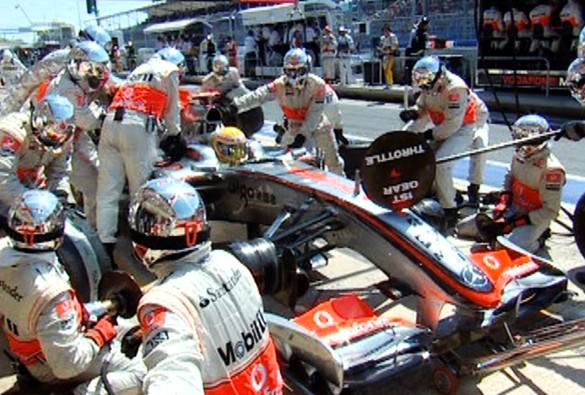 Hamilton's stop was a complete shambles. As you can see in the above picture, the fuel rig is attached to the car and the tires are off... but there's no other activity on the corners. McLaren hadn't brought out the new tires! A stop that should have taken
at most
eight seconds or so took 13.5. Meanwhile, out on the track, Barrichello ripped off personal fast lap after personal fast lap, for five consecutive laps. When he made his second stop, he leapfrogged Hamilton and had a six-second lead besides. At the end of the race, Barrichello finished in first, only 2.3 seconds ahead of second place Hamilton.
*DRIVER OF THE RACE
: Rubens Barrichello. He did everything right today. He had to stay close to the lighter McLarens before the first stop and he did. He had to stay close to Hamilton going into the second stop, and he did. When Hamilton pitted, Rubens had to push like the dickens to open up as big an advantage as he could, and he did. He deserved the win, and he got it. Plus, it was his first win in 86 starts... congrats, Rubens. NOW will you
please
stop whining???
*TEAM OF THE RACE
: BrawnGP. While the win is nice, Jensen Button's 7th place wasn't entirely his fault. Right at the start, Button was brutally cut off by Seb Vettel, forcing the Brawn to slam on his brakes. HWMNBN did the same to Button a little later in the lap. Simply put, a 7th place when you had two drivers pull somewhat dangerous stunts on you forcing you back to 9th isn't so awful, particularly when neither Red Bull earned a point today. So, BrawnGP gets the TotR, but it's a lukewarm one.
*MOVE OF THE RACE
: None. There was no on-camera passing whatsoever. Allegedly Grizzly Nick Heidfeld passed Adrian Sutil at some point during the race, but we never got to see it, even in replay.
*MOOOOOOOO-OOOVE OF THE RACE
: As most of today's stupid overtaking moves happened on the first lap, none of them qualify. Really, it was a pretty clean race, all in all, so today's Moooo-ooove goes to Lettuce Grosjean for his unforced error that led to this fun little slide: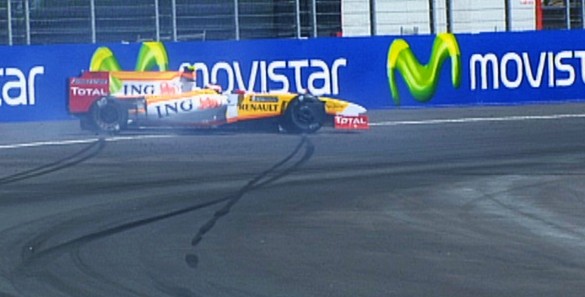 Even this gets a lukewarm win, because Lettuce actually showed some skillz here. The car never came to a stop and he eventually transitioned from skid to regular motion in one smooth manuever. Honorable mention goes to Luca Badoer for letting Lettuce pass him... IN THE PIT LANE. We
still
have no idea what the heck was going on there.
*SELECTED DRIVER QUOTES OF THE RACE
:
more...
Posted by: Wonderduck at 03:33 PM | Comments (3) | Add Comment
Post contains 827 words, total size 6 kb.
36kb generated in CPU 0.0114, elapsed 0.1449 seconds.
46 queries taking 0.1369 seconds, 209 records returned.
Powered by Minx 1.1.6c-pink.