March 22, 2020
#NotTheBahGP
A more-or-less not-quite official race this weekend is located at the
Veloce Esports twitch channel
. As I write this at 125pm on Sunday, Quals are about to wrap up. Here's the level of competition: F1 driver Lando Norris? He's sixth on the grid.
And yes, there's announcers and standard-style coverage. I don't believe I'm going to say this but cheer on the Ferraris... those are driven by yootoobers SuperGT and Jimmy Broadbent, who I've mentioned in here once or twice before.
If you need a racing fix, here's your chance.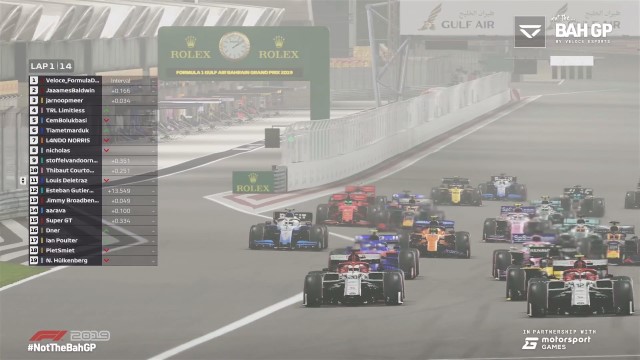 EDIT: Okay, I take it back. Yeesh, that was ugly. Friggin' bumpercars. The worst offenders were the actual racers! I'd rather watch a
Wreckfest
race.
ANOTHER EDIT: So I watched the official F1 e-race. At least the#NotTheBahGP had a full grid of real drivers and experienced simracers...the OFFICIAL F1 race had people who had never raced before in ANY manner in it. A musician? An Olympic cyclist (who did at least race at Le Mans in 2016)? I don't like to swear, but it was a total sh*tshow from the moment Quals began. Disappointing.
Posted by: Wonderduck at 12:29 PM | Comments (4) | Add Comment
Post contains 185 words, total size 1 kb.
Posted by: GreyDuck at March 23, 2020 08:40 AM (rKFiU)
Posted by: Ben at March 23, 2020 09:35 AM (osxtX)
Posted by: Kathryn at March 23, 2020 11:44 AM (rWZ8Y)
Posted by: Wonderduck at March 24, 2020 12:21 AM (cTMj+)
23kb generated in CPU 0.0134, elapsed 0.0786 seconds.
49 queries taking 0.0679 seconds, 206 records returned.
Powered by Minx 1.1.6c-pink.