July 25, 2010
F1 Update!: Germany 2010
One year ago to the day,
Felipe Massa was nearly killed
by a freak incident. Today he was sitting third on the grid. But would it be a storybook ending, or would the Red Bull of Seb Vettel continue that team's near-dominance of the season? THIS is your F1 Update! for the Grand Prix of Germany!
*NEVER MIND
: During Quals, the forecasters were saying that it was going to be raining at the start of the race. Well, it turns out that German weathermen aren't any better than those here in the US. Weather was not a factor, other than a few clouds that rolled in during the second half of the race. The clouds cooled the asphalt, lowering grip levels a touch. Otherwise? Nothing.
*LIGHTS OUT, UH-HUH
: Sitting on pole, with the best car on the grid underneath him, on his home track (he grew up just a few kilometers away from Hockenheim), and knowing that he's one of the best drivers in F1 today, Seb Vettel surely was feeling confident as the red lights came on. Ferrari's HWMNBN, sitting second, was a threat that he couldn't take lightly, but if he drove his race and nothing went wrong with his car, he had an awfully good chance to win. When the red lights went out however, nothing went right. He had a lousy start, immediately allowing HWMNBN to get right up alongside him. Vettel tried to squeeze the Ferrari, drifting over to the right. HWMNBN stayed on the gas all the way and refused to let the Red Bull intimidate him, knowing that he had the inside line as they charged down to Turn 1. But Vettel's drift had an unintended side-effect: it opened nearly the entire track up for Felipe Massa, who took advantage. Through Turn 1, his Ferrari was almost two car lengths in the lead with his teammate in front of Vettel. To make matters worse for Red Bull, Mark Webber had to stand on the brakes to keep from plowing into the back of his teammate, letting McLaren's Lewis Hamilton get a great run, blowing past him in Parabolica. Farther back in the pack, Toro Rosso's NKOTT
did
plow into the back of his teammate Seb Buemi. The Swiss driver was out on the spot, while NKOTT's nose scattered a ton of debris across the track, debris that cut the tires on both Force India machines, sending them into the pits.
*AND THAT'S THE WAY IT IS
: And for the most part, that's the way it stayed. Mark Webber wound up dropping down to 6th after the pit stop rotations were over, losing a place to McLaren's Jenson Button, but the important positions remained the same: Massa, HWMNBN, Vettel, Hamilton. The two Ferrari drivers were fairly close, with Vettel about four seconds behind. HWMNBN got on the radio back to the Ferrari pit wall and began to whine about being faster than his teammate, saying things like "This is ridiculous." Shortly thereafter, Massa opened up a two second lead, giving the lie to the Spaniard's claims. But by Lap 45, the lead was down to less than a second and the Legendary Announce Team was talking about how there were no "team orders" allowed in F1.
*HISTORY LESSON
: In 2002, Ferrari's Rubens Barrichello was leading the Austrian Grand Prix late in the race, and by a decent margin, too. No question he was going to take the victory... except for one thing: his teammate, Slappy Schumacher, was in second. Ferrari, wanting to get Slappy maximum points for his run at the Driver's Championship, ordered Barrichello to let his teammate past... and made it quite clear that if he didn't, his seat would be in jeopardy. Barrichello did, but he did it in the most blatantly obvious way possible, slowing down precipitously as he approached the finish line. Slappy went past, and Barrichello came in second. The crowd booed, Schumi gave Rubens the winners trophy and insisted that he stand on the top step of the podium, and the FIA reacted by banning "team orders." From then on, teammates were to race each other regardless of standing, and teams could not manipulate results.
*BUT
: Of course team orders still exist, teams are just more subtle about it. It might be something like one car's pit stop taking a second longer than the other, but ridiculous maneuvers like that in Austria wouldn't happen again. But with HWMNBN under a second behind Massa, Ferrari got on the radio and said "(HWMNBN) is faster than you. Can you confirm that you understood that message?" We never heard the response from the Brazilian, but on Lap 49 it became clear that Massa got it. Coming off a turn, Massa just never got back on the throttle and HWMNBN swept past him like he was standing still. Ferrari claimed after the race that "Massa made a small mistake when (he) shifted up three gears at once," but that's nothing more than a flat-out lie. Ferrari shamelessly violated the ban against team orders. If HWMNBN really
was
faster than Massa and as good as he's supposed to be behind the wheel, he shouldn't've needed team orders.
*FINALLY
: And that's the way it ended, with HWMNBN winning his second race of the season, Felipe Massa in second, and hometown hero Seb Vettel in third, kicking himself for lost opportunities. After the race, the stewards fined Ferrari $100000 for violating Article 39.1 of the Sporting Regulations, and forwarded the matter to the World Motor Sport Council for further penalties.
*DRIVER OF THE RACE
: Felipe Massa. We'll never know if he could have held HWMNBN behind him for 12 laps, but he still drove a helluva race today. His start was a thing of beauty and he made very very few mistakes out there... the only major mistake was driving on the same team as HWMNBN.
*TEAM OF THE RACE
: McLaren. Yes, neither Lewis Hamilton or Jenson Button were on the podium, but they just didn't have the grunt to stay with the Ferraris or the Red Bull of Seb Vettel. Fourth and fifth were about the best they could have hoped for, and that's what they got. And they didn't have to cheat to do it.
*MOVE OF THE RACE
: There wasn't one. If we lift the rule stating that the MotR can't come on the first lap though, Felipe Massa's run to Turn 1 and into the lead from third on the grid would win.
*MOOOOOOOOOO-OOOVE OF THE RACE
: You may remember that the two Toro Rossos got into each other, an incident that scattered carbon fiber across the track, resulting in punctures to both Force Indias. That's where our story begins. It took quite a bit of time for Adrian Sutil to limp his car around to the pit lane but when he came to a stop in his box, it seemed like the mechanics were not ready for him. A ton of frantically disorganized activity got him in and out in a halfway decent time, but it wasn't pretty. As Sutil pulled out, his teammate Vitantonio Liuzzi pulled into the pit lane to get new tires.
Again
, the team looked disorganized. And then something weird happened... Adrian Sutil turned one lap and returned to the pit lane for
another
tire change. It was only then that it became clear just how disorganized Force India had been: they had sent him out with three hard tires and one soft! A few moments later, Liuzzi came back into the pits... and he had on three soft tires and one hard! It's hard to believe, but they screwed up BOTH cars in the exact same manner. Bravo, Farce India, you truly deserve this MOOOOOOOOO-OOOVE!
*SELECTED DRIVER QUOTES OF THE RACE:
more...
Posted by: Wonderduck at 02:11 PM | Comments (10) | Add Comment
Post contains 1540 words, total size 10 kb.
July 11, 2010
F1 UPDATE!: Great Britain 2010
So did Red Bull run away with the race as expected, or did McLaren and Ferrari hold on to make it a challenge? THIS is your F1U! for the 2010 British Grand Prix!
*ANOTHER RED BULL ONE-

TWO

... SEVEN?
: Mark Webber must be feeling somewhat aggrieved by the way his team is treating him these days. Despite the fact that he'd won just as many races as teammate Seb Vettel and was only a few points behind him in the Championship standings while arguably driving better overall, Red Bull has obviously thrown their support behind the young German. As an example, after the nosecone of Vettel's RB6 broke during Saturday's practice session, it was discovered that the team only had two of the new, more effective, design available for the race... and one of them was now ruined. The other was on Webber's car. Reportedly no less a figure than Dieter Mateschitz, king of the Red Bull empire and owner of the team, declared that Vettel would get the nose and Webber would have to use the older design. Another example is when the team blamed Webber for the accident in Turkey, despite it clearly being Vettel's overoptimistic pass attempt that was at fault. So it came as no surprise when the lights went out that Webber was in a bad mood. A very good start put him alongside his pole-sitting teammate as they headed into the first turn, and on the inside racing line to boot. It probably took Webber no time at all to decide to force the young German wide and entirely off the track as they came out of the turn, and there must have been a smirk on the Aussie's face as the reports of Vettel's tire puncture came back to him. From there, it was relatively smooth sailing for Webber as he became the first driver this season to win three races.
*ABOUT THAT SEVENTH...
: Last race we saw Gandalf Kobayashi go some 50-plus laps on a single set of tires. This time around, Seb Vettel's puncture on the first turn of Lap 1 laid the groundwork for something potentially more impressive: an entire race save one lap on a set of tires. When the young German came out of the pits after the tire change, he was not only dead last, but a full 30 seconds behind the car in 23rd place. Yet he managed to baby his rubber well enough to still be going strong up to the penultimate lap, at which point they completely gave up the ghost and he started to lurch around Silverstone like a drunken sailor. Yet being off the regular pitstop rotation turned out to be something of a boon, as he made up quite a few positions while others were getting their tires changed. It certainly helped that he's in the best chassis, but a mighty effort to score anything considering the way the day started.
*HWMNBN SCREWS UP AGAIN
: ...and again Ferrari is complaining about it. On lap 16, the Ferrari driver was battling with Renault's Robert Kubica for 7th place. After some tight wheel-to-wheel action, Kubica forced the Spaniard to go off-track or wreck both cars. HWMNBN cut the turn completely, returning to the track in front of the Pole. Gaining an advantage from doing such a maneuver is a definite (and clear-cut) no-no in the Sporting Regulations, but all he had to do is relinquish the position and everything would have been fine. Instead, he accelerated off into the distance and even passed another car for 6th. Then Kubica had to retire the car with mechanical difficulties, and while the Race Stewards were digging in the rules for the appropriate penalty, a Safety Car was called out for debris on the circuit, as Pete Rose's rear wing partially disintegrated due to the rumble-strip nature of Silverstone's asphalt. When the drive-through penalty was handed out, you could hear the screams from Maranello here in Duckford. Unable to serve the penalty behind the Safety Car, HWMNBN dropped from 6th to 16th when green-flag racing resumed. Of course, Ferrari is saying that HWMNBN couldn't relinquish the position since Kubica retired shortly after the incident, and that the penalty should have come down sooner, and yadda yadda yadda.
*DRIVER OF THE RACE
: Jenson Button doesn't much care for Silverstone, his home track. He's never won there, he's never even finished on the podium, and after qualifying 14th, it looked like he'd have a hard enough time getting into the points. Despite not being happy with the grip on the car, he still managed to bring it home in 4th place, mainly due to picking up a whopping
eight
positions on the first lap. He still wasn't on the podium, but it was a heckuva run for the reigning World Champion.
*TEAM OF THE RACE
: McLaren. Yes, Red Bull got the win, but if things were happier on that team they would have finished 1-2. The friction between their drivers cost them that lockout. Ferrari just looked sloppy today, with two very bad pitstops late in the race and HWMNBN's gurning about. Meanwhile, Lewis Hamilton hung onto the rear of the faster Webber and while he never got particularly close to the Red Bull, he was never very far away, either... it only would have taken one little mistake. Throw in Button's semi-miraculous 4th place, and it was a very good day indeed for the team from Woking.
*MOVE OF THE RACE
: On Lap 31, we saw one of those fights that make F1 so interesting: a small team vs big team / youth vs experience clash. Force India's Adrian Sutil was closing in on Mercedes' Slappy Schumacher. Every time the younger German tried something, the older German would slam the door shut, making it clear that Shumi would have none of it. Finally, Sutil got tired of the game and forced his way inside of Slappy, getting very very close to Mercedes... maybe a little too close.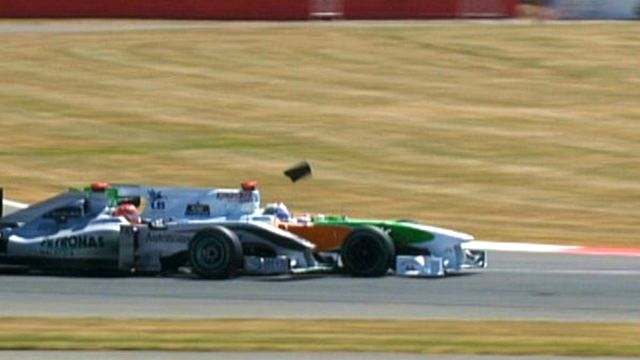 Still, the talented youth (at least, "youth" in comparison to Slappy) made it stick, impressing the heck out of everybody watching. Nice job!
*MOOOOOOOO-OOOOVE OF THE RACE
: Felipe Massa's race was essentially over halfway through the first lap, ended by a puncture caused by his teammate that forced him to limp into the pits. Emerging in 23rd position, he was destined to spend the rest of the day looking at the rear ends of HRTs, Lotuses and Virgins as he slowly made his way back up to 13th. Then on Lap 39, either due to tire wear or driver fatigue, his Ferrari suddenly spun into the last turn, neatly squaring off his tires. Ah, but at least he was close to the pits, so he drove right into his box and stopped for new rubber. And waited. And waited. And
waited
. It took nearly 30 seconds for the pit crew to get the new tires out to the wounded car, let alone change them. Ten laps later, the same thing happened again as HWMNBN suffered a puncture passing Vitantonio Liuzzi. So split this one between Massa (for his unprovoked spin) and the team (for their lackadaisical attitude). Bad job!
*SELECTED DRIVER QUOTES OF THE RACE
:
more...
Posted by: Wonderduck at 02:26 PM | Comments (7) | Add Comment
Post contains 1698 words, total size 11 kb.
42kb generated in CPU 0.0657, elapsed 0.6633 seconds.
46 queries taking 0.609 seconds, 217 records returned.
Powered by Minx 1.1.6c-pink.