June 24, 2012
F1 Update!: Europe/Valencia 2012
A lovely, but hot cloudless day shined down upon the members of the F1 Circus as they formed up on the grid behind Seb Vettel. The asphalt of the harbor-circling circuit was running right around the point where the tires would begin to be goofy, but wasn't quite there yet. Would the conditions play into the reigning world driver champion's hands, or would we see an eighth winner in eight races? Or would one of the other previous winners figure out the challenge of the Red Bull driver?
THIS
is
your
F1 Update! for the 2012 Grand Prix of Europe @ Valencia!
*LIGHTS OUT
: As the race began, all of our worst fears came to the fore. Seb Vettel had an absolutely blinding start, streaking away from McLaren's Lewis Hamilton to the tune of 1.7sec by the end of the first lap. It was four seconds by the end of the third lap and 7.6 seconds by the end of lap five. In short, it looked like we had a flat-out massacre in the making. By the time the first round of pit stops had ended on Lap 20, the lead was up to 19 seconds over Lettuce Grosjean, who had three seconds in hand over Hamilton. The surprise of the race to this point was the performance of Ferrari's HWMNBN, up to sixth from his starting position of 11th on the grid. Of course, picking up three spots on the first lap goes a long way towards that jump, but the fact still remains.
*A MOMENT OF LEVITY
: On Lap 14, the Williams of Metropolitan Maldonado was being closely pursued by the Lotus of Mumbles Raikkonen when, out of nowhere, this occurred:
A straw hat came flying out of one of the radiator inlets of Maldonado's car, flooping through the air and landing harmlessly behind the Finn's chariot. An odd moment in an otherwise dull race at the time.
*AND THEN
: Everything was tossed into a cocked straw hat. As the leaders were on Lap 28, Jules Vergne tried to pass the Caterham of Heikki Kovaleinninninninnie. As he went past the left side of the green car, his right-rear tire gently kissed the Finn's front-left. The result was amazing and swift, despite the gentleness of the contact.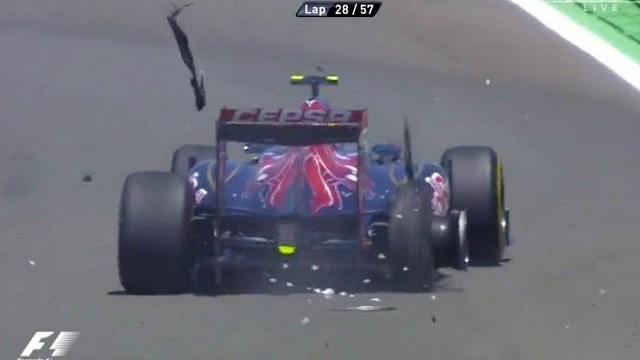 Vergne's tire shredded itself and whatever bodywork the flailing carcass could reach, scattering debris over a long, wide stretch of the circuit. Kovaleinninninnie, more experienced, guided his car slowly to the pits, keeping his tire in more or less one piece. He would continue, but the rookie's car was retired immediately on making it to the pits. Because of the stunning amount of debris, the Safety Car was called out to allow the sweepers to man their brooms.
*EVERYTHING CHANGES
: After the rush of pit lane activity, the standings were Vettel, Grosjean, HWMNBN, Daniel Ricciardo (who had not yet stopped for tires), Mumbles, Hamilton (who lost at least two positions when his pit stop went to hell due to falling off the front jack), Nico Rosberg, Slappy Schumacher, Mark Webber (who started 19th) and Maldonado. On Lap 33, the Safety Car turned off its lights and Vettel slowed to let it pull away, then got on the gas to stay ahead of the drivers behind. Both Grosjean and HWMNBN ran with him, leaving the rest of the field in their dust. As the first three turned onto the front straight, the Ferrari leaped all over the back of the Lotus, passing Lettuce as they went into Turn 2, in something of a brave move. And then...
...Vettel pulled over to the side of the track, his alternator burned out from the heat. The somewhat partisan Spanish crowd went somewhat insane as their native son improbably took the lead of the race. The race was far from over, however, as Lettuce Grosjean smelled a chance to win his first ever Grand Prix. Following closely, he hounded the two-time driver's champion for seven laps before...
...he pulled over to the side of the track, his alternator burned out from the heat. It is no coincidence that both the Red Bull and the Lotus are powered by Renault engines. The failure allowed Hamilton to move into second place, followed by Mumbles and Metropolitan.
*ENDGAME
: It stayed this way until the closing couple of laps, when Hamilton's tires began to fade, allowing him to be passed by Mumbles for second on Lap 55, while Maldonado closed in as well. And then the red mist settled over Hamilton's eyes and he went into full defensive mode. As Maldonado tried to pass after the DRS zone, the McLaren driver shoved him wide. With a set of "sleeping policemen" staring him in the face, the Williams driver had no place to go.
While the BBC announcers were somewhat apoplectic, the Legendary Announce Team had the right of it: the way the rules are written now, Hamilton had to leave Maldonado some room and didn't. Hamilton ended up in the wall, radiator broken. Maldonado lost his front wing, and with the resultant loss of downforce ended up 10th, and was later given a 20 second penalty for "causing the accident". This coming together had the amazing result of vaulting Slappy Schumacher into third place, with Mark Webber close behind in 4th... which is the way the race ended.
*AFTERWARDS
: HWMNBN violated the rules.
We believe that, if the FIA penalizes him for pulling over and taking a flag from track worker, the entire country of Spain should march on their offices and cover them in paella. And we don't like HWMNBN.
*DRIVER OF THE RACE
: It's hard to not give it to HWMNBN. Sure, everybody ahead of him died on the track, essentially handing him the win, but he had to be in position to take it... and he was, despite starting 11th. A solid drive indeed, and one that made him the surprise first two-time winner this season. Honorable mentions to both Slappy Schumacher for his first podium in the three years since he unretired, and Mark Webber, who finished fourth despite starting 19th.
*TEAM OF THE RACE
: We're proud to give this one to Force India. They finished 5th and 7th and didn't put a tire wrong at all. Mercedes may have finished higher (3rd+6th), but something about their result felt... wrong, probably because Rosberg started sixth and should have done better than finishing in the same place.
*MOVE OF THE RACE
: HWMNBN's pass on Lettuce Grosjean for 2nd place was quite good, but there's no good footage of it. Just take our word for it.
*MOOOOOO-OOOOVE OF THE RACE
: Jules Vergne's clumsy wallowing that put paid to his race and damaged Heikki Kovaleinninninnie's Caterham was pretty egregious. It was like he forgot he was passing another car.
If you look carefully, you can see an orange spot where they're making contact. There's so much room around them, it's amazing... and Vergne still hit him. Simply stupid... and the perfect Moo.
*SELECTED DRIVER QUOTES OF THE RACE
:
more...
Posted by: Wonderduck at 08:54 PM | Comments (8) | Add Comment
Post contains 1524 words, total size 11 kb.
June 10, 2012
F1 Update!: Canada 2012
A nigh-on perfect day for racing awaited the drivers of the F1 Circus as they waited for the lights to go out. Would it be a perfect day for pole-sitting Seb Vettel, who has never won in Montreal? Or would one of his title rivals, Ferrari's HWMNBN or McLaren's Canada specialist Lewis Hamilton, jump up over the young German? THIS is
your
F1 Update! for the 2012 Grand Prix of Canada!
*RED-HOT CONFUSION
ACTION
: Some races are defined by speed, guts, risk-taking and dramatic passes, a mere knifes-edge from disaster. Other races are decided by cold, calculated numbers, saying if a car does this and that, it'll end up here... the type of race that turns on a pitstop taking an extra tenth of a second to complete. Then you've got the 2012 GP of Canada, where what worked for one team didn't work for another, and even within a team, what worked for one car didn't work for the other. In other words, what should have been relatively straightforward turned out to be a total crapshoot.
*TIRES RULE THE ROOST
: The race began with Seb Vettel's patented "run-away-and-hide" start, which got him out of DRS striking range, but not much farther than that. As the first round of pitstops occurred from Lap 17 on, HWMNBN took the lead on a fast stop, but on cold tires was quickly passed by Hamilton. Remember what we mentioned in the previous paragraph? The "total crapshoot" part? Here is where it applies. As Hamilton came in for his second pitstop (another of the now-common McLaren FAILstops, I might add), neither Vettel or HWMNBN batted an eye; they were clearly going for a one-stop strategy. So were the two Lotuses (Lotii?) of Mumbles Raikkonen and Lettuce Grosjean. As the race went on, Raikkonen faded away as Grosjean got stronger and stronger. Meanwhile up front, Hamilton, some 15 seconds back due to his stop but on much fresher tires, began to take a second per lap off the Red Bull and the Ferrari.
*SO THEN WHAT?
: About what you would expect. Both Ferrari and Red Bull, seeing the difference a change of tires made for Hamilton, brought their drivers in for a new set of tires as well, creating a tight race for the finish between three world champions. Except that's not what happened. Vettel and HWMNBN stayed out on their worn and fraying tires, just begging to be picked off by the McLaren, which is exactly what happened. Vettel didn't even try to defend his position, and the Ferrari driver put up only the most token of defenses as Hamilton aimed for first place. At which point, Vettel made the tire equivalent of a "splash-and-dash" pit stop (a "tread-and-go"?), which allowed him to eventually catch HWMNBN... for fourth.
*WAIT, WHAT?
: Where the one-stop strategy didn't work for Vettel and HWMNBN, it worked like a charm for Lettuce Grosjean and Sauber's Sergio Perez. Both drivers came steaming up from behind the two world champs and made them look slow... which at that point, they were. HWMNBN ended up in 5th place, having lead only 10 laps before, with Mercedes' Nico Rosberg a half-second behind and closing hard. All in all, a fitting end to a head-scratcher of a race. A race where what should have worked, didn't, except when it did.
*DRIVER OF THE RACE
: Lewis Hamilton became the seventh driver to win in seven races, a F1 record. In doing so, he drove a nearly flawless race (marred only by his gagging in the first pitstop), never pushing his car or, more importantly, his tires, too hard. The victory, his third in Canada, also moved him into the lead for the driver's championship.
*TEAM OF THE RACE
: Red Bull. Off the podium but still in the lead for the constructor's championship, their last minute call-in of Vettel for fresh tires allowed them to take a position off of Ferrari. A logical call, but logic wasn't much in evidence in some parts of the pit wall today.
*MOVE OF THE RACE
: Around about Lap 40, Slappy Schumacher was clearly annoyed at being stuck behind the man who had become something of a nemesis, Gandalf Kobayashi. So, heading into the Hairpin, he decided to do something about it.
To say he held off until late on his braking would be something of an understatement. In truth, he held off until
too
late, flambe-ing his tires in an orgy of smoke, squealing rubber and hate. He was probably locked up for nearly 100 meters and the Mercedes staggered into the turn like a drunken sailor. Gandalf, in a momentary flash of logic and reason, moved outside to give Slappy a place to go when he failed to make the turn.
Except he didn't. Fail to make the turn, that is. Somehow, he found enough traction on his tortured tires to yoink the car through the opening stages of Epingle, a suprised Gandalf falling behind in his wake.
On the way out, the Mercedes again found traction on ruined rubber and powered his way onto the back straight, a marvelous example of car control at a time when that shouldn't have been possible left behind him. That Kobayashi repassed him in the DRS zone a few seconds later doesn't matter: Slappy either got really lucky, or he's still really good. Either way, he wins the Move of the Race.
*MOOOOOO-OOOOVE OF THE RACE
: It looked like Ferarri's Felipe Massa had come back from his terrible start to the season. First, a good finish at Monaco. Then a good qualifying performance in Montreal. Now a great start had moved the Brazilian into 5th place with an eye cocked towards Mark Webber's 4th place. Then on Lap 6, with no external prompting whatsoever, it all went pear-shaped.
The spin flat-spotted his tires, dropped him to 12th, and we never heard from Massa again. Good jorb, here's your Moo!
*

VERY

SELECTED DRIVER'S QUOTES OF THE RACE
:
more...
Posted by: Wonderduck at 11:15 PM | Comments (8) | Add Comment
Post contains 1189 words, total size 9 kb.
42kb generated in CPU 0.0226, elapsed 0.101 seconds.
46 queries taking 0.0898 seconds, 216 records returned.
Powered by Minx 1.1.6c-pink.