November 29, 2015
F1 Update: Abu Dhabi 2015
Night was falling as the Mercedes of Nico Rosberg led the assembled field to the grid at Yas Marina. Behind him was world champion Lewis Hamilton, who
began complaining about that fact days earlier
. Carrying the hopes and dreams of Italy was the third car on the grid, the Ferrari of Kimi Raikkonen. The oddball of the bunch sat in fourth position, the Force India of Sergio Perez. How would these worthies shake out at the end of the day? There's only one way to find out: THIS is
your
F1 Update! for the 2015 Grand Prix of Abu Dhabi!
*OH JEEZ...

REALLY

?
: When the lights went out, the usual headlong dive for the first turn began. Polesitter Nico Rosberg easily outpaced his rivals while Hamilton's poor start meant that he had to scramble to keep Raikkonen behind him. He accomplished this feat, which gave him a grandstand view of Rosberg galloping away. It wasn't a huge gap, only five seconds by the time first Rosberg, then Hamilton, pitted for new tires on Lap 10 and 11, respectively, but that would prove to be plenty.
*SO MUCH FOR THAT
: The one true important contest remaining in the World Driver's Championship was for fourth. Williams' Valterri Bottas led Raikkonen by a single point... whichever man finished ahead of the other would take the position. Bottas and Williams took all the drama out of the duel early. First Bottas peed the start down the leg of his firesuit, dropping to 10th by the end of the first lap. Then during his first pit stop, the team released him just as the McLaren of Jenson Button angled into his pit box. The collision snapped the left side of Bottas's front wing clean off, and for whatever reason the team told him to leave the pits and return instead of stopping and having the mechanics pull him back. In any case, by the time he got his car around and the nose repaired he had dropped to last place and was never seen again.
*OH... HIM?
: Due to a massive screwup in Quals by Ferrari, Seb Vettel started the race pretty much at the back of the field. He sure didn't stay there long; by the end of the first lap he was 12th, and then settled into tire conservation mode. While his rivals began pitting on Lap 9, he didn't make his first stop until 14 laps later, at which point he was in fourth place! After the stop, he had fallen to 6th, but by babying his tires he managed to work his way back up to fourth, practically without having to pass anybody on track. Maybe a boring strategy, but an effective one.
*BACK AT THE FRONT
: The second stint was much more friendly to Hamilton, allowing him to close the gap to his teammate almost to DRS range. When Rosberg pitted on Lap 31, the entire race was there for Hamilton to take. He had been begging for an alternate tire strategy, any tire strategy, that could allow him to take the fight to the other Mercedes, and now he had the chance. The team left it up to him... and he let the team make the call. Rosberg would go on to win by over eight seconds, and Hamilton would go on to say that he "You have to rely on the engineers to give you the optimum strategy at that point," but that he "didn't understand it."
*IN THE END
: The top three places were exactly the way the race began: Rosberg, Hamilton, Raikkonen. If it hadn't've been for Vettel getting in the way, it would have been the top five places, for Sergio Perez and Daniel Ricciardo, 4th and 5th at the start, ended up 5th and 6th. Yeah, it was
that
sort of "race"... and it was essentially the 2015 season in a nutshell. Only three drivers earned victories this year, Hamilton, Rosberg and Vettel (Hamilton 10, Rosberg 6, Vettel 3). The same three were the only polesitters (Hamilton 11, Rosberg 7, Vettel 1). The German national anthem was heard during every podium ceremony in 2015.
*SO.
: And thus does the 2015 F1 season come to an end. We're only 109 days away from the first race of the 2016 season, at Australia... but we'll start seeing the rollouts of the new cars a lot sooner than that. One of them will be the first design for the new official team of F1U!, HaasF1. We all hope that they'll be enough to make next year interesting.
Thanks for reading this year, and we'll see you soon enough!
*ALMOST FORGOT
: Noah would be pleased with the final driver's championship standings.
Two by two... two by two.
Posted by: Wonderduck at 08:44 PM | Comments (8) | Add Comment
Post contains 794 words, total size 5 kb.
November 15, 2015
F1 Update: Brazil 2015
Here's what sort of race we had today from São Paulo: we spent the entirety looking at the sky, praying the distant clouds would make their way over the circuit and drop just a little bit of rain. Anything. Please. We beg you. THIS is
your
F1 Update! for the 2015 Grand Prix of Brazil!
We watched the race live. We've read a bunch of post-race reaction. We even went back and watched the 15 or so laps we missed when we dozed off (the F1U! team slept neither long nor well last night; by the time the 10am start came around, we'd already been up for four hours and were running on a similar amount of sleep). We cannot come to any other conclusion but this: the 2015 Grand Prix of Brazil was a dud. The Mercedes of Nico Rosberg led wire to wire except during the pit rotation, and even then he was out of the lead for a total of two laps. Teammate Lewis Hamilton had nothing for the polesitter, unable to mount a substantial challenge at any time. This includes the start, where Rosberg simply got off the line better and faster and held a gap into the first turn... no pushing and shoving beween teammates this time around! The closest we came to a Hamilton challenge to Rosberg's dominance was late in the race. The reigning Champion cut the lead down as close as 1.3 seconds with something like 10 laps to go. It was a false image however, as Hamilton had to light his rear tires on fire to accomplish it. He wound up nearly eight seconds back when the race finished.
Which put paid to the so-called storyline of the race. In the runup to Brazil, the F1 press was full of Hamilton's desire to win at Interlagos, home of his hero Ayrton Senna. He's never won in Brazil, though it's the home of arguably his greatest moment, his first world championship. On and on they went about Hamilton wanting THIS victory. And he didn't get it. And nobody really is surprised by this. Hamilton is a great driver, maybe the best on the grid right now, but he's not so much better that he can
will
himself to win. When Hamilton is behind Rosberg, he needs his German teammate to make a mistake. Sometimes Lewis can force that mistake, often he can't. This isn't a knock on Hamilton, nor praise for Rosberg. It's just an observation. Today, Rosberg didn't make a mistake that Hamilton could exploit.
Rosberg's victory also locked up second place in the driver's championship for him. Seb Vettel, who finished third in the race, had very little room for error today. He was 21 points behind his countryman, but with only 50 points left available he had to make sure he kept that gap from growing. The Mercs were too good today, however, and he should be commended for only being 14 seconds behind Rosberg at the end. His teammate, Kimi Raikkonen finished in fourth, and how dominant the Mercedes were should be evident by the information that he was the last driver on the lead lap. That's right, the silver cars lapped the field up to Valterri Bottas's Williams in 5th today.
We also saw the Constructor's Championship pretty much finished up to 5th place today as well. Mercedes, Ferrari, Williams, Red Bull and Force India are locked in, and how amazing is it that Williams is in third? Two years ago, they had a grand total of
five
points, good for 9th place in the constructor's championship. It's great that the second most successful team in F1 history is back... now if only they could challenge for wins.
If it sounds like we're struggling to find things to talk about regarding the 2015 Grand Prix of Brazil, it's because we are. This wasn't just a bad race, it was a
boring
race. Particularly when compared to the two that came before it, Mexico and the US. Hopefully the finale in Abu Dhabi will be better, but we have our doubts. And then the season will, mercifully, be over.
We'll see you in two weeks!
Posted by: Wonderduck at 10:15 PM | Comments (2) | Add Comment
Post contains 701 words, total size 4 kb.
November 02, 2015
F1 Update: Mexico 2015
Here's the thing: we here at F1U! don't particularly want to do our usual update. Instead, what we're going to do is something a little more free-form, step aside from our usual bullet point format with generalized info about the race as a whole. We've realized that unless we're going to write 2500 words, there are plenty of better places to get lap-by-lap coverage. We digress, however... THIS is
your
F1 Update! for the 2015 Grand Prix of Mexico!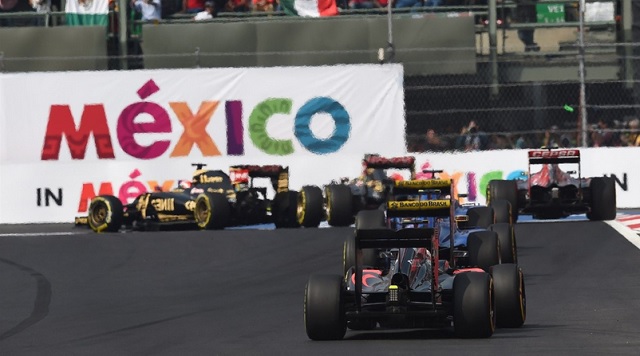 We had another Mercedes 1-2, with Nico Rosberg beating his teammate Lewis Hamilton (who did, of course, win the Driver's Championship at the US Grand Prix) rather handily. Williams' Valterri Bottas took the third step on the podium, followed by the Red Bulls of Kid Kyvat and Daniel Ricciardo. For the first time since 2006 neither Ferrari finished the race, and more about Seb Vettel's day later. However, on the whole the race was something of a disappointment. After Friday and Saturday's sessions, we were expecting to see cars slithering around like "grip" was a four-letter word. Which it is, but not
that
sort of four-letter word. Tails stepping out, slow speed spins, that sort of thing. Instead, we got very little of that. The reason for that is fairly obvious: the sun was out and the track surface was some 30°F warmer than it had been on Friday and Saturday. Warm pavement equals warm tires which means more grip... apparently just enough to keep cars glued to the surface. As a result, the race ended up much like any other, though the high altitude did limit the usefulness of the DRS. We saw very few DRS-related passes down the 1.2km long front straight... when you're already down 20% on drag due to a lack of air in the air, losing a bit more doesn't make that much of a difference.
One thing that didn't disappoint were the 115000 Mexican fans that showed up. From cheering insanely whenever Sergio Perez did anything (and practically having orgasms when he executed a pass at the above turn!) to chanting "Nico Nico Nico Ole Ole Ole!" just before the podium ceremony, they put on a show that was at least as entertaining as the race itself. It's no stretch to say that, at least for one race, the lunatic fans at Monza were given a run for their money. If they're always going to act this way, we here at F1U! don't care if the race is humdrum... the fans were incredible.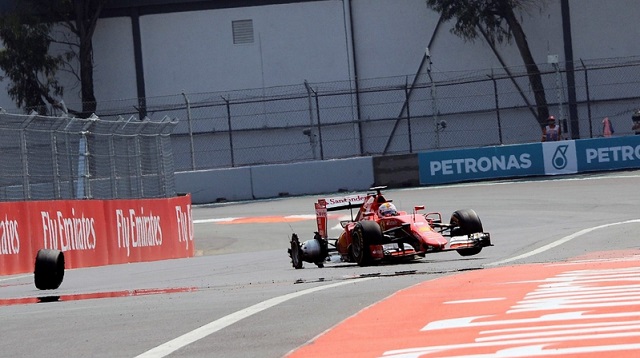 "Incredible" would be a good way to describe Seb Vettel's day. Filled with confidence that his Ferrari would be able to hang with the Mercedes, he had a less-than-stellar getaway from the start, was passed by Kid Kvyat almost instantly, then had a run-in with the
other
Red Bull that resulted in a punctured rear tire. It took only a short distance for the tire to fail completely, forcing him to finish the rest of the lap at a walking pace. Once the tire was replaced, he set his cap to make up for the delay. For a while, all looked fine. Soon enough it became obvious that the three-time Driver's Champion wasn't so much driving his car as he was
over
-driving it. An unforced spin that luckily ended without hitting anything brought frustrated radio calls. A pitstop that saw the Ferrari put onto the medium tires instead of soft brought another hail of radioed complaints. Things got so bad that he was lapped by Rosberg and he impeded Hamilton enough for blue flags to be thrown in his direction. The pit wall had to get involved, telling him to let the Mercedes by... to which he replied "I'm faster than him!" While perhaps true, he was still a lap down. His miserable race came to an end some 20 laps early, embedded in the wall on the outside of Turn 7. He escaped injury, but the Ferrari was toast. So, too, are his hopes for second in the driver's championship as it was his chief rival who won the race.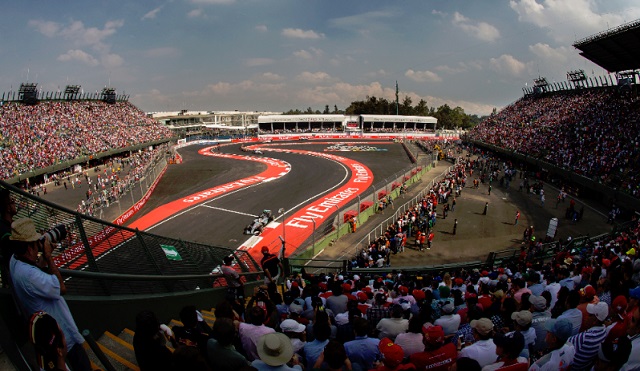 Finally, Lewis Hamilton seemed to be in something of a complaining mood during the race. From disobeying an order to come into the pits for new tires to disagreeing with tire choice, he certainly seemed to be feeling his oats as a new repeat champion. Or perhaps he realized that he wouldn't be able to pass his teammate on track so trying a very long one-stop strategy was his best shot. As it was, the team thought his his tires were being worn to the fabric backing, but that wasn't good enough for Hamilton. "I still think this was the wrong choice," was the call to the pit wall after the tire change in question. Understandably, the pit wall's response was brusque: "We can discuss it later." It's almost like he doesn't trust his team...?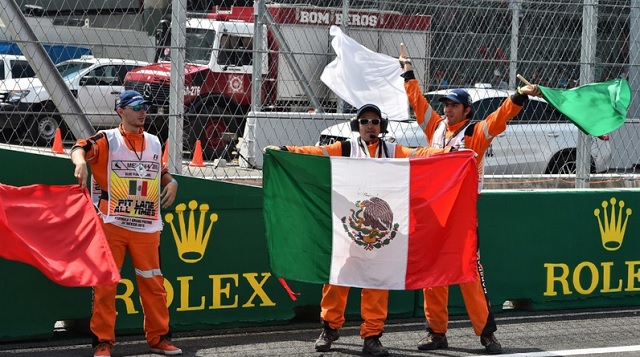 The penultimate race of the season is in two weeks at Brazil. We'll see you then!
Posted by: Wonderduck at 08:09 PM | Comments (1) | Add Comment
Post contains 834 words, total size 5 kb.
40kb generated in CPU 0.0159, elapsed 0.0843 seconds.
47 queries taking 0.0726 seconds, 213 records returned.
Powered by Minx 1.1.6c-pink.